Description:
Sino Truck is the 3rd largest Truck manufacturer in China. Howo Tipper Truck Trailers for sale are sold extensively throughout Africa.
Howo 371 6x4 tipper truck trailer in Ghana has excellent power, stable and reliable performance, economy and comfort reach the international level.
Its safety, reliability and intelligence level are in line with international standards.

How Much is Tipper | Prices of Howo 6x4 Tipper Semi Trailers for Sale in Ghana Kumasi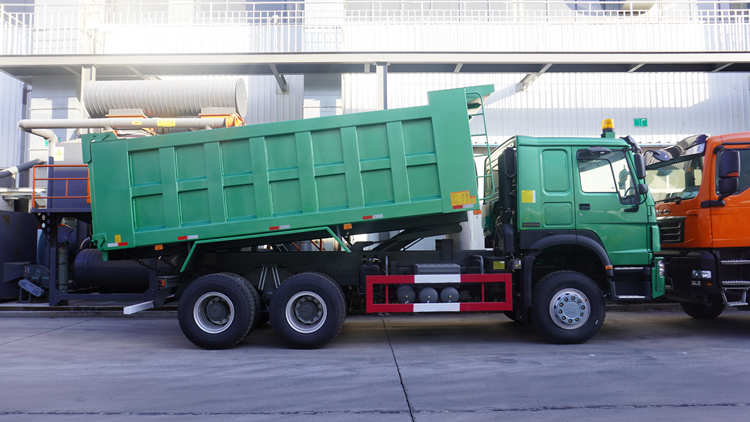 How Much is Tipper | Prices of Howo 6x4 Tipper Semi Trailers for Sale in Ghana Kumasi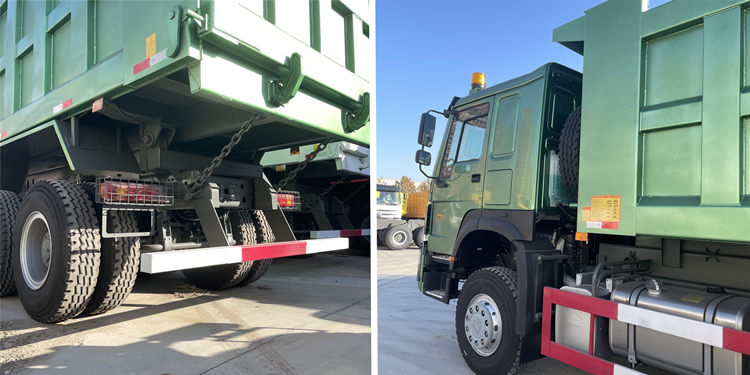 How Much is Tipper | Prices of Howo 6x4 Tipper Semi Trailers for Sale in Ghana Kumasi
Specification:
CHASSIS MODEL: ZZ4257V3241W
OVERALL DIMENSION: 6900*2550*3450mm
DRIVING TYPE: LHD (RHD is optional)
CABIN: HW76, with one sleeper and two seats, double arm windscreen wiper system with three speeds, damped adjustable driver's seat, with heating and ventilating system, exterior sun visor, safety belts, adjustable steering wheel, air horn, air conditioner, with transverse stabilizer, with four piont support floating suspension+shock absorber.
ENGINE:
Make: SINOTRUK
Diesel 4-stroke direct injection diesel engine
Engine model: D12.42, Euro 2, 420 HP
6-cylinder in-line with water cooling, turbo-charging and intercooling
Displacement: 11.596 L
TRANSMISSION:
HW19712, 12F & 2R
Ratio:14.28, 10.62, 7.87, 5.88, 4.38, 3.27, 2.43, 1.80, 1.34, 1.00, 13.91(R1), 3.18(R2)
STEERING: ZF power steering, model ZF8118, hydraulic steering with power assistance;
FRONT AXLE :
HF9, 1×9000 KGS
Steering with doubleT-cross section beam
REAR AXLE:
HC16, 2×16000 KGS
Pressed axle housing, central single reduction with hub reduction,with differential locks between wheels and axles.
Ratio: 4.42
PROPELLER SHAFT: Double universal joint propeller shaft with gear-shaped coupling flange
CHASSIS:
Frame: Uprofile parallel ladder frame with section of 300x80x8mm,reinforced subframe all cold riveted cross members
Front suspension:10 semi elliptic leaf spring, hydraulic telescopic double-action shock absorbers and stabilizer
Rear suspension:12 leaf semi elliptic springs, bogie spring and stabilizer
BRAKE:
Service brake: dual circuit compressed air brake
Parking brake (emergency brake): spring energy, compressed air operating on front shaft and rear wheels
Auxiliary brake: engine exhaust brake
ELECTRICS:
Operating voltage: 24 V, negative grounded
Starter: 24 V, 5.4 Kw
Alternator: 3-phase, 28 V, 1500 W
Batteries: 2 x 12 V, 165 Ah
Cigar-lighter, horn, headlamps, fog lights, brake lights, indicators and reverse light
TYRES: 315/80R22.5, one spare tyre
FUEL TANK: 400L
FIFTH WHEEL: 90#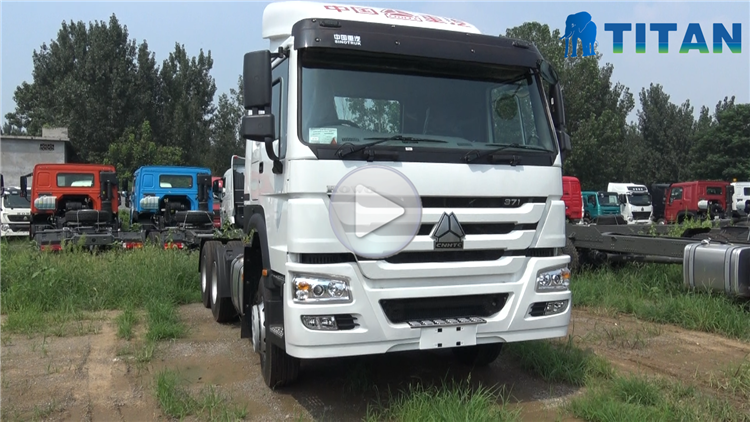 Please click "Truck Head" to get detailed video!
Welcome to leave your inquiry! We will provide more details, price, catalog, drawing, videos for you!