1.Machine Welding Technology of 45000 Liters Fuel Tanker Trailer for Sale
2.Main Advantages of Aluminium Fuel Tanker Trailer for lightweight construction
3.3 Axle Fuel Tanker Trailer Body and Trailer Chassis and Accessories
4.Tri Axle Fuel Tanker Trailer Submarine Valve
TITAN manufactures high-quality 45000 liters fuel tanker trailers normally for diesel fuel, petrol, crude oil, edible oil, palm oil and liquid bitumen. widely used in various transportation units, gas stations and other logistic industries.
TITAN 45000 liters tanker trailer adopt advanced design concept. We can customize the tri axle fuel tanker trailer for sale for you according to your request. And we TITAN offer carbon steel, stainless steel or aluminum alloy material tanker trailers. To fabric the most durable tankers, especially for Africa Market, considering the road condition.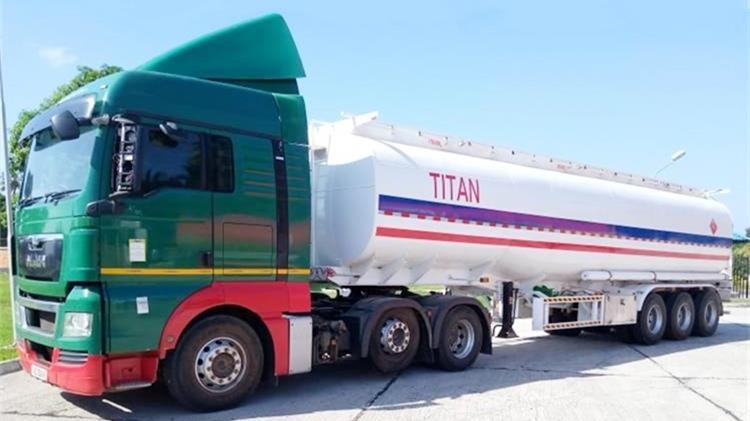 Fuel Tanker Trailer for Sale-Learn 45000 Liters Fuel Tanker Trailer Technology
Machine Welding Technology of 45000 Liters Fuel Tanker Trailer for Sale
1. High welding quality ensure the long service life of the vehicle even under the most difficult road conditions: With the latest automatic welding machine for welding the tank body, that ensure the high quality of welding seams, long service life and good appearance in the tank body.
2. The tank is shaped by one-time: with the latest advanced tank rolling machine, that can guarantee tank stable quality, but also eliminate the stress concentration, avoid the deformation, leakage and cracking of tank body.
3. Advanced paint system & polyurethane paint: good looking, no need paint for 10 years, save a lot of maintenance costs for you.
4. Advance weld technology. The tank body are constantly jumping and shaking when fuel tanker trailer for sale is on the bumpy road, which will lead to tank occur deformation, leakage and open welding. TITAN adopts fewer welds and the weld seams not at a line, which can ensure the fule tank body not open even drive in the bad condition.
TITAN prepares the most inspection equipment and keeps the inspection as precise as possible, All the 3 axle fuel tanker trailers have passed the strict quality test before they come to our customer

Tri Axle Fuel Tanker Trailer for Sale Manufacturer
Main Advantages of Aluminum Fuel Tanker Trailer for lightweight construction:
Owing to the lightweight factor, the aluminum fuel tank trailer has room for taking a higher load capacity than the conventional steel tanker constructions. This adds significant cost savings to your oil transportation operations.
The materials are lighter than steel hence the total volumetric weight significantly reduces the final weight for each of the oil tanker trailers.
Aluminum fuel tanker trailer constructions are more safe and secure to use in this industry Still, aluminum is resistant to corrosion through rust hence does not pose any danger of pollution to the oil while on transit. Therefore, you can rest assured that your product will arrive at your destination safely and secure. There are no fears of losses due to rust and corrosion impurities.
The type of material used for tri axle fuel tanker trailer construction is key in determining its loading capacity and the total cost. These factors can be blended together to produce the most desirable construction for a given application.
For lightweight constructions, one of the objectives is to ensure that there is more room to take much cargo and still stay within the weight limit requirements.
An aluminum fuel tanker semi trailer and a steel tanker of the same size will have different capabilities when it comes to the amount of oil to transport. The 3 axle aluminum fuel tanker trailer will definitely take more.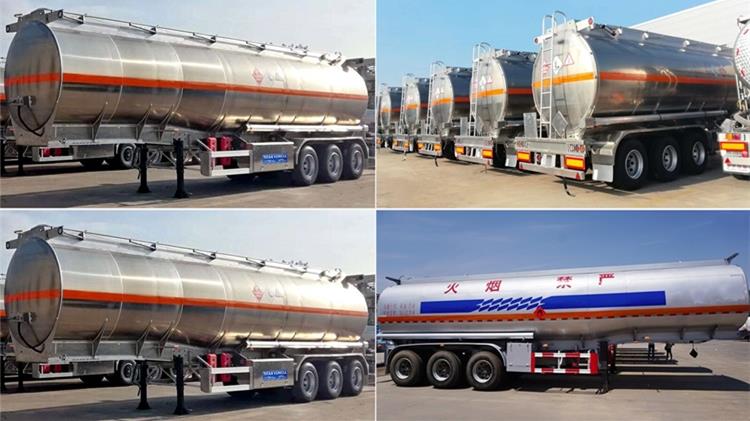 45000 Liters Aluminum Fuel Tanker Semi Trailer
3 Axle Fuel Tanker Trailer Body and Trailer Chassis and Accessories
WABCO emergency valve, high braking performance& ensure driving safety. JOST E 100 Landing gear, durable quality than other ordinary landing gear. 16 ton brake pads, can improve 20% brake performance than 13 ton brake pads. Anti-skid metal grilles walk-way can be done as customer's requirements.
LED light with a protective cover, keep it from damage and steal. Explosion-proof manhole, keep normal tank pressure, ensure transportation safety
Oil gas recovery system: Reduce the pollution of oil and gas, change the oil and gas from gas to liquid, and then change to gasoline to achieve the purpose of recycling. Electrostatic eliminator: Containing a number of thick copper wire, conductive properties, high-quality rubber.
Tank material: carbon steel, stainless steel, aluminum alloy material.
Tank volume: 30 cbm to 90 cbm according to your demands.
Axle: 2 axles to 4 axles.
Suspension: mechanical spring suspension, air suspension, center point bogie suspension.
Compartments: 1 compartment to 7 compartments.
Loading Mode: top-loading or bottom loading mode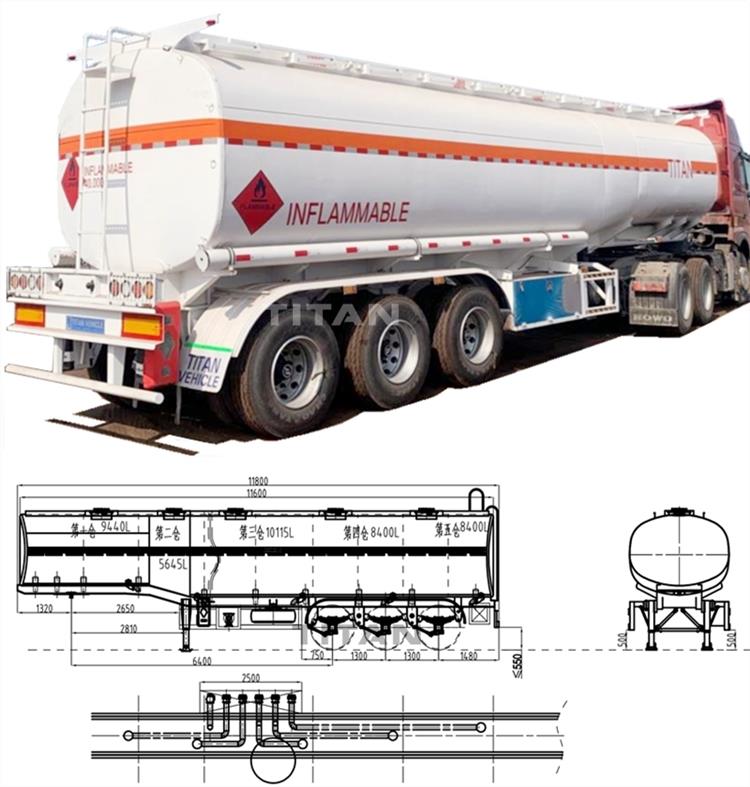 Drawing of Tri Axle 45000 Liters Fuel Tanker Trailer Price
Tri Axle Fuel Tanker Trailer Submarine Valve
Tri Axle fuel tanker trailer submarine valve, also known as the tanker emergency shut-off valve, is installed at the bottom of the tanker. The valve disc is sealed in the tank, and the valve body is provided with a cut-off groove, which is subjected to violent external force.
After that, the valve body will be disconnected along the cut-off groove, and the bottom of the tri axle fuel tanker trailer price pipeline and the tank body will be separated without affecting the tank body seal, so as to effectively prevent the oil leakage in the tank and ensure the transportation.
Safety Suitable for shipping water, diesel, gasoline and other light oils. The subsea valve adopts a single-acting cylinder structure, and compressed air drives the piston rod to pull out. Open the spring of the middle plunger, open it, the medium passes through, and the work is completed.

Tri Axle Fuel Tanker Trailer Submarine Valve
The plug relies on the spring to reset the seal and close the valve. In order to ensure that the valve has the good working ability, the following conditions must be met:
1. When the submarine valve is working, the system air source must ensure a pressure of> 0.4MPA.
2. The valve body and the middle plunger must ensure a high degree of sealing.
3. The spring must maintain sufficient elastic force to reset.
You can learn about different types of fuel tanker semi trailers (like 3 axle fuel tanker, 4 axle storage tanker trailer, stainless steel tanker trailer, acid tanker trailer, fuel tanker with flatbed trailer, fuel tank Full trailer). And the process, testing, packaging and customer feedback, etc.