Choosing the right fuel tank trailer to buy will require you to determine what you want to do and what products you want to transport. This is a very important step that must be considered before other considerations. Below we will share some knowledge about oil tank trucks and how to choose a suitable diesel tanker trailer.
1. What is an oil tank truck?
Fuel Tank trailers are just a collective term for all this type of diesel tank trailer, and they are called differently in different places, depending on the configuration of the medium being transported. There are petrol trailers, fuel tankers, monoblock trailer tankers, water tank trailers and so on.
It is widely used in the transportation of petroleum, gasoline and its derivatives. A fuel tank truck is a kind of special vehicle. In China, special-purpose vehicles refer to "vehicles with special equipment and special functions that are used to undertake special transport tasks or special operations and other special purposes", and are in compliance with national safety production regulations. In short, oil tank trucks are divided into two types: transport oil tankers and add fuel tankers according to different functions.
Different design and capacity
Everyone needs to transport different liquids, and the material of the oil tank will be different. It is important to look at the design that comes with different types of tank trailers.
Fuel tank trailers have different capacities ranging from 20cbm, 30cbm, 40cbm, 50cbm, 70cbm. Each type uses a different number of axes, for example 2, 3, 4 axle.

2. How to choose a fuel tanker semi trailer?
1) Choose the right specification
Tank thickness –The thickness of the tank is very important. It is always recommended to use a thicker fuel tank, especially when transporting large amounts of fuel. The thickness of materials used in construction is an important factor in determining the service life of your fuel tank.
Tank capacity-you can choose according to the storage tank capacity. This will depend on the amount of fuel you want to transport to meet your needs. If your needs are too high, choose a trailer that can help you reduce the number of trips and reach the required number. The general loading capacity is 5-8 tons, and you can choose a large and light truck chassis. The oil capacity is 10-22 tons, and the heavy truck chassis can be selected. Large heavy-duty tank trucks with a fuel capacity of 28 tons or more, which can be transported over long distances, can use heavy trucks or semi-trailers.Our fuel tank semi-trailers have different capacities, 20 cubic meters, 35cbm, 40cbm, 60cbm.
Tank shape – there are different tank shapes. These include round, oval and rectangular.
2) What liquid you want to transport
Different liquids have different requirements hence the material used for building petrol, diesel and edible oil tank trailer will be different. Different liquids have different chemical and physical characteristics that go a long way into determining the choice of petrol tank trailer to make.
Petrol and Diesel. Petrol tank trailers used in the transportation of petrol and diesel are usually made of carbon steel. A carbon steel tank trailer is a low-cost construction and most importantly, it is easy to process. You can also choose stainless steel and aluminum alloy tank trailers. However, the cost of these two options will be high.
Cooking oil. This is usually transported in an aluminum alloy tank trailer because it can avoid contaminating liquids. The trailer made of aluminum is also of a big advantage when it comes to clean-out. Again, the body is completely encapsulated using insulation materials that help in minimizing the loss of heat. More than that, it is a lightweight construction offering effective volume capabilities unlike steel trailer constructions that tend to be somehow heavy.

3) The price of oil tankers
The price of tanker truck is composed of chassis price, modification price and optional equipment. Different chassis, different engines, different national exhaust emissions, different tank volumes, and different indeterminate factors make up the price of the tanker truck.truck. Therefore, when choosing a tanker truck, it is best for the user to communicate with the company's sales staff and share their fuel. The tanker request informs the sales staff that the sales staff will recommend a cheap fuel tanker suitable for the user according to the user's requirements.
3. Daily maintenance when the fuel tank truck is driving
(1) Learn the main structure, performance and functions of the petrol trailer, and the special vehicle chassis must be repaired at the special vehicle service station as required.
(2) Routine maintenance of the tank truck should be done well, and the inspection, cleaning, tightening and adding functions before, during and after the sulphuric acid tanker should be done well, and the remaining problems or hidden safety hazards of the tank truck should be discovered in time;
(3) Check the oil tank body, pipe network, valves, etc. for oil leakage or oil leakage before leaving the fuel tanker, whether the upper cover is closed as required, the amount of lubricating oil, fuel oil, cooling water, hand and foot brakes, steering device , Instruments, lights, tire pressure, tire nuts, etc.
Through the video below, you can learn about different types of fuel tanker semi trailers (like 3 axle fuel tanker, 4 axle storage tanker trailer, stainless steel tanker trailer, acid tanker trailer, fuel tanker with flatbed trailer, fuel tank Full trailer)
And the process, testing, packaging and customer feedback, etc.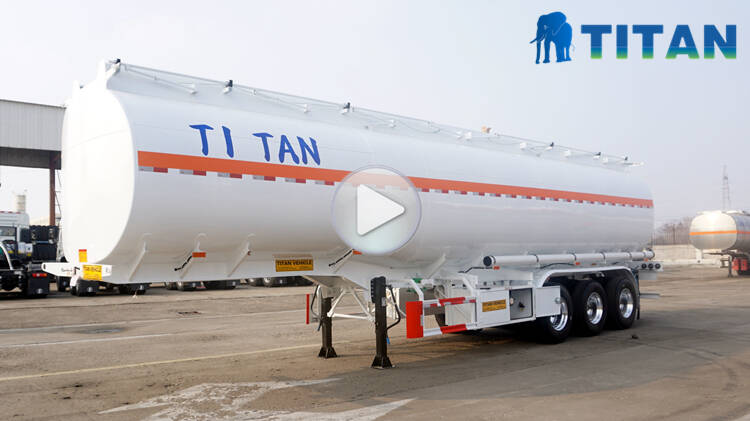 If you want more information about our semi-trailer, please click "Fuel Tanker Trailer".
And you can also look at other articles and videos on our website.