1. Different Types of Commercial Tanker Trailers
2. New and Used Petroleum Tanker Truck Trailer Parts
3. How many liters and gallons does a petroleum tank truck hold?
Different Types of Commercial Tanker Trailers
Whether it be a petroleum tanker or a chemical tanker, each tanker trailer requires a highly skilled driver who is also aware of strict safety regulations. In an already heavily regulated industry, petroleum tanker trailers are among the most regulated trailers because of the type of cargo they carry. Not only is it important that the vehicles remain stable during a haul, but there is also an equal concern for worker safety during both trailer operation as well as when handling cargo.
While driving any type of petroleum tanker trailer may require more planning and effort, it can also result in greater financial rewards. Here you'll learn about some of the most common types of petroleum tanker trailers, find out what they're used for, and more.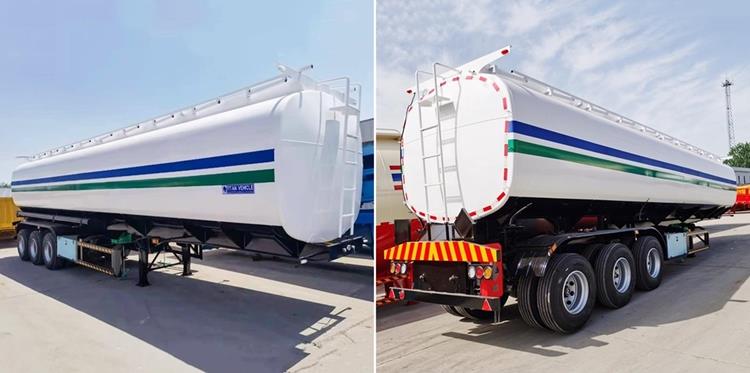 Petroleum Tank Trailer Guide – Diesel, Petrol, Oil Tanker Trailers Designs & Specs
Petroleum Tanker Trailer
Tasked with the dangerous and highly necessary job of transporting various fuels, 3 axle petroleum tankers trailer usually have multiple compartments within the cylindrical tank. Not only do the separate compartments allow for more than one type of fuel to be carried in a tank, but they also improve the safety of the vehicle by preventing liquid surges from occurring.
Within each compartment, there are baffles that act as dividers with holes to allow liquid to flow through. These baffles help minimize the movement of the cargo and control any liquid surge. The oil and gas industry relies heavily on petroleum tankers trailer, or diesel tankers, designed to transport petroleum-derived products such as Gasoline, Diesel, Ethanol, Jet fuel
All these products are hazardous which is why these tankers require stringent regulatory compliance.
Chemical Tanker Trailer
Another cylindrical, horizontally lying tank used to transport goods is a chemical tanker that hauls chemicals, flammable products, and corrosive materials. These tankers range in length from 42 feet up to 45 feet and are usually made of stainless steel. In the case of corrosive products, however, tanks are composed of fiberglass reinforced plastic (FRP).
Chemical tanker capacities are measured by their available volume which generally ranges from 5,500 to 11,600 gallons. This type of tanker is usually used by the industrial industry for hauling manufacturing materials. Common cargo hauled by chemical tankers includes: Ammonia, Chlorine, Hydrogen fluoride
Because most industrial chemicals pose dangerous health or physical hazards, these types of tankers must follow additional regulations.
3 Axle Chemical Tanker Trailer for Sale Price
New and Used Petroleum Tanker Truck Trailer Parts
Oil and gas recovery system
The tank truck has an oil and gas recovery system. The main function of the tank truck is to realize complete closed gas recovery during the loading and unloading process of the tank truck and limit the emission of oil and gas into the atmosphere. When the petrol tanker trailer truck is being unloaded, the oil and gas from Li Mina in the gas station can be returned to the tanker through the gas return line, and then the oil and gas can be brought back to the tanker for processing through the tanker. The purpose of oil and gas recovery.
Anti-overflow sensor
The anti-overflow electronic sensor is widely used in various types of container tanks when the liquid is sealed and filled, when the liquid is about to be full, a safety device that will give an alarm in advance. Its installation position is on the top manhole cover of the container. When the oil level reaches the warning limit, the sensor will automatically alarm and switch off.
Breathing valve
The purpose of the breathing valve is to prevent oil leakage. When the breathing valve is tilted to 70o, the sealing ball inside the breathing valve will form an effective seal.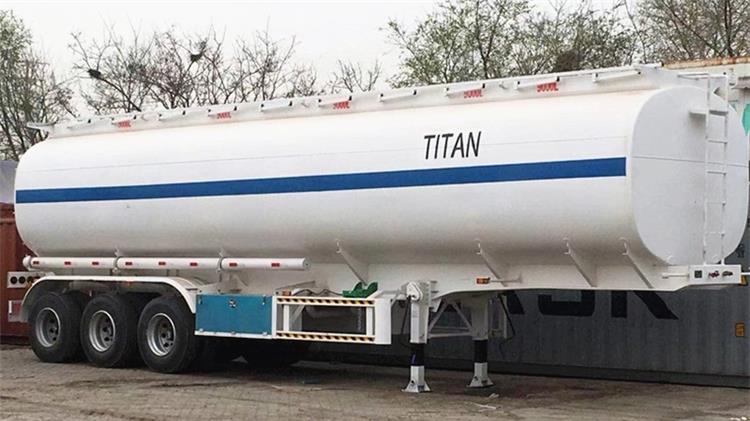 3 Axle 45000 Liters Petroleum Tanker Trailer for sale
Subsea valve
The submarine valve is also called the emergency shut-off valve, mainly for safety. It is generally installed at the bottom of the tank. It can replace the traditional top-loading refueling for bottom-loading refueling, making it more convenient and environmentally friendly and safe for the staff to operate. When an accident occurs in the tanker, the submarine valve will be disconnected, and the under-vehicle pipeline will be cut off from the tank body without affecting the tank's sealing. This can effectively prevent the oil in the tank from being discharged and ensure tank Security.
Safety valve
The safety valve is mainly designed for tank products such as oil tanks and chemical tanks. Different opening pressures are set according to user needs to meet different needs. The main body is made of integral stainless steel precision casting, corrosion resistance, high sealing, suitable for various environments.
Oil gauge
The oil dipstick is mainly installed at the prepared opening of the manhole cover, where you can pretend the dipstick or level gauge.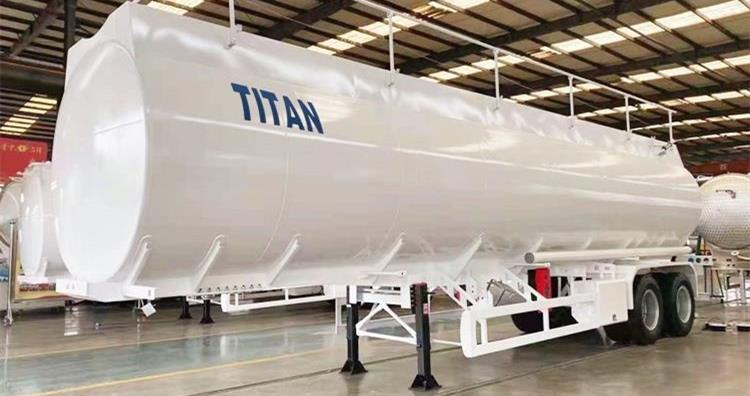 2 Axle 50000 Liters Petroleum Tanker Trailer with Bogie Suspension
How many liters and gallons does a petroleum tank truck hold?
The largest tank truck can achieve 30,000 liters, 8×4, and about 7925 gallons, while the smallest tank truck may only have a capacity of a few hundred gallons. The tank truck often used for in-town transport may haul 30,000 liters of fuel (about 7925 gallons diesel) or less.
A petroleum tanker can hold 30,000-60,000 liters, 7925-15850 gallons. The petroleum tanker trailer is the tank trailer configuration with maximum load capacity and a maximum load capacity of 15,850 gallons (60,000 liters).
The largest 3 axle petroleum tank trailer, usually reserved for long hauls, that transport materials long distances can hold 60,000 liters fuel (almost 15,850 gallons fuel).
You can learn about different types of fuel tanker semi trailers (like 3 axle fuel tanker, 4 axle storage tanker trailer, stainless steel tanker trailer, acid tanker trailer, fuel tanker with flatbed trailer, fuel tank Full trailer). And the process, testing, packaging and customer feedback, etc.