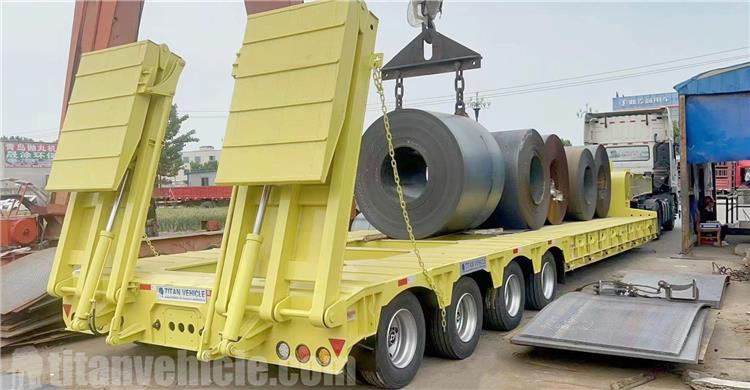 130 Ton Low Loader Trailer for Sale In Guinea
Guinea customers visited TITAN factory two years ago. Because of the capital chain of the client's follow-up company, he found us again in 2023 and cooperated with us.
Although two years later, TITAN has been documenting the client's previous requests and needs. Obviously, with the update of technology and customer needs, the previous solution is not so perfect. We recommend more suitable low loader trailers to customers. Now that's done, load testing is in progress. 4 line 8 axle low loader trailer can carry 130 tons of cargo.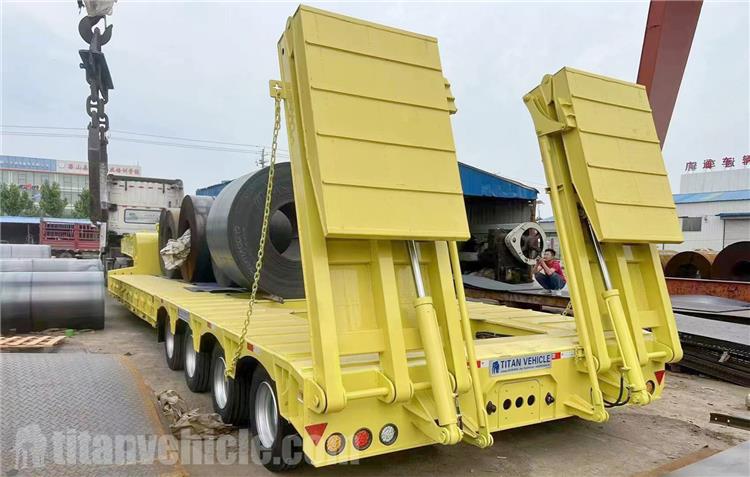 130 Ton Low Loader Trailer for Sale In Guinea
4 line 8 axle 130 ton low loader trailer has flat, concave beam, exposed structure, and the longitudinal beam adopts straight beam or gooseneck beam. The frame is stepped, and the cross-section of the longitudinal beam is I-shaped, which has the characteristics of high rigidity and high strength.
The main plane of the 130 ton low loader trailer frame and cargo platform is low, which ensures the stability of transportation and is suitable for carrying various construction machinery, large equipment and steel materials.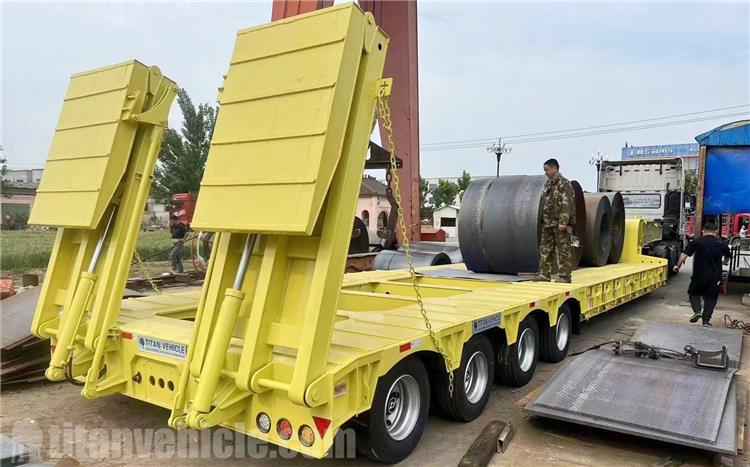 130 Ton Low Loader Trailer for Sale In Guinea
Low loader trailer has a wide range of uses, mainly for medium and long-distance freight. Low deck trailers are commonly used to transport heavy vehicles, rail vehicles, mining machinery, forestry machinery, agricultural machinery and other heavy cargo.
Low loader trailer for sale construction usually uses a concave beam frame. The lower the center of gravity, the better the stability and safety, and the stronger the ability to transport ultra-high cargo.
The way to increase stability is to lower the center of gravity or reduce the distance between the center of gravity and the ground. So TITAN 4 line 8 axle 130 ton low loader trailer is a good choice, it can make the center lower.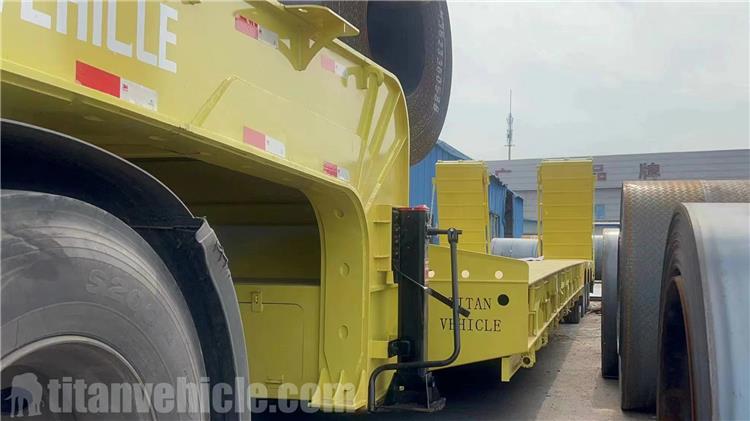 130 Ton Low Loader Trailer for Sale In Guinea
Lowloader trailer suspension adopts non-independent steel stamping rigid suspension, which consists of serial leaf springs and suspension bearings to support the load and reduce the impact of truck and cargo loads. Due to the different uses of special vehicles, there are also different requirements for suspension design. There are four commonly used suspensions: leaf spring balanced suspension, single point suspension, air suspension and rigid suspension.
Low loader trailer electrical system is composed of seven-core socket, cable, air circuit, various lamps, etc., which are used for lighting, safety warning and brake air supply.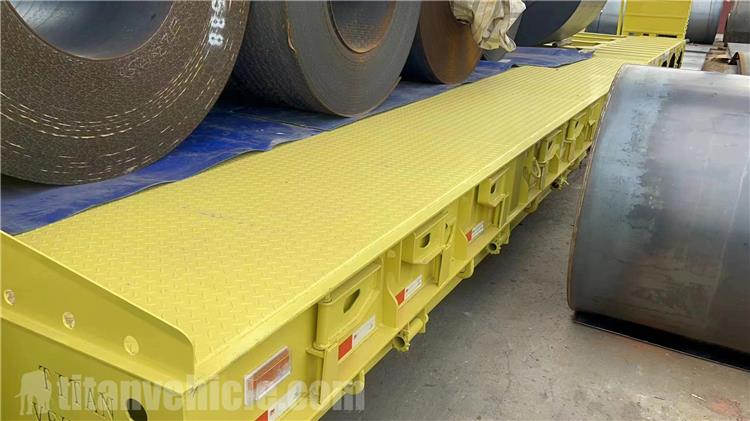 130 Ton Low Loader Trailer for Sale In Guinea
You can learn about different types of lowbed semi-trailers, like 2axle, 3axle, 4axle lowbed semi trailer, hydraulic ladder lowbed semi trailer, etc. As well as the process, testing, packaging and customer feedback, etc.
This kind of semi trailer was designed with lots of advantages and features. If you want to get more information, please don't hesitate to make contact with us.