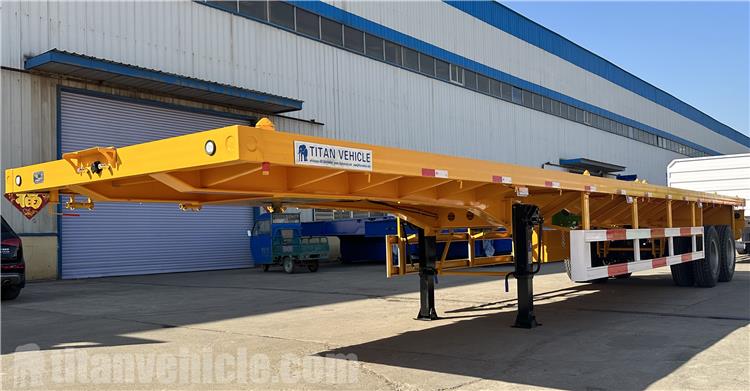 2 Axle 40 Ft Flatbed Trailer for Sale In Tanzania Dar es salaam
The customer in Tanzania found TITAN through a friend's introduction. TITAN already has a certain influence in Tanzania, so the customer introduced a friend to buy TITAN's semi trailer. The customer is interested in the flatbed semi trailer produced by TITAN. The sales manager immediately communicated with the customer, and recommended the customer to use the 2 axle 40 ft flatbed trailer according to the needs. Not only can the container be transported, but also bulk cargo can be transported.
Meet the daily requirements of customers. And we also fully considered the use environment and specific needs of Tanzanian customers and chose a flatbed semi trailer with high configuration as much as possible to better adapt to the road conditions in Africa. The Flatbed trailer for sale is now manufactured and will be packed and shipped. It will be delivered to the port of Dar es Salaam within a week.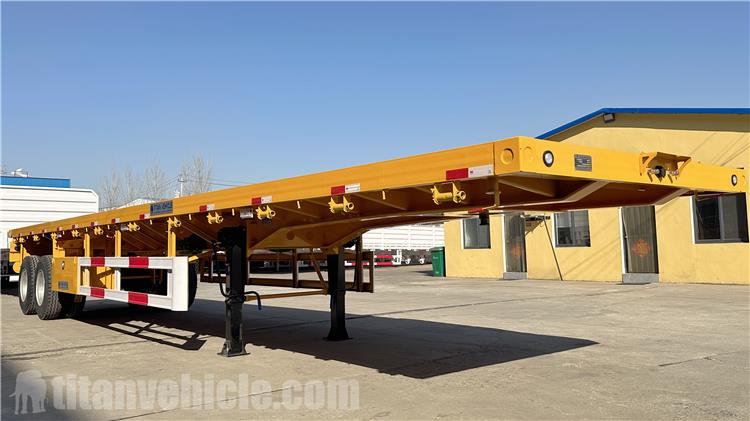 2 Axle 40 Ft Flatbed Trailer for Sale In Tanzania Dar es salaam
We have professional technicians to operate the packaging and delivery. In addition, the flatbed trailer is sprayed with a layer of wax to protect against bad weather, and then wrapped with a layer of rain cloth to prevent moisture, so it is foolproof. TITAN has supplied a wide range of semi trailers to many countries, we have more advantages in cost and quality control of 2 axle 40 ft flatbed trailers.
2 Axle flatbed trailers are trailers designed to transport bulk cargo and containers between ship facilities and terminals. The TITAN truck and flatbed trailer for sale is a trailer designed to move bulk cargo and containers between shipping facilities and terminals.
The load of the 40 Ft flatbed trailer needs to be carefully secured to avoid movement during transport.
Transported objects must not interfere with tractor controls, coverage numbers, signaling devices and lighting systems
Basically, a flatbed semi trailer is a transport device that mainly consists of a steel structure that defines its frame. It also includes lighting systems, brakes and tires.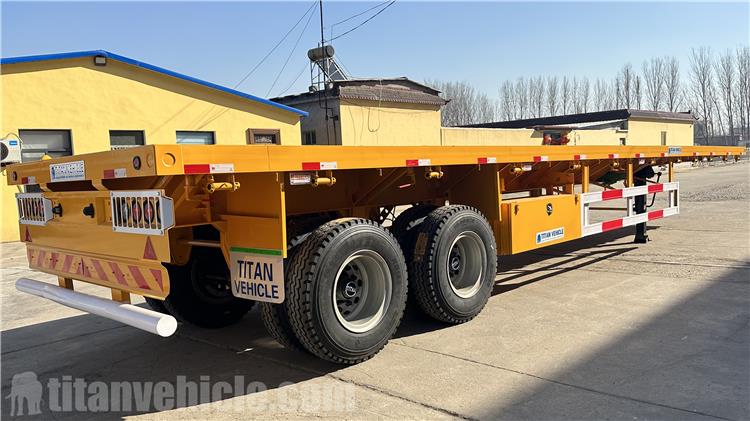 2 Axle 40 Ft Flatbed Trailer for Sale In Tanzania Dar es salaam
Flat bed trailers have no roof or side walls. It is a bare platform where containers of different sizes are secured with container locks for transport. They are mainly used for the transportation of bulk goods.
TITAN will provide customers with the best flatbed trailer for sale according to their needs. TITAN can provide different models of flatbed semi trailer, such as 2-axis, 3-axis, 4-axis, with different lengths, 20 feet or 40 feet, or 48 feet. 48ft trucks and flatbed trailers are sold for transporting 45ft containers.
TITAN is also equipped with 8 sets of locks on the flatbed trailer for sale, its function is to secure the container tightly on the tri axle trailer. 2 Axle flatbed trailer price is a structure-mounted platform on which the transported goods are securely fastened.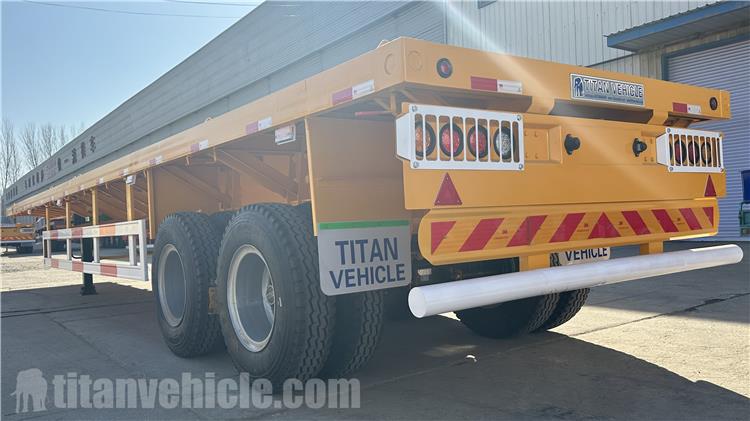 2 Axle 40 Ft Flatbed Trailer for Sale In Tanzania Dar es salaam
According to the specific model of the container, the maximum load capacity of the flatbed trailer is 40 tons. Manufacturers of this technology face a daunting task. On the one hand, it is necessary to ensure the reliability and strength of the structure, on the other hand, it is necessary to limit the self-weight of the semi-trailer within a certain limit.
Therefore, advanced materials and the latest technical solutions in frame design are used in the production of these flatbed semi trailers for sale.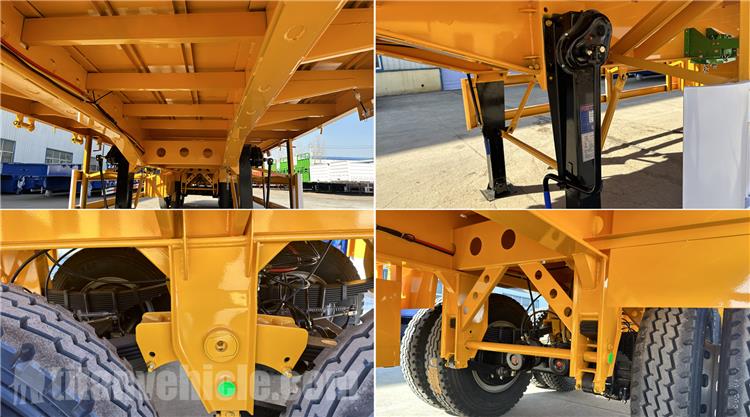 2 Axle 40 Ft Flatbed Trailer for Sale In Tanzania Dar es salaam
You can learn about different types of flatbed semi trailer, such as 2 axle flatbed semi trailer,3 axle container semi trailer,4 axle 40ft flatbed semi trailer, etc. As well as the process, testing, packaging and customer feedback, etc.
This kind of semi trailer was designed with lots of advantages and features. If you want to get more information, please don't hesitate to make contact with us.