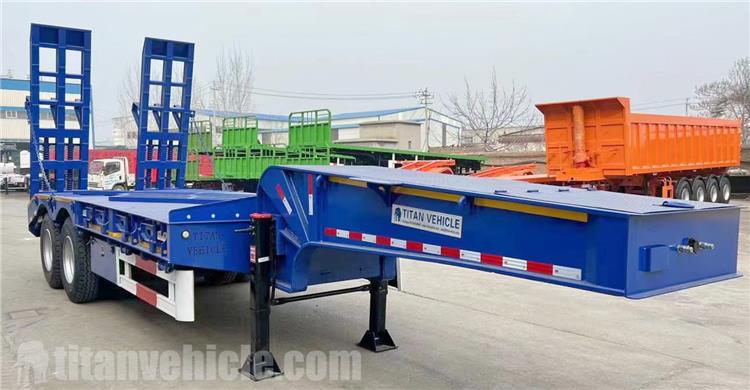 2 Axle 60 Ton Low Loader Trailer for Sale In Kenya
Kenya customers like the low loader trailer very much. He saw many people using the TITAN low loader trailer locally, so the customer asked about the price and details of the TITAN low loader trailer.
The communication between customers and our sales managers is also very efficient. As the largest semi-trailer supplier in China, TITAN low loader trailer product quality is more guaranteed. We determined the height, length and width of the 2 axle low laoder trailer according to the needs of our customers in Guinea. One month later, the production of TITAN 2 axle 60 ton low loader trailer was completed and will be sent to Kenya port soon.
Low loader trailer is TITAN's best-selling product, with the largest output and export volume. If you are interested in our low loader trailer, we also have it in stock. And our stock is on sale, if you are interested, please leave your contact information, we will give you a quotation as soon as possible.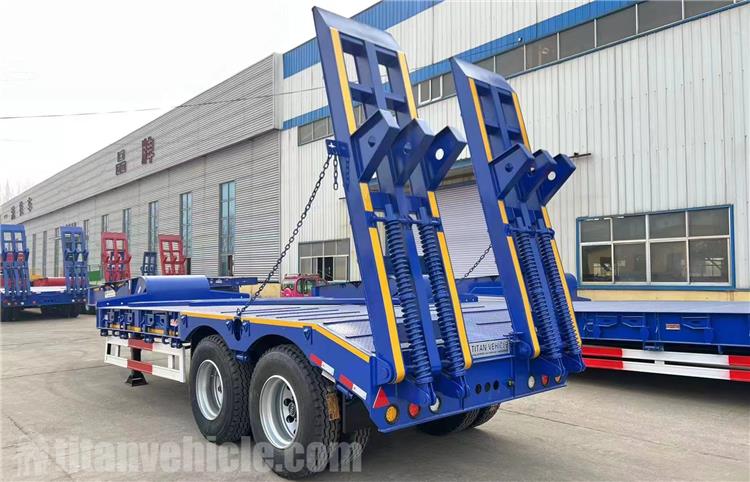 2 Axle 60 Ton Low Loader Trailer for Sale In Kenya
When loading mechanical equipment on 2 axle 60 ton low loader trailer, it is usually loaded from the rear of 2 axle 60 ton low loader trailer, that is, by removing the mechanical equipment from the rear wheel frame or removing the wheels, and then fixing the mechanical equipment to the semi-low Bed trailers are superior.
2 Axle 60 ton low loader trailer, as a special tool for large-scale transportation, has the characteristics of high transportation efficiency and high safety and is widely used in modern logistics transportation.
2 axle 60 ton low loader trailer must not only consider the lightweight requirements of the trailer, but also meet the high load requirements of bulk cargo, and also take into account the individual needs of customers.
The whole 2 axle 60 ton low loader trailer is made of high strength steel. The 2 axle 60 ton low loader trailer for the whole vehicle takes into account the three advantages of light, low and heavy loads, and is customized to meet the needs of users in an all-around way.
Adopt automated production equipment and build a standardized intelligent robot production line. Low loader semi trailer has imported large-format fiber laser cutting machine, chain turning machine, roller pass-through shot blasting machine, four-axis tightening machine, gantry double gun welding machine and many other advanced equipments.
At present, a complete set of intelligent assembly techniques such as machine cutting and welding has been formed, which comprehensively improves the quality of steel cutting, welding, spraying and other processes, and comprehensively improves the precision of low loader truck trailer.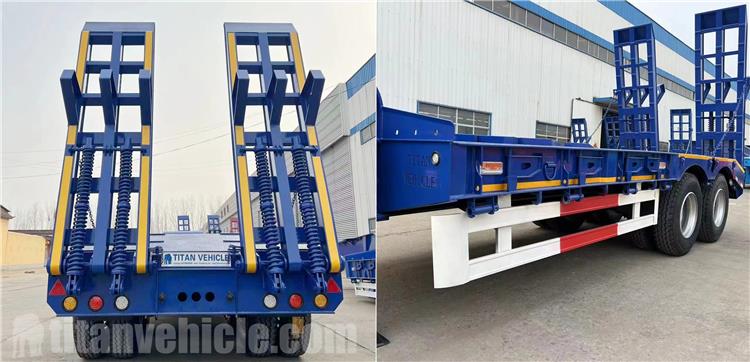 2 Axle 60 Ton Low Loader Trailer for Sale In Kenya
You can learn about different types of lowbed semi-trailers, like 2axle, 3axle, 4axle lowbed semi trailer, hydraulic ladder lowbed semi trailer, etc. As well as the process, testing, packaging and customer feedback, etc.
This kind of semi trailer was designed with lots of advantages and features. If you want to get more information, please don't hesitate to make contact with us.