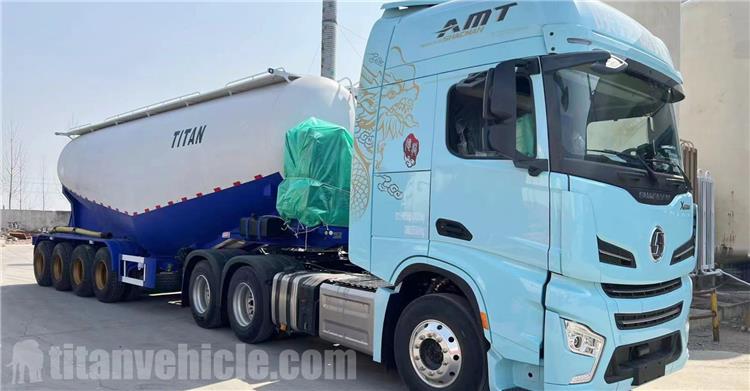 4 Axle 45CBM Bulk Cement Trailer for Sale In Oman
First of all, thank Oman customers for choosing bulk cement trailer. TITAN has decades of experience in the field of semi-trailers, and it is a very correct choice for Oman customers to choose Bulk cement trailer.
TITAN 45 cbm Bulk cement trailer adopts advanced single-side welding and double-side forming welding process, the weld seam is stronger and smoother. The Oman customer finally chose TITAN because he believed in the quality of bulk cement trailer.
On the premise of ensuring the strength and safety performance of the tank structure, the Bulk cement trailer can improve the power of Bulk cement trailer, reduce fuel consumption, and reduce exhaust pollution.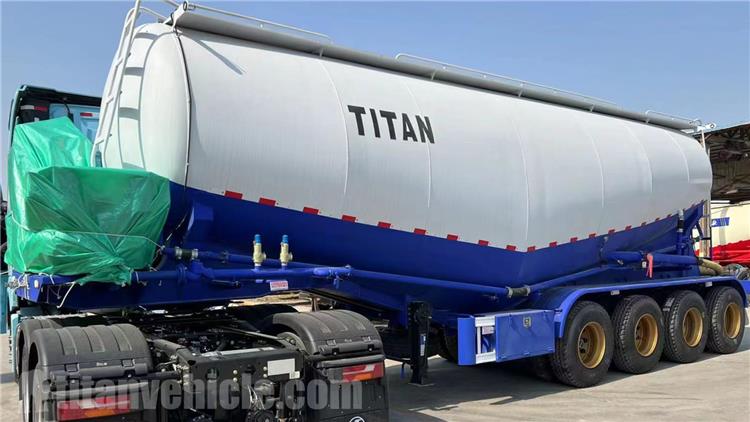 4 Axle 45CBM Bulk Cement Trailer for Sale In Oman
Tank body: The tank body is made of high-strength alloy steel, and the overall structure design is reasonable; there is no slide plate structure in the Bulk cement trailer tank, which effectively improves the service life of the Bulk cement trailer tank body and is easy to maintain.
Power system: The power system can adopt the power take-off type of the main vehicle, which has the advantages of lightweight, low cost and easy operation.
Transport materials: cement, fly ash, expansion agent and other materials, and design the internal structure for special materials to ensure normal use.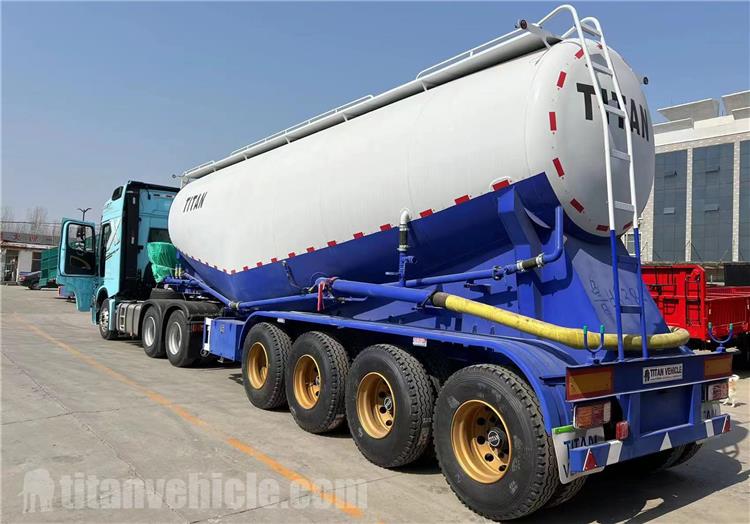 4 Axle 45CBM Bulk Cement Trailer for Sale In Oman
Equipped with a series of intelligent facilities such as anti-collision, reversing blind spot monitoring, centralized lubrication of the whole vehicle, video monitoring in the tank, etc., to realize intelligent and convenient control of the powder tanker.
The plate is made of new high-strength and high-quality steel from well-known domestic steel mills, and high-end aluminum alloy accessories. The Bulk cement trailer uses advanced manufacturing technology, with high tensile strength and more stable mechanical properties.
TITAN cement tanker trailer tank body structure, the fluidization angle is further increased, not only the anti-pressure effect is good, but also the unloading speed is faster and the material residual rate is low. Cement tanker trailer air chamber structure greatly reduces airflow loss, compact structure, safe and reliable.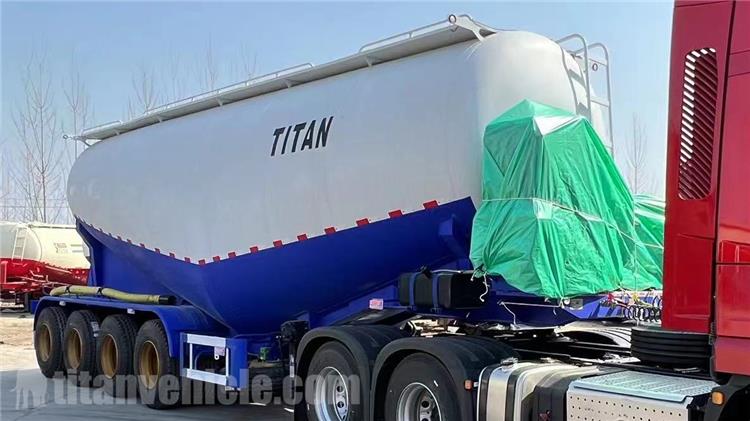 4 Axle 45CBM Bulk Cement Trailer for Sale In Oman
Modular pipeline design, pressure gauge plus hose, secondary air supply metal hose, pressure relief valve and many other details are upgraded from the inside out, with high efficiency, better performance, safer, and more convenient maintenance and repair.
The cement tanker trailer for sale has a wider range of applications, and at the same time meets the needs of multi-media transportation such as cement, fly ash, calcium powder, and micro powder.
TITAN has always been committed to the safety and lightweight of bulk cement trailers. While focusing on product technology upgrades and safety upgrades, TITAN is also actively exploring high-end intelligent manufacturing to ensure lightweight with more reliable performance, better products, and more convenient services.
The quantitative bulk cement trailer can always be at the forefront of the industry, helping the scientific and efficient development of the powder material transportation industry.

4 Axle 45CBM Bulk Cement Trailer for Sale In Oman
You can learn about different types of bulk cement tanker trailers, such as 3 axle dry bulk tanker trailer, 30-ton fly ash tanker, 50cbm silo trailer for sale, and process, testing, packaging and customer feedback, etc.
This kind of semi trailer was designed with lots of advantages and features. If you want to get more information, please don't hesitate to make contact with us.