Tri Axle 60 Ton Front Loader Trailer for Sale In Guinea
The Guinea customer saw TITAN's low bed semi trailer locally, and the customer contacted us immediately. The main need of Guinea's customers is to transport machinery and equipment such as excavators. So the customer bought a front loader trailer which is suitable for transporting machinery and equipment.
The Guinea customer hopes to receive the tri axle 60 ton front loader trailer as soon as possible. So we recommend customers to use container transportation. Since the loading and unloading of containers is basically not affected by bad weather, the non-production berthing time of the ship is shortened, and the loading and unloading time is shortened due to the high loading and unloading efficiency.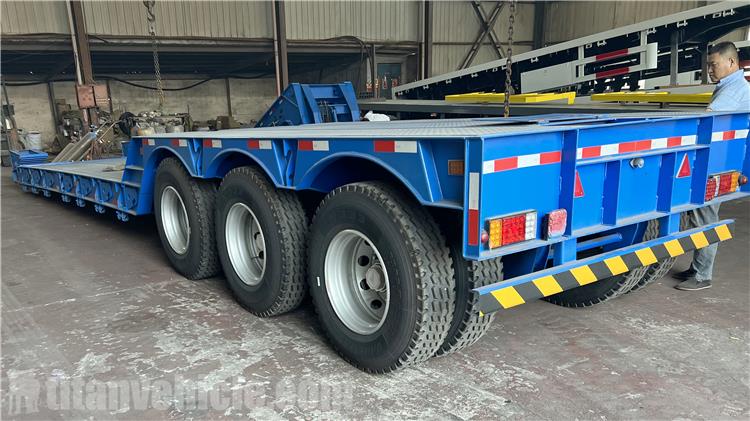 Tri Axle 60 Ton Front Loader Trailer for Sale In Guinea
The high economic benefits of container transportation are mainly reflected in the following aspects: simplifying packaging and saving a lot of packaging costs. In order to prevent the goods from being damaged during transportation, strong packaging is required, and the container is strong and airtight, which is excellent packaging in itself.
The use of containers can simplify packaging, and some even do not require packaging, so ordinary goods can be transported without packaging, which can greatly save packaging costs.
Reduce cargo damage and poor cargo, and improve cargo quality. Since the container is a strong sealed box, the container itself is a strong package. Even after long-distance transportation or multiple replacements, it is not easy to damage the goods in the box. Container transportation can reduce cargo damage caused by theft, damp, pollution and other reasons.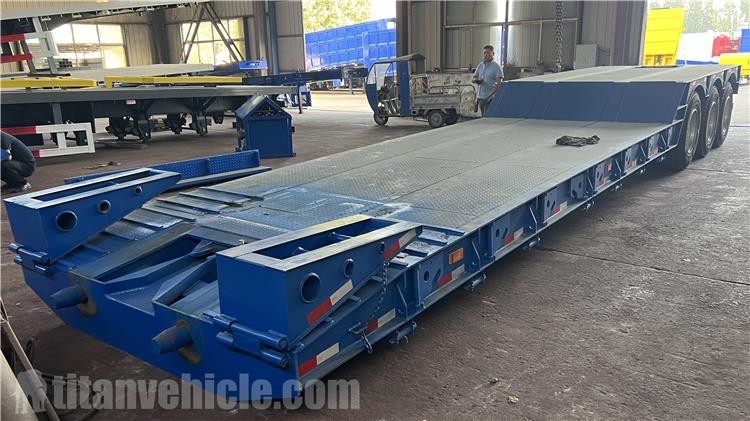 Tri Axle 60 Ton Front Loader Trailer for Sale In Guinea
Tri axle 60 ton front loader trailer are a low front-ramped loader that allows heavy vehicles with excessive weight to be transported. The tri axle 60 ton front loader trailer features a king-pin gooseneck that stays attached to the tractor truck and detaches from the main trailer deck. With its hydraulic foldable gooseneck, our Front Load Lowbed trailers come with 2 to 8 axle options.
Front loader trailer are usually used to transport heavy vehicle rail vehicles, mining machinery, forestry machinery, agricultural machinery (such as harvesters, wheeled tractors, conveyors, etc.), construction machinery (such as excavators, bulldozers, loaders, road pavers), cranes, etc. and other heavy loads, the lower the center of gravity, the better the stability and safety, and the greater the ability to transport ultra-high loads and pass overhead obstacles.
These heavy-duty front loader trailer types of equipment have the characteristic that they are heavy in weight and high in height. If they are transported by ordinary low-bed semi-trailers, there will be some risks during loading. At this time, Front loader trailer can solve these problems very well. So, that's why this model is now becoming more and more popular in the market.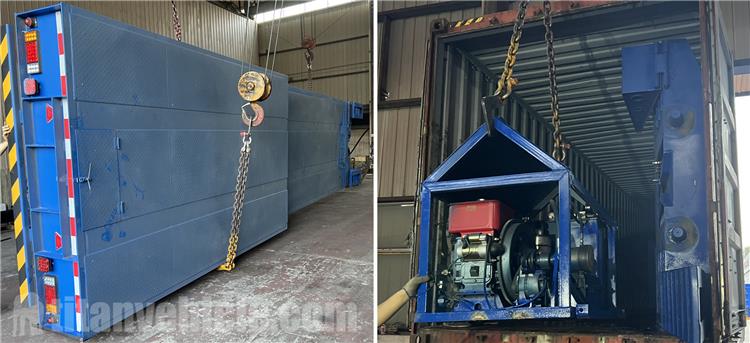 Tri Axle 60 Ton Front Loader Trailer for Sale In Guinea
Loading method for front loader trailer: cargo is loaded from the front. Detachable gooseneck cargo table is only 85 cm, the center of gravity is very low, so the stability and security are very good. The heavy duty 60 ton front loader trailer can transport ultra-high and medium sized equipment and machine.
60 Ton front loader trailer uses the HG60 high strengthen steel to produce the trailer. The yield strength of Q460C steel is ≥620Mpa, more durable and stronger than ordinary steel, and its loading capacity is 5 times more than the trailer which adopt Q345 steel.
The side beam of 60 Ton front loader trailer adopts "H" type design,the height of middle plate is 300 mm,the thickness is 8 mm;the upper and bottom plate is 10 mm,which make the trailer will never deform.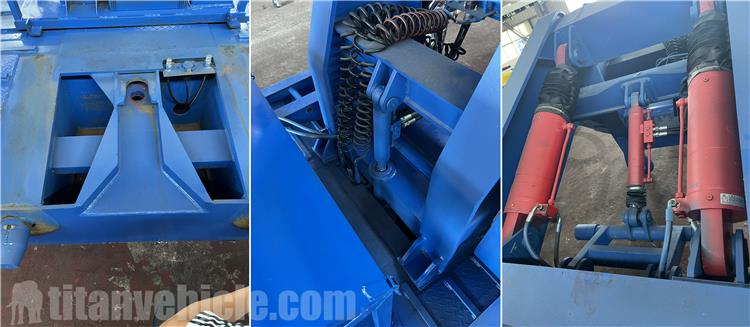 Tri Axle 60 Ton Front Loader Trailer for Sale In Guinea
You can learn about different types of removable gooseneck trailer(like removable gooseneck trailer , removable gooseneck trailer for sale , 4 line 8 axle removable gooseneck trailer for sale in Nigeria). And the process, testing, packaging and customer feedback, etc.
This kind of semi trailer was designed with lots of advantages and features. If you want to get more information, please don't hesitate to make contact with us.