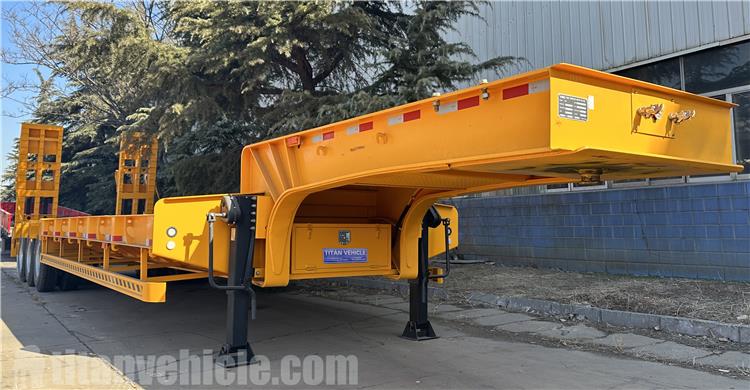 Tri Axle 80 Ton Low Bed Semi Trailer for Sale In Tanzania
Tanzanian customer likes the TITAN brand very much. He saw many people using TITAN semi-trailers locally, so the customer asked about the price and details of our lowbed semi trailer.
It is also very efficient and easy for customers to communicate with our sales managers. As the largest semi-trailer supplier in China, its product quality is more guaranteed. We determined the height, length and width of the low bed semi trailer according to the customer's needs, and the customer purchased an 80 ton low bed semi trailer one month later.
Tri axle 80 ton low bed semi trailer is a bestseller, the most produced and exported, we finished the production and delivery of lowbed semi trailer transportation very quickly. If you need it in a hurry, we also have it in stock. And our stock is on sale, if you are interested, please leave your contact information, and we will give you a quotation as soon as possible.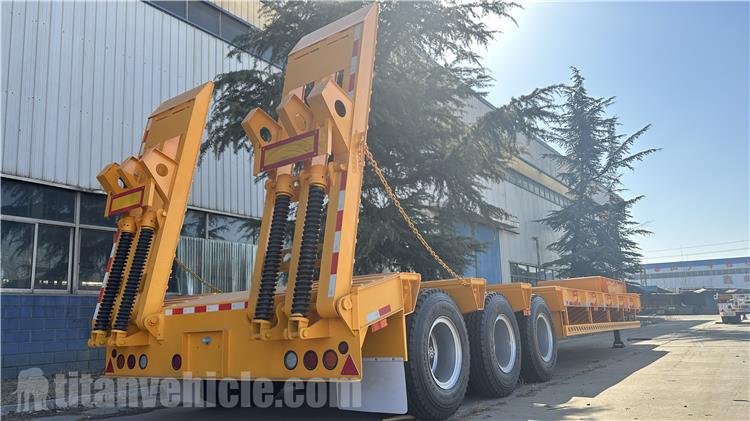 Tri Axle 80 Ton Low Bed Semi Trailer for Sale In Tanzania
80 ton low bed semi trailer, as a special tool for large-scale transportation, has the characteristics of high transportation efficiency and safety, and is widely used in modern logistics transportation.
The 80 ton low bed semi trailer seems simple, but in fact it has a lot of knowledge. It needs to meet the high load requirements of bulk cargo and take into account the individual needs of card users.
The 80 ton low bed semi trailer uses automated production equipment to build a standardized intelligent robot production line. There are many advanced equipments such as large-format fiber laser cutting machine imported from Italy, chain turning machine, roller-passing shot blasting machine, four-axis tightening machine, double-gun welding machine for gantry frame, and edge beam hole cutting robot imported from Switzerland.
At present, a complete set of intelligent assembly technology such as machine cutting and blanking and welding has been formed, which has comprehensively improved the quality of steel cutting, welding, spraying and other processes, and improved the accuracy of lowbed semi trailer for sale in all aspects.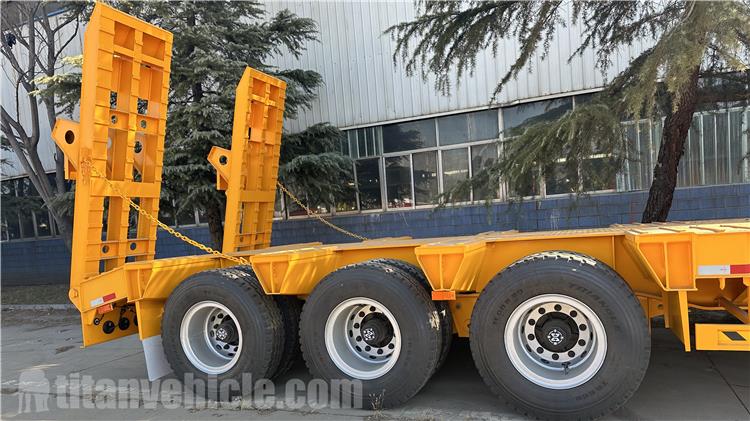 Tri Axle 80 Ton Low Bed Semi Trailer for Sale In Tanzania
One-piece Beam
The whole piece of high-strength steel plate is cut by the fiber laser cutting machine imported from Italy, and it is integrally formed. There is no welding beam in the middle, which has high strength, light weight, stronger load capacity and longer service life. Welding the girder will reduce the strength of the steel, causing problems such as deformation and open welding.
Girder Reinforcement Device
Strip steel plates are installed on both sides of the low bed trailer girder to prevent the girder from breaking, improve the load-bearing capacity, and have greater integrity, which greatly prolongs the service life of the girder.
Web Design
The tri axle low bed trailer longitudinal beam bears large bending stress and reaction force. In order to ensure sufficient supporting strength of the longitudinal beam, double webs are added to the steps of the front vertical plate, and single webs are added to the front of the rear vertical plate. The welded structure's Good airtightness greatly improves the torsion resistance.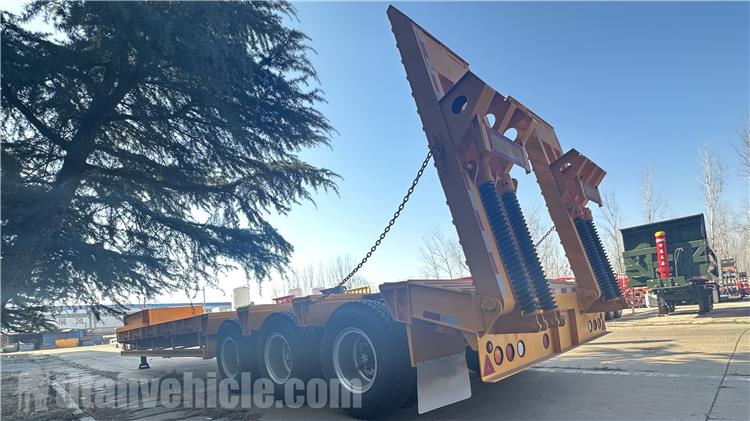 Tri Axle 80 Ton Low Bed Semi Trailer for Sale In Tanzania
The reinforcement bracing is welded on the low bed trailer bracket. It adopts a triangular structure with a larger angle and is more stable. The support protects the side beam from slumping, and the protection bracket does not break or skew. The flat part adopts a special coating process as a whole, and the flatness is extremely high.
Brake System
The low bed trailer price adopts a safe and reliable circuit air break brake system, the energy storage cylinder has the function of the parking brake, and the relay valve with openable performance is selected. Various gooseneck structures: Various gooseneck forms are adopted, and the bearing surface is low, which can meet the transportation needs of different goods.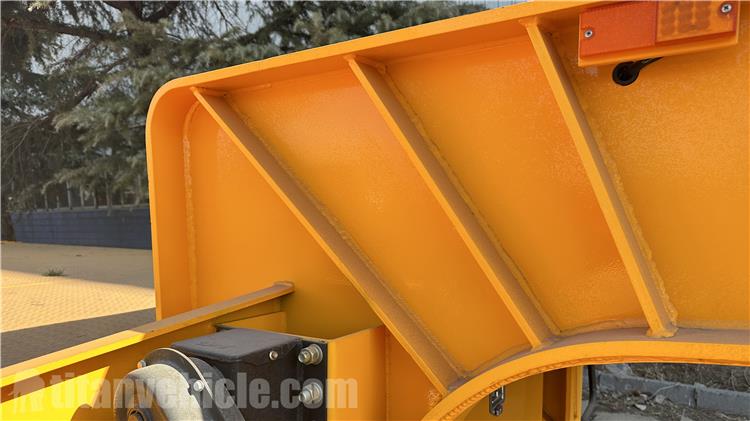 Tri Axle 80 Ton Low Bed Semi Trailer for Sale In Tanzania
You can learn about different types of lowbed semi-trailers, like 2axle, 3axle, 4axle lowbed semi trailer, hydraulic ladder lowbed semi trailer, etc. As well as the process, testing, packaging and customer feedback, etc.
This kind of semi trailer was designed with lots of advantages and features. If you want to get more information, please don't hesitate to make contact with us.