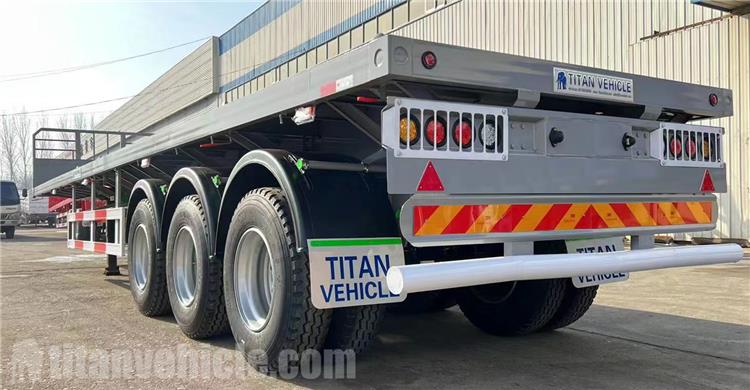 12.5m Tri Axle Flatbed Trailer with Front Wall for Sale In Uruguay
Uruguayan customers search for flatbed semi trailer through the Alibaba platform. The customer was very interested in TITAN12.5 m flatbed semi trailer, so he left his contact information on the Alibaba platform and asked us to provide a quotation for 12.5m tri axle flatbed trailer.
In the beginning, Uruguayan customers thought that our 12.5 m flatbed semi trailer was more expensive, but the advantage of TITAN flatbed semi trailer lies in its quality, which enjoys a high reputation in the international semi trailer field, especially in Africa.
After comprehensive consideration, the Uruguayan customer finally chose the Tri axle flatbed trailer. Now the 40 ft flatbed trailer for sale has been packaged in the factory and will be sent to Uruguay in a few days.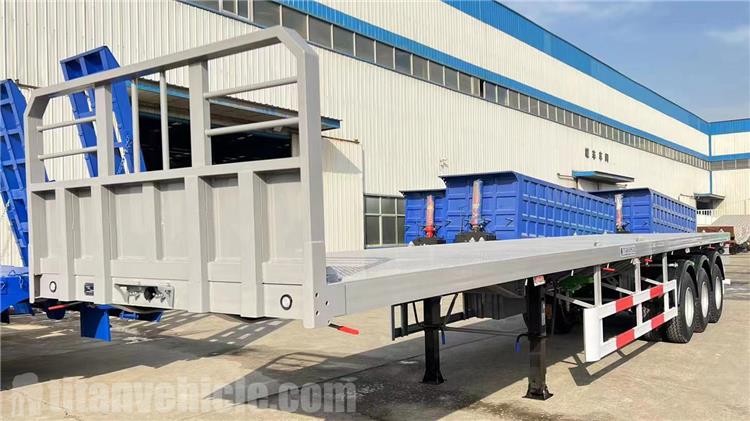 12.5m Tri Axle Flatbed Trailer with Front Wall for Sale In Uruguay
Analysis of key details of semi-trailer structure
Hinge: It mainly plays the role of connection between the railing of the carriage and the frame. Different forms of hinges are used according to the force, mainly divided into large hinges, small hinges, flat hinges, cast steel hinges, etc. form. Mainly suitable for side wall semi trailer.
Flatbed Trailer Frame: The 12.5m tri axle flatbed trailer is assembled and welded by welded longitudinal girders, through girders and section steel members made of steel plates for vehicles. It is a space frame structure, used to support loads, and install traction pins, suspension, support and other devices' main components.
12.5m Tri Axle Trailer Floor: It is in direct contact with the goods during daily loading, and it is also the most prone to wear and tear on the 12.5m tri axle flatbed trailer for sale. According to the type of cargo carried, there are mainly 3mm flat plates, 4mm flat plate, 3mm checkered plate and 4.5mm checkered plate.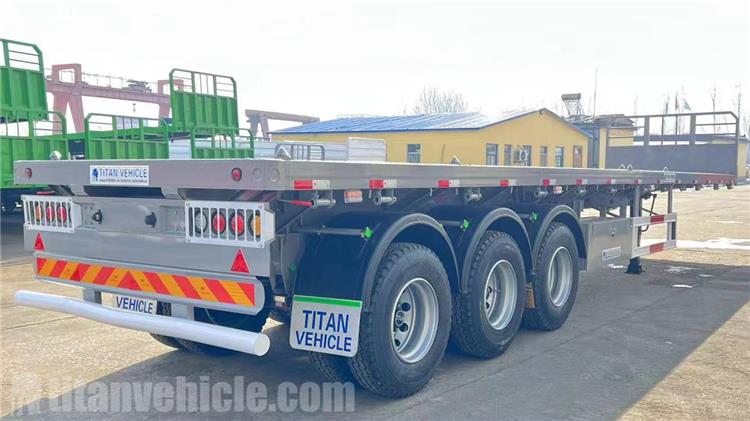 12.5m Tri Axle Flatbed Trailer with Front Wall for Sale In Uruguay
Flatbed Semi Trailer Outriggers: The device used to support the front load of the 40 ft flatbed trailer after being removed and hung, consisting of a base, a pull rod transmission mechanism, an inner square tube, an outer square tube, a gearbox, and a control handle. There are two forms of single action and linkage. Each single action outrigger has a crank handle, while the linkage outrigger has only one crank handle.
Flat Bed Trailer Suspension: A device used to transmit loads and absorb shocks, mainly including brackets, tie rods, upper and lower shaft clamps, U-shaped bolts, leaf springs, parallel arms, etc. The leaf spring is fastened on the shaft body of the axle with U-shaped bolts, and the two ends are stuck in the frame bracket, connected in series through the balance arm, and the balance arm is balanced within a certain range.
The leaf spring mainly bears the gravity in the vertical direction on the frame, and the force in the horizontal direction is transmitted by the lower shaft clamp and the pull rod. By adjusting the tie rods, the shafts can be adjusted to be parallel to avoid abnormal wear of the tires.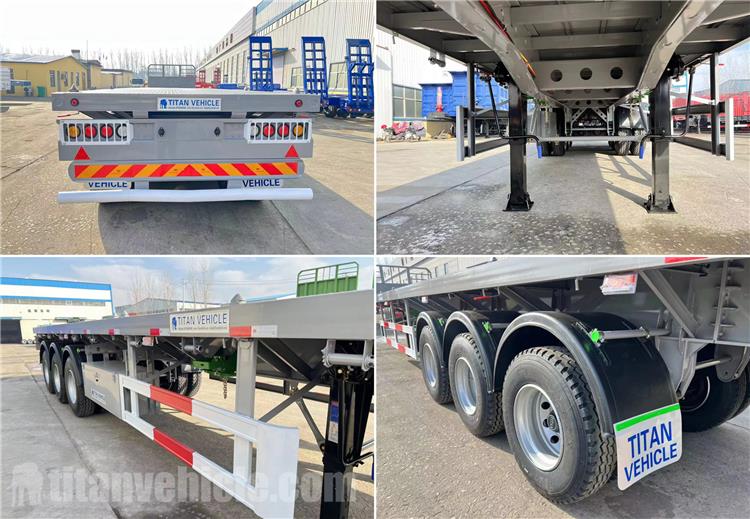 12.5m Tri Axle Flatbed Trailer with Front Wall for Sale In Uruguay
Wheel bridge assembly: consists of tires, steel rings, hubs, brakes and axles.
Flatbed Trailer Air Circuit: a device used for normal driving braking and emergency driving braking. It is composed of air connector, inflation pipeline, control pipeline, emergency relay valve, air storage tank and brake air chamber.
Flat Bed Circuit: It plays the role of lighting and signal transmission. It is connected to the tractor by the seven-star plug. The circuit is generally hidden in the frame of the 12.5m tri axle flatbed trailer for sale.
Semi Trailer Guardrail: It can prevent external objects from entering the lower part of the flatbed semi trailer, and play a protective and blocking role.
Toolbox: It is used to store the tools, rain cloths and ropes carried in the car, and is generally arranged on the side or back of the flatbed semi trailer for sale.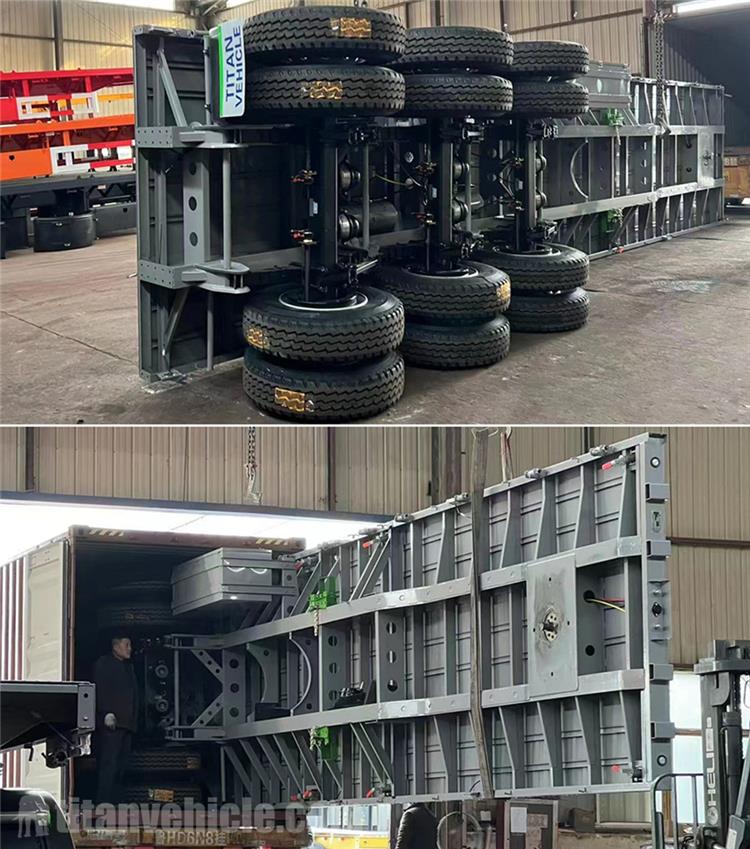 12.5m Tri Axle Flatbed Trailer with Front Wall for Sale In Uruguay
You can learn about different types of flatbed semi trailer, such as 2 axle flatbed semi trailer,3 axle container semi trailer,4 axle 40ft flatbed semi trailer, etc. As well as the process, testing, packaging and customer feedback, etc.
This kind of semi trailer was designed with lots of advantages and features. If you want to get more information, please don't hesitate to make contact with us.