38cbm Bulk Cement Tankers for Sale Product Description:
The bulk cement tankers used for transporting cement is a bulk powder transport vehicle made of a combined specially designed chassis, pneumatic piping system, tanker and discharging units. ... With the use of this type of trailer, packaging and discharging costs are greatly reduced.
Bulk cargo is commodity cargo that is transported unpackaged in large quantities. It refers to material in either liquid or granular, particulate form, as a mass of relatively small solids, such as petroleum/crude oil, grain, coal, cement, powder lime or gravel. This cargo is usually dropped or poured, with a spout or shovel bucket, into a bulk carrier ship's hold, railroad car/railway wagon, or dry bulk tankers truck/trailer/semi-trailer, dry shipping bulk tankers body. Smaller quantities (still considered "bulk") can be boxed (or drummed) and palletized. Bulk cargo is classified as liquid or dry.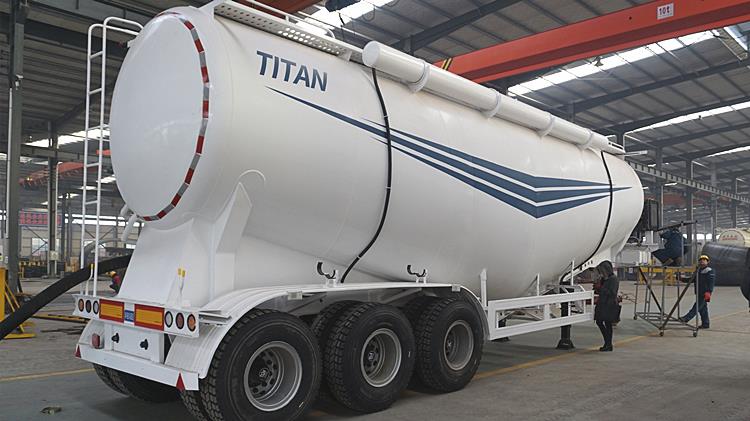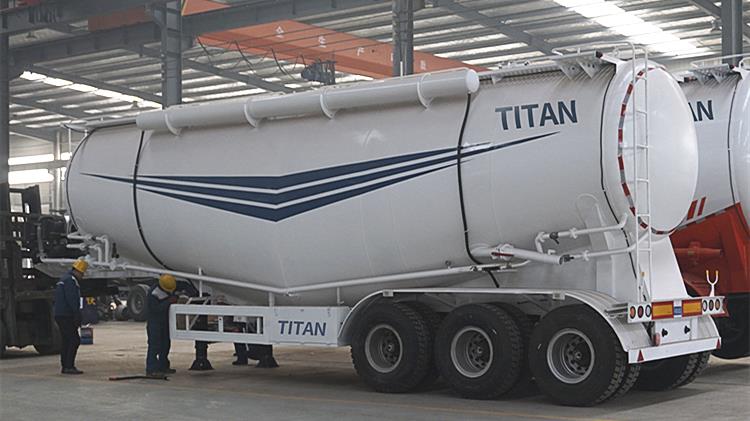 Specification:
Tanker body material : 5mm high strength wear-resistance steel
Payload : 36T-50T
Axles:3 axles
Tire:12 units
Application: transport lime, cement, powder etc.
Tank body thickness: 3.5mm
Compressor: 12m³ double cylinder air compressor
Spare tire rack: 2 units
Leaf spring: 10 pieces
Sprinkler: one sprinkler; car waxing
Diesel Engine: WEICHAI Brand
Compressor: BOHAI
Suspension:Heavy duty mechanical suspension
Landing gear:JOST
Brake system: WABCO
Light: LED light (specially intended for oversea markets)
Voltage: 24V
Tool box: 1 set
Painting: Polyurethane paint, with long service lift, and avoid the vehicle get rust
Through the video, you can know different types of 38ton bulk cement tankers for sale , 3 axle bulk cement tanker trailer , cement tanker trailer for sale, etc.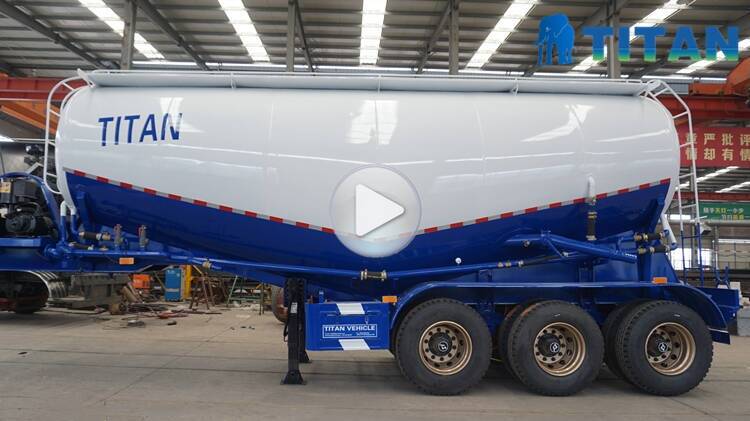 Please click "TITAN Cement Bulker Trailer" to get detailed video!
Welcome to leave your inquiry! We will provide more details, price, catalog, drawing, videos for you!