Description:
Howo dump truck refers to a vehicle that unloads goods by hydraulic or mechanical lifting, also known as a tipper truck. It is composed of automobile chassis, hydraulic lifting mechanism, cargo compartment and power take-off device.
Since the howo 371 dump truck trailer can automatically tip over for unloading at a certain angle, it greatly saves unloading time and labor, shortens the transportation cycle, improves production efficiency, and reduces transportation costs. It is a commonly used special transportation vehicle.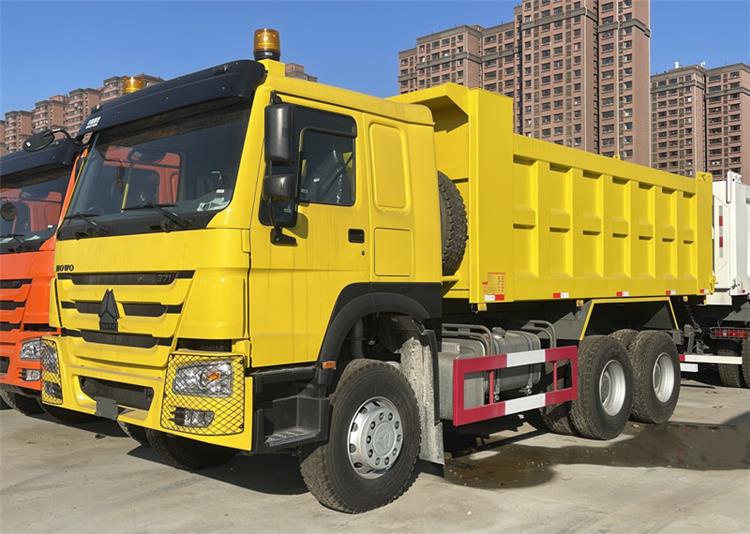 Howo 371 Dump Truck Trailer Sinotruck 6x4 Tipper Truck Trailer for Sale Price in Ghana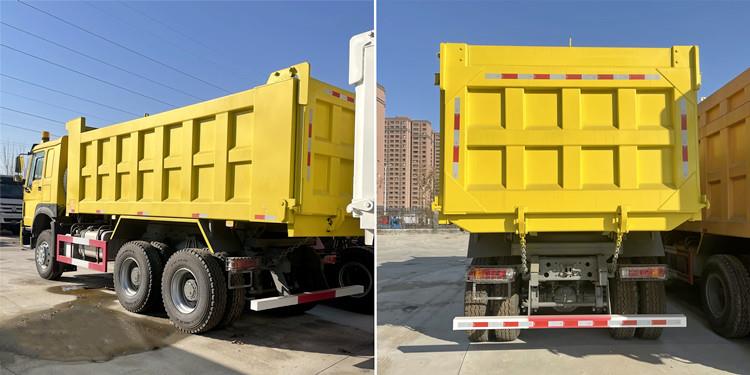 Howo 371 Dump Truck Trailer Sinotruck 6x4 Tipper Truck Trailer for Sale Price in Ghana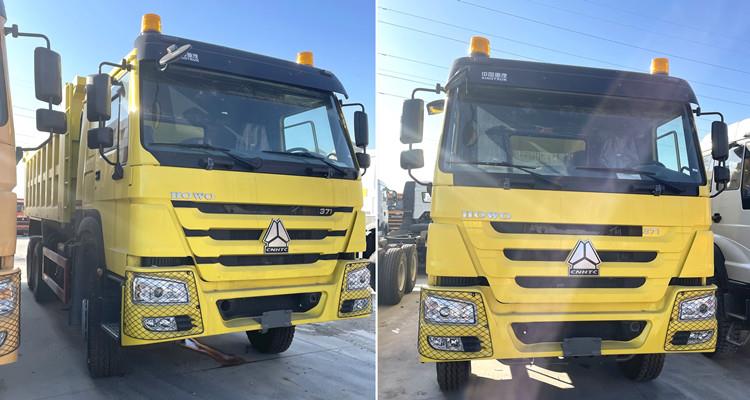 Ghana's exclusive double dome light design
Specification:
CHASSIS MODEL: ZZ4257V3241W
OVERALL DIMENSION: 6900*2550*3450mm
DRIVING TYPE: LHD (RHD is optional)
CABIN: HW76, with one sleeper and two seats, double arm windscreen wiper system with three speeds, damped adjustable driver's seat, with heating and ventilating system, exterior sun visor, safety belts, adjustable steering wheel, air horn, air conditioner, with transverse stabilizer, with four piont support floating suspension+shock absorber.
ENGINE:
Make: SINOTRUK
Diesel 4-stroke direct injection diesel engine
Engine model: D12.42, Euro 2, 420 HP
6-cylinder in-line with water cooling, turbo-charging and intercooling
Displacement: 11.596 L
TRANSMISSION:
HW19712, 12F & 2R
Ratio:14.28, 10.62, 7.87, 5.88, 4.38, 3.27, 2.43, 1.80, 1.34, 1.00, 13.91(R1), 3.18(R2)
STEERING: ZF power steering, model ZF8118, hydraulic steering with power assistance;
FRONT AXLE :
HF9, 1×9000 KGS
Steering with doubleT-cross section beam
REAR AXLE:
HC16, 2×16000 KGS
Pressed axle housing, central single reduction with hub reduction,with differential locks between wheels and axles.
Ratio: 4.42
PROPELLER SHAFT: Double universal joint propeller shaft with gear-shaped coupling flange
CHASSIS:
Frame: Uprofile parallel ladder frame with section of 300x80x8mm,reinforced subframe all cold riveted cross members
Front suspension:10 semi elliptic leaf spring, hydraulic telescopic double-action shock absorbers and stabilizer
Rear suspension:12 leaf semi elliptic springs, bogie spring and stabilizer
BRAKE:
Service brake: dual circuit compressed air brake
Parking brake (emergency brake): spring energy, compressed air operating on front shaft and rear wheels
Auxiliary brake: engine exhaust brake
ELECTRICS:
Operating voltage: 24 V, negative grounded
Starter: 24 V, 5.4 Kw
Alternator: 3-phase, 28 V, 1500 W
Batteries: 2 x 12 V, 165 Ah
Cigar-lighter, horn, headlamps, fog lights, brake lights, indicators and reverse light
TYRES: 13R22.5
FUEL TANK: 400L
FIFTH WHEEL: 90#
About SINOTRUK:
TITAN is authorised distributor of SINOTRUK, We produce New SINOTRUK Howo Trucks according to your order.
SINOTRUK is China's first heavy duty truck manufacturer, initially founded in 1956 and the cradle of China's heavy duty truck industry. SINOTRUK once manufactured China's first heavy duty truck, and it is China's first company to comprehensively introduce foreign heavy duty truck manufacturing technology of complete vehicle.
Today, SINOTRUK has developed into China's largest heavy duty truck manufacturing base and made significant contributions to the development of China's heavy duty truck industry and national economic growth.
SINOTRUK has been adhering to implementing independent innovations, carrying out its leading strategy in technologies and building its core competitiveness with intellectual property rights. It has the most patents in China's automotive industry.
SINOTRUK's main truck models include HOWO, HOWO A7, HOHAN, main truck types include truck tractor, tipper truck, cargo truck, truck chassis, fuel tanker truck, water tank truck, and other special trucks.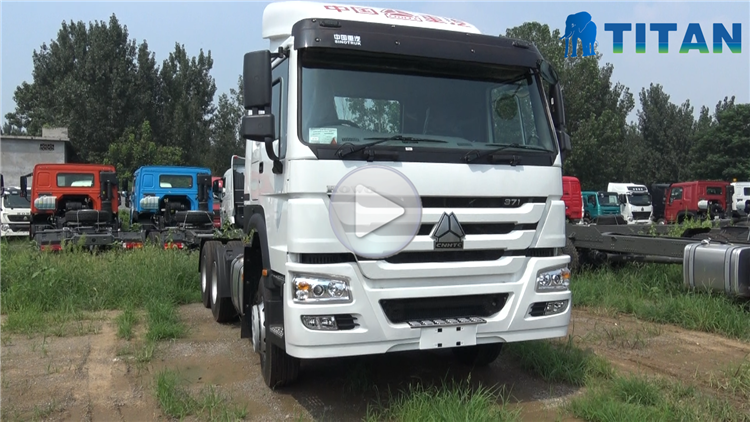 Please click "Truck Head" to get detailed video!
Welcome to leave your inquiry! We will provide more details, price, catalog, drawing, videos for you!