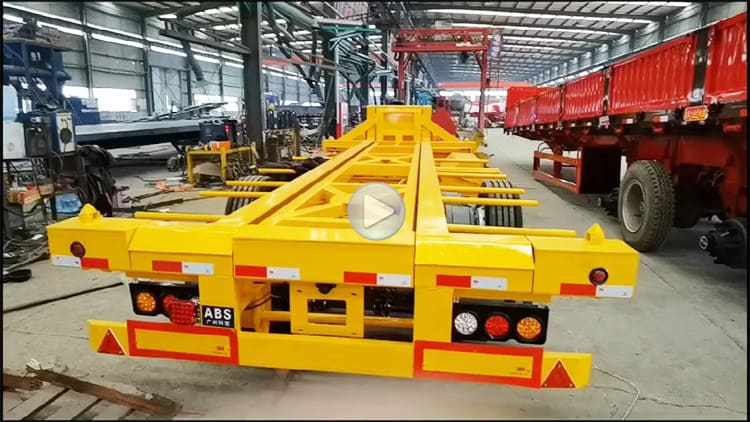 Through this video, you can learn about the new tipping container chassis trailer.
The tipping container chassis trailer comes with a hydraulic lifting cylinder that contracts longitudinally to facilitate loading and on the other hand, they extend in an outward manner to enhance the offloading process.
TITAN adopts high strength steel, offering all the durability of high-tensile-strength steel and unique structure design to maximize payload to increase your profitability. Main parts, especially the stress point, we'll adopt the reinforced design. The strength of our TITAN skeleton trailers is our reinforced main beam.
This type of trailer could bear the bad road conditions. We reinforce the sides with high tensile strengthening rip and the channel steel reinforced enclosure shape design. The sides are welding molding which increasing the loading capacity. This type of trailer could be used for nearly 10 years.
Advantage:
1. Double-plate main beam for heavy-duty dump trailer, which have stronger carrying capacity, it is not easy to damage.
2. Hydraulic cylinder: The heavy-duty cylinder with a wider diameter, stronger lifting capacity and higher height, which makes the lifting more stable and does not easy to roll over.
3. with 4 units vice beam and cross balance beam. The lattice structure of the side door makes the side door more solid.
4. Flip Bracket: 4 units flip brackets, which can make the rear end more evenly loaded during unloading, and it is not easy to damage the trailer.
5. The leaf spring is widened and thickened, the shock absorption effect is good.
6. Strengthened Ribs, unique structure design to maximize the payload.