Bitumen tank trailer is known as asphalt tank truck trailer, pitch tank trailer, bitumen tanker trailer. Asphalt tank trailer is composed of automobile chassis, asphalt tank, asphalt pumping and spraying system, heat transfer oil heating system, hydraulic system, combustion system, control system, pneumatic system, and operating platform.
Bitumen tank trailer is used to transport liquids asphalt from oil refinery and wharf to asphalt storage depot, also transport asphalt from asphalt storage depot to asphalt plant. This bi-product is mainly used in road paving.
Bitumen Tank Trailer Performance Characteristics
It has the functions of asphalt self-flow unloading, pump pressure unloading, pumping and tanking, and in-situ transportation. Good heat preservation, large carrying capacity and strong adaptability.
1. The vehicle-type structure has a small turning radius; the tank has a trapezoidal cross-section, large volume, low center of gravity, and compact structure;
2. The bitumen tank trailer is equipped with a heating system, equipped with imported diesel burners, with good combustion quality and no pollution;
3. The unique heat-conducting oil system is used to heat and keep the asphalt pump and valve; the hydraulic system drives the asphalt pump and the heat-conducting oil pump, with reliable transmission and convenient operation;
4. Multifunctional pumping system, reliable transmission and convenient operation, can meet various needs in asphalt transportation; with full liquid level display and full level alarm system, it is convenient to control the level of asphalt in the tank;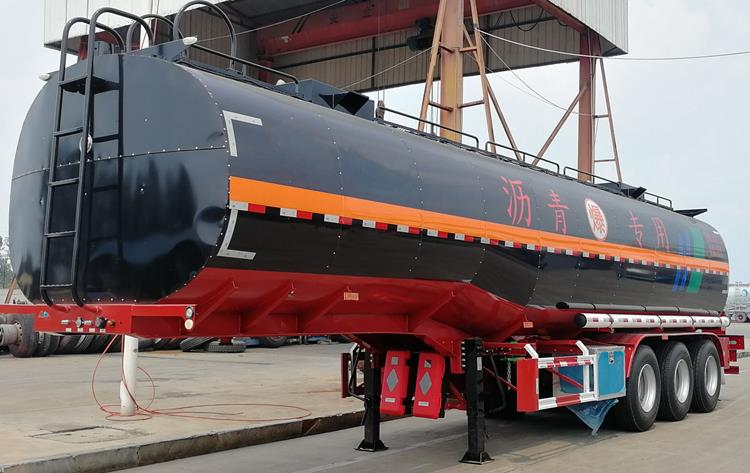 42000 Liters Bitumen Tank Trailer for Sale Near Me
Advantage of Bitumen Tank Trailer
1. The mainframe is made of high-strength low-alloy steel, which fully improves its torsion resistance, seismic resistance, and seismic resistance, and meets various load requirements.
2. Axle: The 42000 liters bitumen tank trailer axle can choose different well-known brands of BPW and FUWA. At home and abroad. In addition, the ABS system can be optionally installed with Haldex and WABCO, which can greatly improve stability and safety.
3. Suspension system: Mechanical suspension and air suspension series are optional.
4. TITAN offers carbon steel to fabric the most durable tankers, especially for Africa Market, considering the road condition. There is an insulation system on the tanker body, a warm system to keep the bitumen warm, easy to discharge.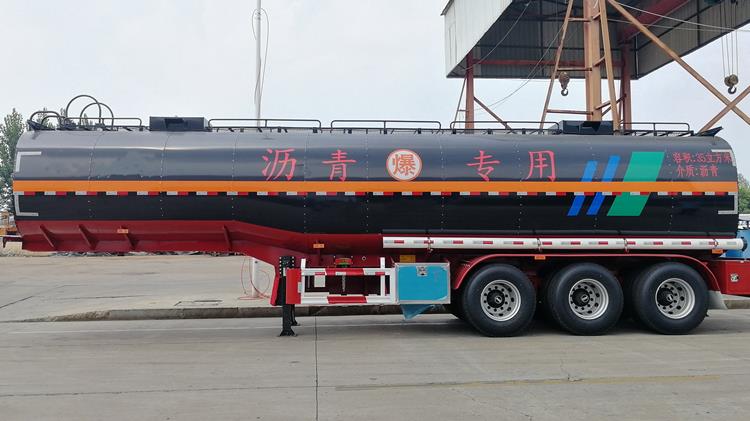 How Much is Bitumen Tank Trailer for Sale, Capacity 35000-50000 Liters
Cylindrical cross-section design, 1 outer bombe on the front and back, internal bombe/breakwater suitable for the number of selected compartments, Tanker production sector, cylinder body structure, in addition, monolithic sheets and their welding combinations produced with the longest welding sewing technology, safe, smooth smooth surface,
Using unique body structure, continuous high-performance robotic welding technology, welding errors caused by stress effect and human factor on the body are minimized and safe against impact and impacts, the slope in chassis design provides full discharge so that there is no liquid left in each compartment of the tank,
Filling from the bottom of the right arm according to the direction of driving with couplings or filling from the top on the menthol covers on the right according to the driving direction discharge of algebra (free to the lining) by means of discharge line piping at the slope, which extends from base valves to couplings, will not even have liquid storing, suitable for body design a special design that provides tipping safety, a monoblock chassis, and a full chassis according to customer request, which is opened horizontally and vertically.
Other 3 Axle Bitumen Tanker Trailer for Sale
Self-pump suction: the asphalt in the insulation tank or oil storage tank can be sucked into the car through its own oil discharge pipe, without the need for an external pump;
Internal circulation: In the process of asphalt heating, internal circulation can be carried out to improve the quality of asphalt heating;
External pump input: bitumen can be injected through the tank top manhole.
Self-flow discharge: When the oil storage tank is lower than 42000 liters tri axle bitumen tank trailer, it can be discharged directly by self-flow;
Pressure discharge: when the oil storage tank is higher than Bitumen Tank Trailer, pressure pumping is used;

Drawing of 3 Axle Bitumen Tank Trailer