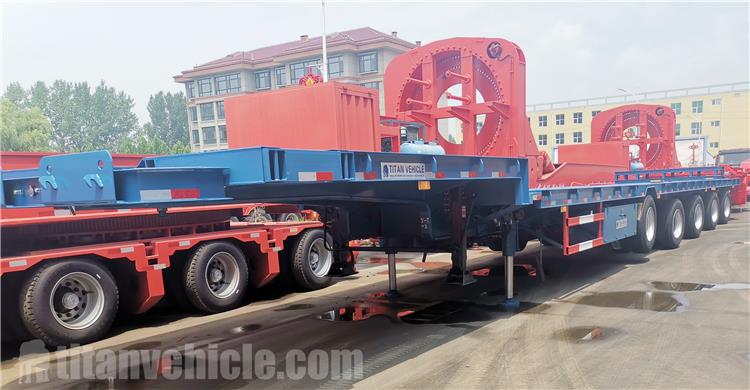 5 Axle 56m Extendable Lowbed Trailer for Sale In Kazakhstan
It is the first time for a customer in Kazakhstan to cooperate with TITAN. After receiving the customer's inquiry, Barry, the sales manager, immediately got in touch with the customer. The sales manager has a very high degree of professionalism in the extendable semi trailer.
After confirming the customer's needs, he immediately recommended a suitable extendable lowbed trailer for the customer. Barry provided very constructive suggestions in many details. Customers are very satisfied with our 5 axle 56m extendable lowbed trailer quality, competitive price and excellent service then signed the contract with us for 5 axle 56m extendable lowbed trailer.
5 Axle 56m Extendable Lowbed Trailer for Sale In Kazakhstan
Extendable Lowbed Trailer Main Parts
Hydraulic Suspension: The platform (lifted by hydraulic suspension) can be securely positioned and loaded at different heights without mechanical locking. It enables the loading of gooseneck even for machines with low ground clearance.
Telescopic Beam: Extendable up to 50m with a high payload. economic and flexible solution to a multitude of different transport tasks, such as wind power plants (tower segments, generators, rotor or turbine blades)
Hydraulic Gooseneck: Hydraulic gooseneck enables the automatic load compensation between gooseneck and axles. moreover, it offers the possibility to lift and lower the front area of the loading platform, in order to facilitate the crossing of particularly uneven terrain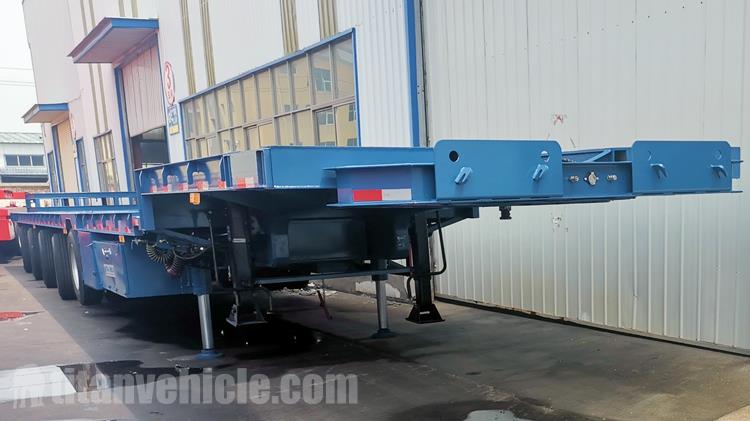 5 Axle 56m Extendable Lowbed Trailer for Sale In Kazakhstan
Whether or not the extendable trailer for sale rear wheels use the steering wheel is determined based on the overall drawn length and the desired road conditions.
Advantages of Steering Wheels and Common Axles: The steering wheel structure can meet some special steering needs. The hydraulic control of the hydraulic station is used to realize the steering of the rear wheels.
Disadvantages of Steering Wheel vs. Normal Axles: Steering axles cost twice as much as regular axles and require more capital. The load capacity of the steering bearing is much smaller than that of ordinary axles. Large tonnage loads need to be changed to axis mode.

5 Axle 56m Extendable Lowbed Trailer for Sale In Kazakhstan
The pulling and closing operation of a extendable trailer is very simple. You only need to use the tractor to move forward or reverse when the rear axle is braked. After reaching the working distance, lock it with the positioning pin.
TITAN produces extendable trailer for sale for the transport of long rails, pipes, 40ft containers, 20ft containers or other bulk cargo. And the 56m extendable trailers for sale extension length of the trailer from 12.5 meters extends to 24 meters, and the trailer can carry 40ft container or 20ft container after it's at close state.

5 Axle 56m Extendable Lowbed Trailer for Sale In Kazakhstan
You can learn about different types of extendable trailers (like 3 axle extendable trailer, 4 axle 56 meters extendable trailer, 6 axle 62 meters extendable trailer). And the process, testing, packaging and customer feedback, etc.
Here is the Extendable Windmill Blade Trailer transportation details display video. This kind of semi trailer was designed with lots of advantages and features. If you want to get more information, please don't hesitate to make contact with us.