120T-150T Front Loader Lowbed Trailer by TITAN VEHICLE
TITAN design and produce high quality Front Loader Lowbed Trailer with120T-150T loading capacity. Easy and safety front loading method is the primary advantages of TITAN removable gooseneck lowbed trailer. It mainly used for then transport taller and heavy construction machines. Its gooseneck can removed from the chassis, make sure the machines climb on the deck from over the front of a trailer.
FEATURES
High payload: 120 Ton - 150 ton loading capacity

Front load method: Ease and safety of front loading for heavy equipment.

Hydraulic removable gooseneck: it can be moved from the front of the trailer to load/unload machinery safer and faster

Lower working platfom height: make sure lower the center of gravity, safer transportation.

Outrigger: on the both sides for increasing the overall width of lowboy trailer.
TECHNICAL DATA
Brand: TITAN VEHICLE
Loading capacity: 120 ton - 150 ton payload
Axle: 6 Axles
Tire: 24 units
Frame: High strength steel frame
working platform: custom made
Floor: High strength wear-resistance diamond plate
Suspension: Hard-wearing mechanical spring suspension
Braking system: WABCO brake system
King pin: 3.5inch, bolted type
Electricity system: 24V, LED Lights
PICTURES OF TITAN LOWBOY TRAILER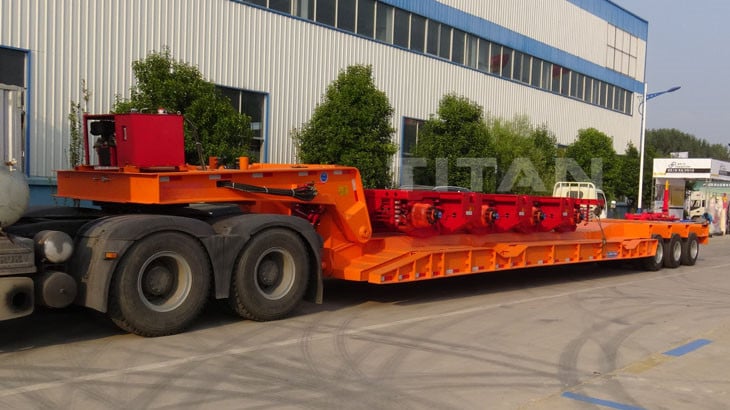 OPTIONS
Working platform height , length and width can customize.

Mechanical suspension as standard, air suspension or hydraulic suspension is optional

Equip a diesel engine as standard, power take off is optional.

Lowboy trailer can attach dolly.

Extendable loading platform for long cargo.
LOWBOY TRAILER USAGE
The greatest strengths of TITAN hydraulic removable gooseneck lowbed trailer certainly lie in its length-optimised and High strength construction frame design. These advantages enable not only meet to legal Boundary conditions, but also increase manoeuvrability and efficiency in loading and transport.
Construction engineering transport: grab excavator and road construction, crawler, crane, excavator, crawler loader and other crawler machinery

Wind power project : wind tower segments, generators, rotor or turbine blades, hybrid towers

Industrial parts :heavy transformers, crane-loaded goods, ring transport)

Cranes: cranes, crane weights, crane components)

Conveying and crushing systems : demolition and recycling industry

Track-guided vehicles: trams, locomotives, wagons

Structural elements: steel materials and concrete elements

Bulky goods, heavy loads or long cargo.

Precast concrete parts

Taller boats,yachts
If you are interested, welcome to the inquire or online message! Please fill in your contact information and suggestions! Thank you!
We will meet the acme of perfection to serve and provide more details , price ,catalog,drawing ,video for you !
Orders for ready-made or custom-made trailers are welcome!