Product Description:
TITAN 4 axle 48 ft flatbed trailer with front wall will be a safe barrier between the truck cabin and the carrying goods. The front wall is useful to block the goods to drift when the shipping container trailer carries the prolong subjects.
The most obvious feature of an air suspension is its airbag-type air spring. The weight of the air spring itself is relatively light, the air medium friction in the airbag is small, there is almost no noise during operation, and its life is 2-3 times that of the leaf spring.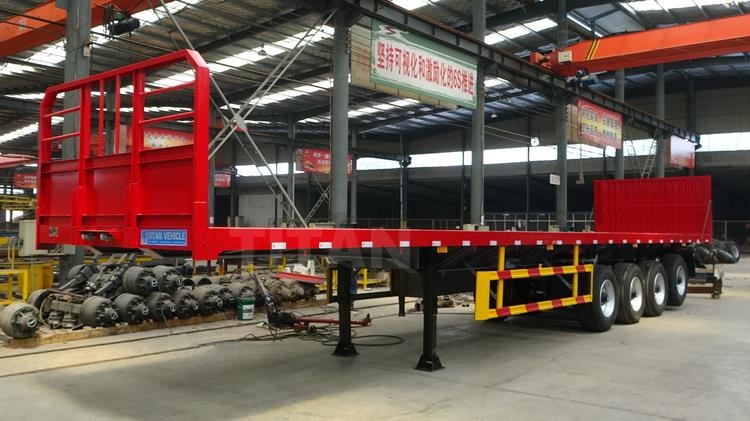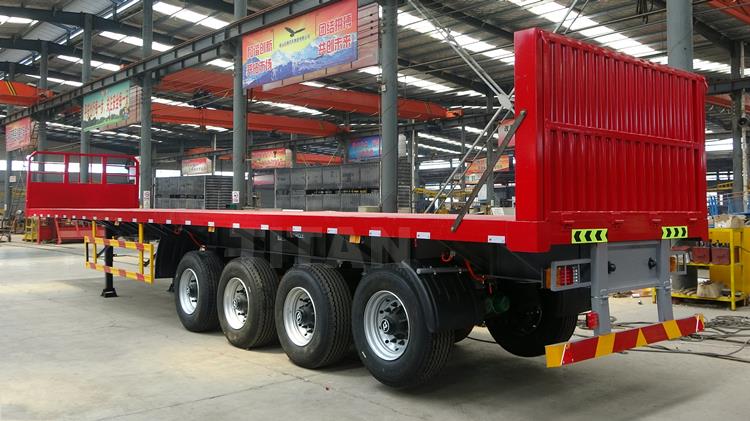 Specifications:
Tare Weight: About 7.5T
Dimension(mm): 15000x2490x1587mm
Loading capacity(ton): ≤60T
Axles: 4 axles, 13T/16T ,FUWA/ BPW/ Huajing Brand
Tire: 16 units, 12.00R22.5 or 315/80R22.5
Rim: 9.00-22.5 or 9.75-22.5
Suspension: Airbag suspension
King Pin: JOST brand 2.0 or 3.5 inch (bolted or welded)
Landing Gear: JOST brand D200T or Chinese brand 28tons(double-speed)
Main Beam: Height: 500mm, Upper plate:14mm, Middle plate:8mm, Bottom plate:16mm, Material:Q345B steel
Side Beam: 16mm or 18mm steel channel (material: Q235 steel)
Platform: 3mm-thick checkered plate
Brake Chamber: WABCO RE 6 relay valve; T30/30+T30 spring brake chamber(TKL brand), 45L air tank
Twist Locks: 4,8,12 sets (lifting or screw type)
Valve: WABCO valve (specially intended for oversea market)
ABS: Optional
Light: LED light (specially intended for oversea market)
Voltage: 24V
Socket(Receptacle): 7-pin Socket (for 7 wire harness)
Tool Box: 1m x 0.5m x 0.5m (The tool box contains 1 tire spanner, 1 gudgeon sleeve and 1 cranking bar. Its size can be tailored to suit your needs)
Painting: Sandblasted, anti-rust chassis surface is available with 1 layer of anticorrosive primer and 2 layers of top coats
Advantages:
1. TITAN Vehicle adopts high strength steel material to manufacture the flatbed trailer, it can make the flatbed trailer have a higher loading capacity and a longer service life.
2. TITAN Vehicle uses automatic arc-submerging welding method to weld the main beam, so the main beam is more stronger and more durable.
3. Also the trailers floor is checker plate, this will keep the other bulk cargo more stable, like the bags, or long stuff.
4. To make sure the service life of the semi trailers, all the spare parts we adopt are world famous brand.
5. We use famous German WABCO braking valve will definitely shorten the Braking Distance, to make the safety of the trailers and the drivers.
Welcome to leave your inquiry!
We will provide quotation and more details, drawings, pictures, videos for you!