4 Axle Folding Lowboy Gooseneck Trailer Product Description:
The folding gooseneck lowboy trailer is a front-loading trailer, and unlike the RGN trailer, the lowboy gooseneck trailer can be loaded from the front of a low-level trailer (also a flatbed trailer) without removing the gooseneck from the body. Widely used in the transportation of construction machinery, with or without crawler tires.
The gooseneck trailer with foldable neck allows you to easily move heavy machinery even without a crane to lift it. The neck of the folding gooseneck trailer for sale can be folded to the ground to serve as a shallow slope for crawler cranes and other machines to travel. It is one of the popular front loading trailers, the other is the detachable gooseneck trailer.
This model has high requirements on the gooseneck, because it is the main load-bearing part of the heavy machinery. So we will use strong high-strength steel.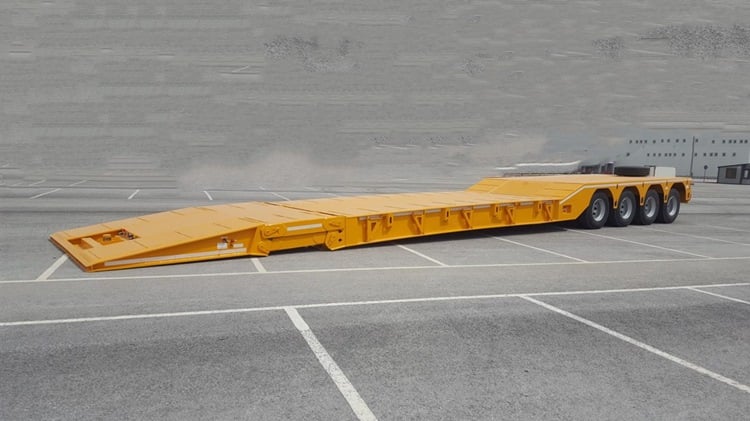 4 Axle Folding Lowboy Gooseneck Trailers For Sale in Ghana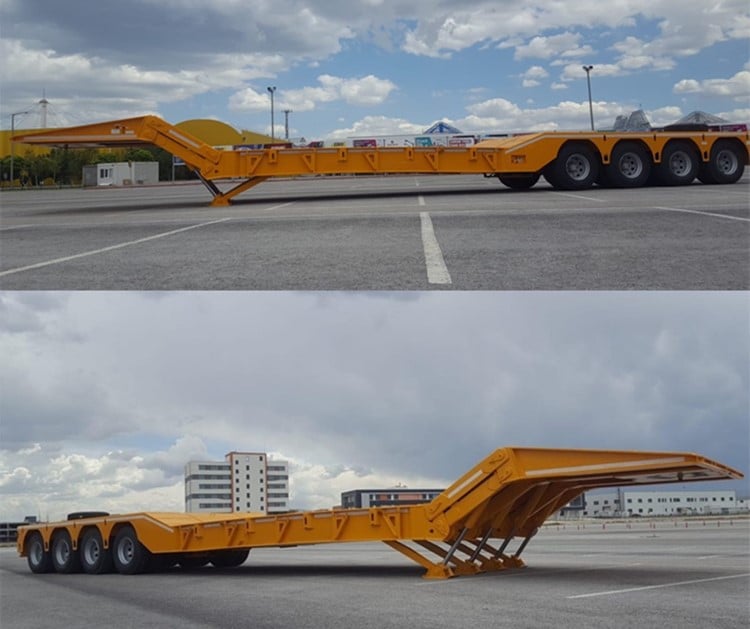 4 Axle Folding Lowboy Gooseneck Trailers For Sale in Ghana
Specification:
Dimension: 18000mm x 3800mm x 1800mm
Working platform: 14000*3800MM
Loading capacity: 100 TONS.4 AXLES,16TONS.
Gooseneck: hydraulic folding gooseneck.
Side hook for chain or belt
Checkered plate with 20 mm squre bar on ramps
Twist locks :6 units for 40/45 ft container
Axle: 4 Axle
Tire: 16 units, 8.25R20/10.00R20/11.00R20/12R22.5
Suspension: Mechanical suspension or air suspension
Spring leaf: 120(W)mmx16(Thickness)mmx10 layers
Kingpin: JOST brand 2.0 or 3.5inch(bolted or welded type)
Tare weight: About 9.5-19T
Hydraulic cylinder: 12KW diesel engine with hydraulic station
Ramp: spring or hydraulic type
ABS: Optional
Valve: WABCO valve
Light: LED light (specially intended for oversea markets)
Voltage: 24V
Tool box: 1 set
Painting: Polyurethane paint, with long service lift, and avoid the vehicle get rust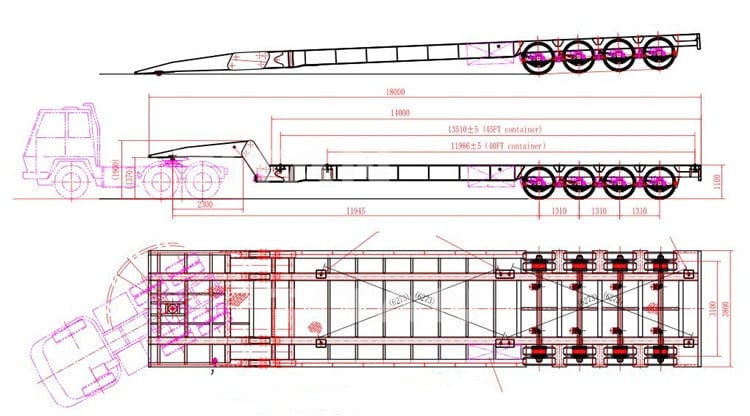 Through the video, you can know different types of gooseneck trailers, as well as the process, testing, packaging and customer feedback, etc.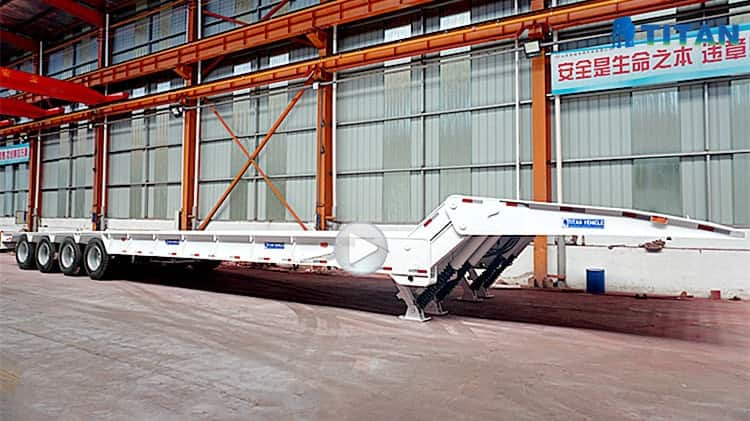 Please click "TITAN Removable Gooseneck Trailer" to get detailed video!
Welcome to leave your inquiry! We will provide more details, price, catalog, drawing, videos for you!