Multi axle low flat bed trailer 40-100tons payload lowbed semi trailers hydraulic low bed container trailer
TITAN VEHICEL ,being the leading in the trailer industry, we offer quality assured range of LowBed Trailers which are quality assured and are abrasion resistant. Our entire range of lowloaders are made up of top-grade base material HG60 High Strength Steel Material. These LowBed Trailers are sturdy in construction and is delivered in well-defined time frame.
Our 5 axle lowbed is generally used for carrying 100~120 Tons capacity loads. These 5 axle lowbed can be both platform and pool type and we have a flexibility on the specifications. We have different options to solve your load problem. With our technical team we can manufacture high quality 5 axle lowbed.
The total length : 15800~16000 mm varies according to demand.
Total Width: 2550 mm – 3300 mm varies according to demand.
Optional - TITAN 100 Ton Lowbed Trailer 5 Axles
Hydraulic ramp is an option for loading and unloading

Air suspension or Bogie suspension

Self Steering or hydraulic steering axles

Side bracket is an optional for increasing overall width

Detachable gooseneck is an option.
Paint - TITAN 100 Ton Lowbed Trailer 5 Axles
First ,Sandblasting for tank ,then anti-rust chassis surface, one layer anti-corrosive primer, two layers of top coats; Our paint is polyurethane paint, it has a strong paint film, full gloss, strong adhesion, water resistance, wear resistance, corrosion resistance.We can guarantee that the paint is not removing 6~7 years .
Main specification - TITAN 100 Ton Lowbed Trailer 5 Axles
Brand: TITAN 100 Ton Lowbed Trailer 5 Axles
Overall dimension: 16000mm*2500mm*2200mm
Loading capacity: 100 ton
Axle: 5 axles
Suspension: Heavy duty mechanical spring suspension
Tire: 20 units
Landing gear: JOST
Brake system: WABCO
King pin: 90#
Electical system: 24V, LED lights
Details of TITAN Lowbed Trailer 4 axle 5 Axles lowbed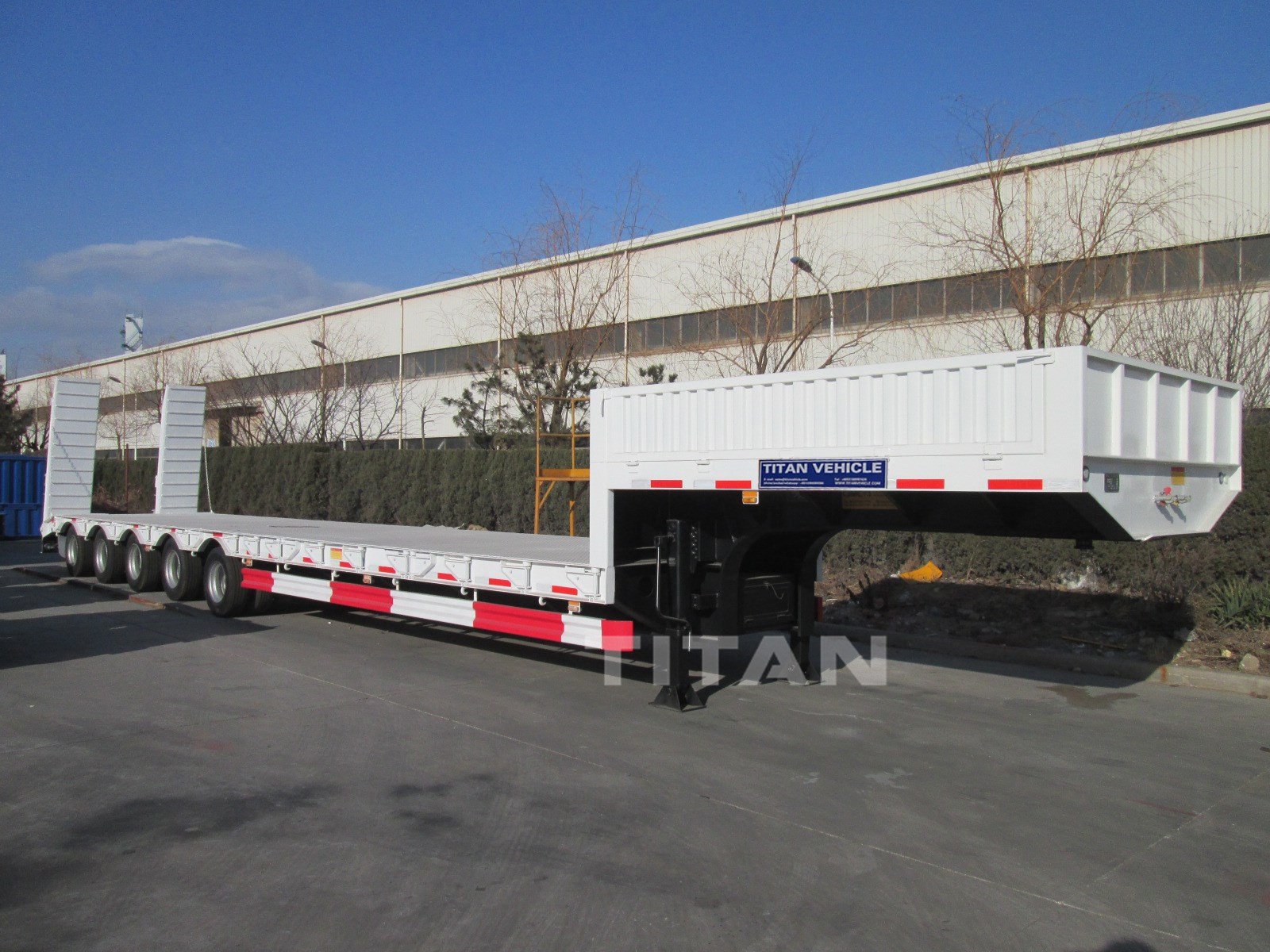 Titan 100 ton lowbed trailer 5 axle for sale Tanzania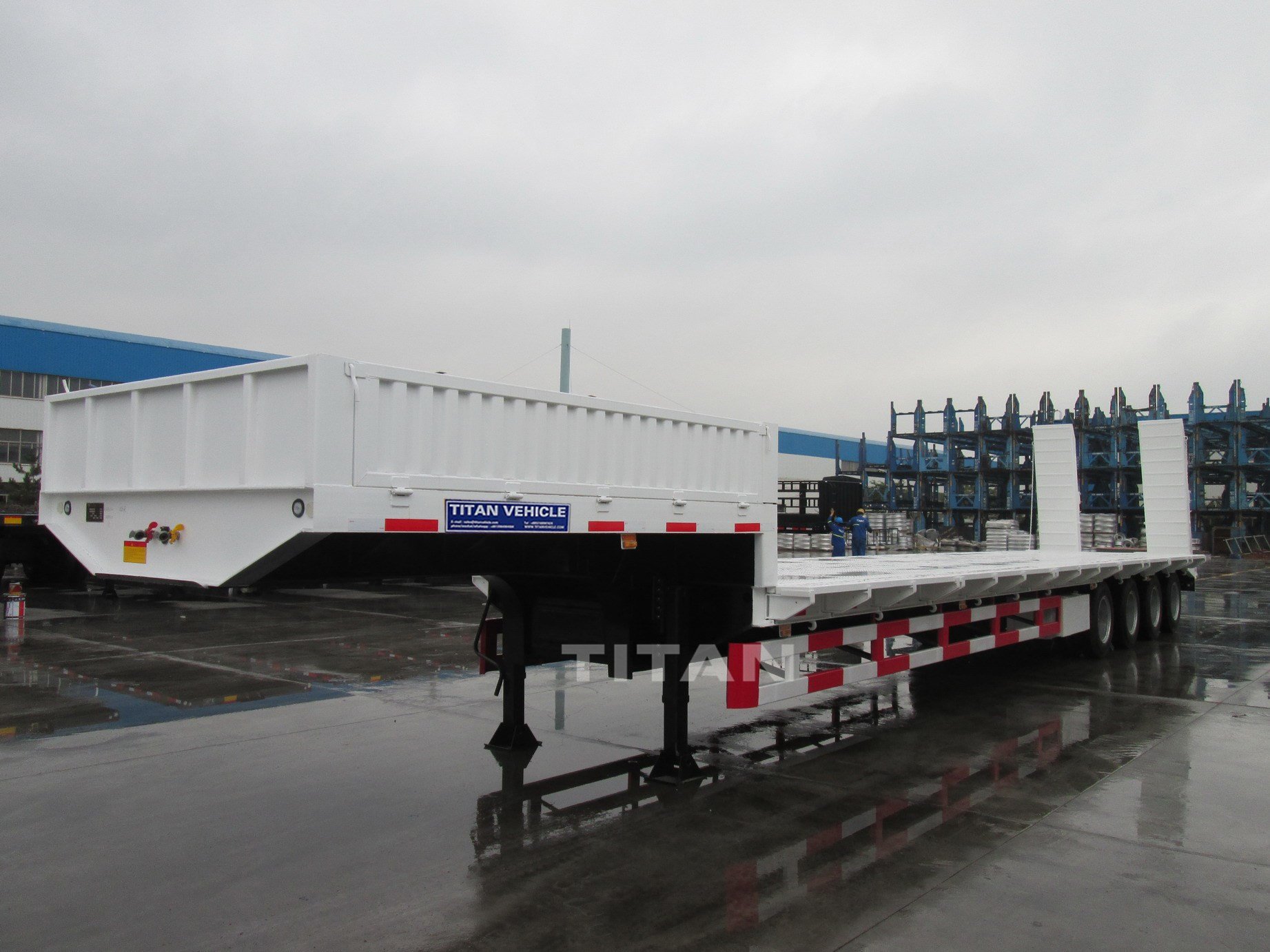 4 axle 80 ton lowbed low loader trailer for sale Ghana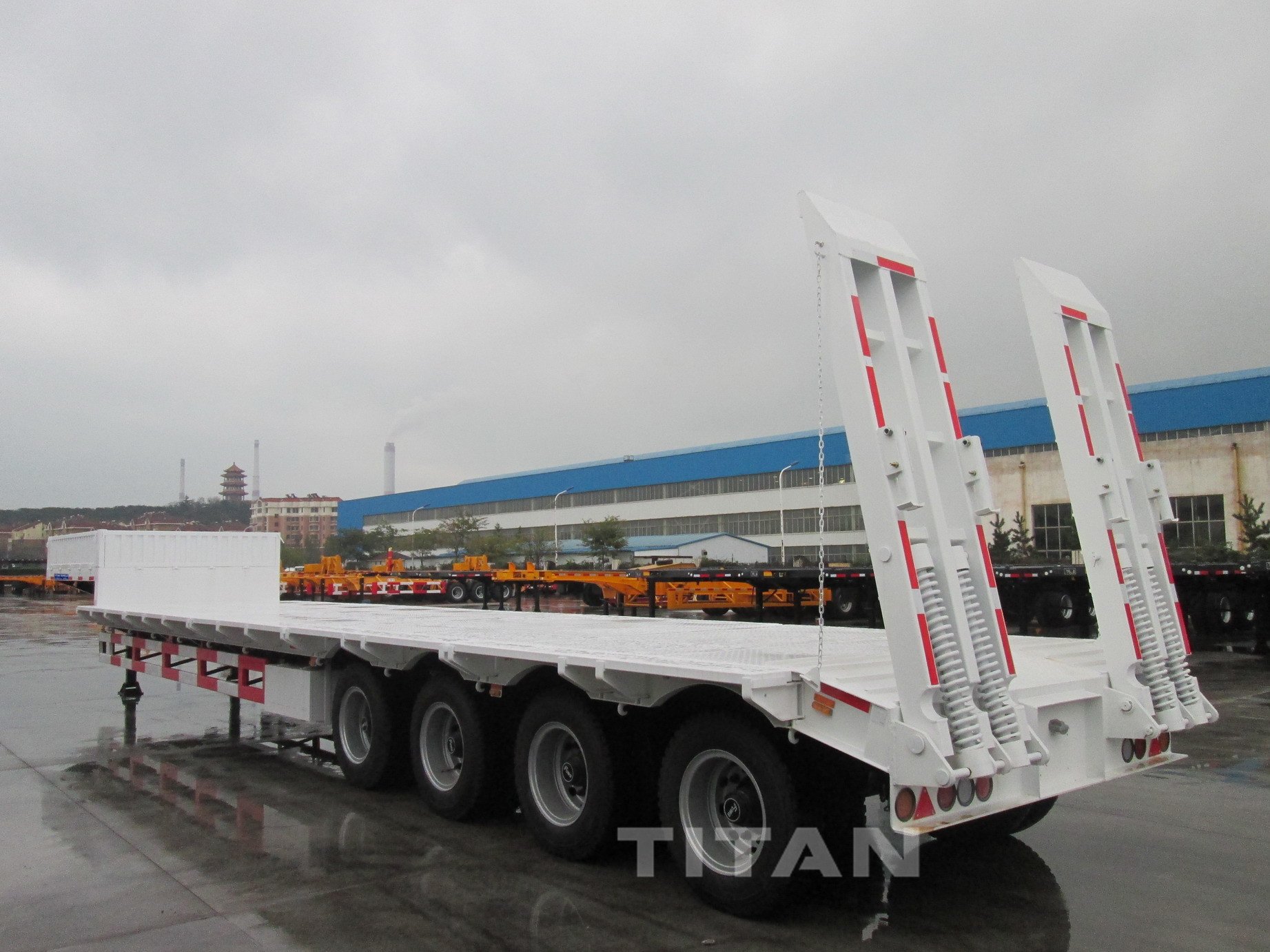 80 ton lowbed semi trailer with sidewall in the front
If you are interested, welcome to the inquire or online message! Please fill in your contact information and suggestions! Thank you!
We will meet the acme of perfection to serve and provide more details , price ,catalog,drawing ,video for you !
Orders for ready-made or custom-made trailers are welcome!