Tri Axle chassis Product Description:
Tri Axle Chassis for Sale to transfer goods, which can be directly packaged in the consignor's warehouse, and then transported to the consignee's warehouse for unloading. There is no need to remove the goods from the packing box and replace them during replacement or midway transportation.
TITAN Tri Axle Chassis for Sale can be customized to 20/40/45/53 feet. We also provide customers with different options: 2 axles, 3 axles, 4 axles, airbag suspension, spring steel suspension.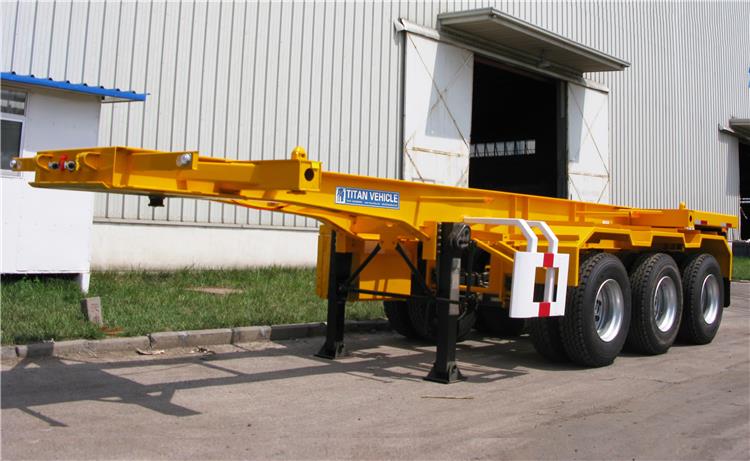 20ft Tri Axle Chassis for Sale near me in Philippines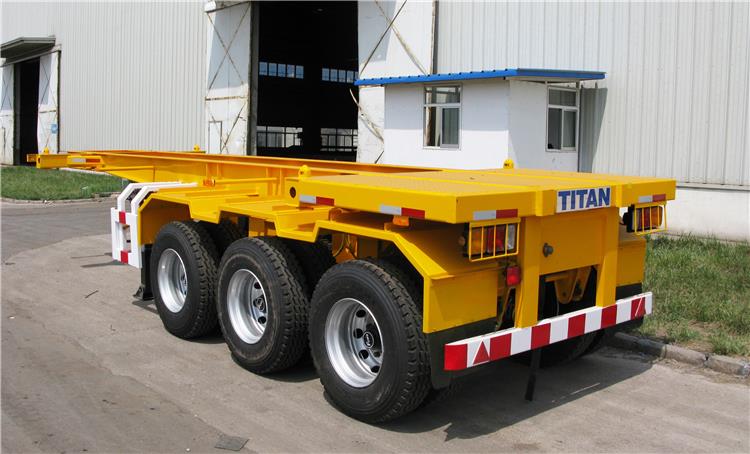 Tri axle skeletal trailer Specifications:
Dimension(mm): 6200x2500x1500mm
Loading capacity(ton): ≤60T
Axles: 3 axles, 13T/16T ,FUWA/ BPW/ TITAN Brand
Tire: 13 units, 12.00R22.5 or 315/80R22.5
Rim: 9.00-22.5 or 9.75-22.5
Suspension: Mechanical suspension or Air suspension
Spring Leaf: 90(W)mmx13(Thickness)mmx10 layers or 100mmx12mmx12 (specially intended for overseas markets)
King Pin: JOST brand 2.0 or 3.5 inch (bolted or welded)
Landing Gear: JOST brand D200T or Chinese brand 28tons(double-speed)
Main Beam: Height: 500mm, Upper plate:14mm, Middle plate:8mm, Bottom plate:16mm, Material:Q345B steel
Side Beam: 16mm or 18mm steel channel (material: Q235 steel)
Platform: 3mm-thick checkered plate
Brake Chamber: WABCO RE 6 relay valve; T30/30+T30 spring brake chamber(TKL brand), 45L air tank
Twist Locks: 4,8,12 sets (lifting or screw type)
Through these videos, you can learn about different types of container chassis trailers, as well as the process, testing, packaging and customer feedback, etc.