TITAN 3 Axle 60T Lowbed Trailer Spot Promotion
FOB Price: USD 13500
TITAN lowbed trailer is in stock at the factory, produced in November 2020, TITAN low loader trailer has a $500 off for our customers.
As a professional manufacturer, TITAN VEHICLE has provided many low bed trailers for many countries. We have many more advantages on the low bed trailer's price and quality control. Material and suspension (single point and air suspension) are optional. TITAN Lowbed trailers have different capacities.

TITAN Vehicle offers lowbed semi trailer designed to carry 30 tons, 40 tons, 60 tons, 80 tons, 100 tons, 120 tons, 150tons. Low Loader trailer main cargo platform is low, which ensures the stability of transportation. We can customize the details and color you want according to your needs.
Show details:


Click here to get our latest promotion!

Specifications of lowbed trailer:
Dimension(mm): 16000*3000*3400mm
Suspension: 8mm(thickness) Mechanical suspension
Loading capacity(ton): ≤60T
Material: Q345 steel
Main beam height: 500mm
Spring Leaf: 16mm(thickness)*10 layers
Platform: 4mm-thick checkered plate
King Pin: JOST brand 2.0 inch
Brake Valve: WABCO
Ramp: Hydraulic Ramp
Axles: 13 T Axle 16T braking system, TITAN Brand , 3 units
Tire: 12R22.5, 12 units
Rim: 9.00*22.5, 12units
Side beam: 16mm steel channel
Tool box : 1pcs
Landing Gear: JOST brand
Painting: Polyurethane paint
Light: LED light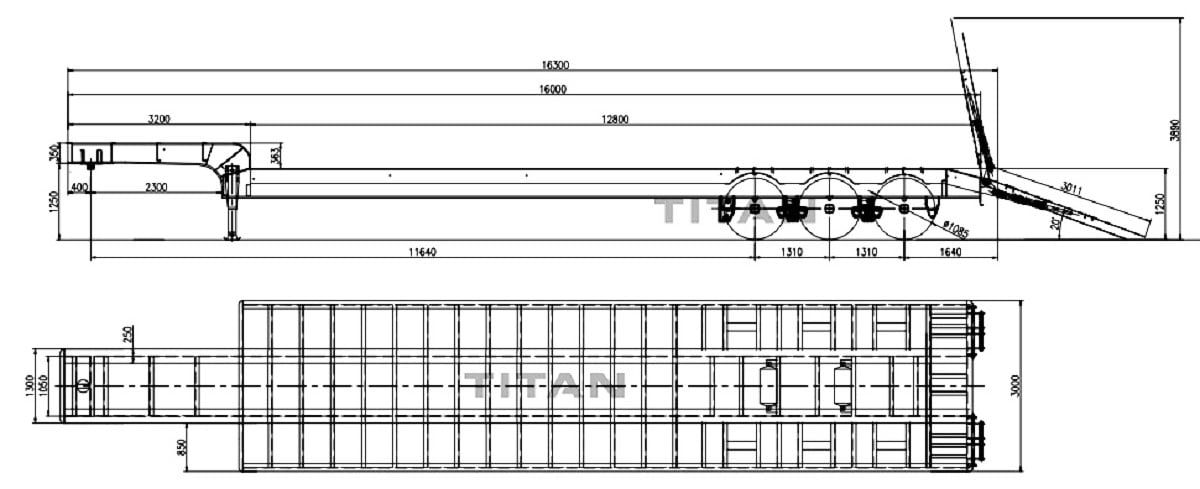 Click here to get our latest promotion!

Factory show of low loader:
TITAN VEHICLE perseveres in technology innovation and strengthen the integration of digital information technology and equipment manufacturing, having taken the coordinate robot spread to every corner of Special commercial vehicles. In the meantime, ln the fields of robots, TITAN's endeavoring to strengthen further cooperation actively with top robot manufacturers.
According to the drawings of each part produced by the design department, each part is cut out with a CNC cutting machine, such as beam webs, reinforcement plates, standard small accessories and so on.

Click here to get our latest promotion!