What is a low bed truck used for?
The low bed truck trailer series products are suitable for a variety of mechanical equipment, large objects, road construction equipment, large tanks, power station equipment and machinery. They are widely used, efficient and fast. The whole low bed truck adopts advanced computer-aided design software, which is optimized for flexible and diverse design. The load-bearing surface of the frame is designed according to user requirements to meet the transportation of various special goods.
Low bed truck have lowbed, concave beam and tire exposed structures, and the longitudinal beams are straight or gooseneck. The frame is stepped, and the cross section of the longitudinal beam is I-shaped, which has the characteristics of high rigidity and high strength.
The main plane of the frame and cargo platform is low, which ensures the stability of transportation, and is suitable for carrying all kinds of construction machinery, large equipment and steel. The lower the platform height of the low bed truck trailer, the better the stability and safety. Our low bed truck has a large carrying capacity when transporting extra high and medium cargo.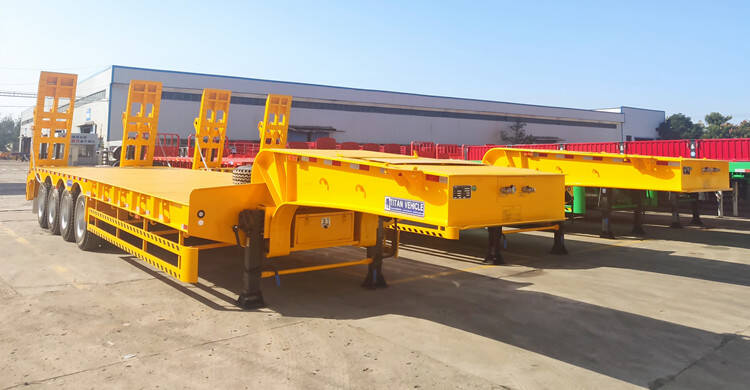 4 Axle 100 Ton Lowbed Trailer for Sale in Nigeria
Advantage of TITAN low bed truck
1. Main Beam
The main beam of TITAN low bed truck trailer is made of Q460C high strength structural steel. Q460C steel has a yield strength of ≥620Mpa, which is more durable and stronger than ordinary steel. Its bearing capacity is 5 times that of the trailer made of Q345 steel.
TITAN low bed trailer main baem adopts a height of 500mm and a thickness of 14mm. The thickness of upper plate is 22mm, the thickness of lower plate is 22mm and the width of upper and lower plate is 220mm.
Other factories use Q345 steel main beam for the low bed truck. The width of the upper and lower plates is 140mm. The load-bearing capacity of the frame is 27% lower than that of TITAN.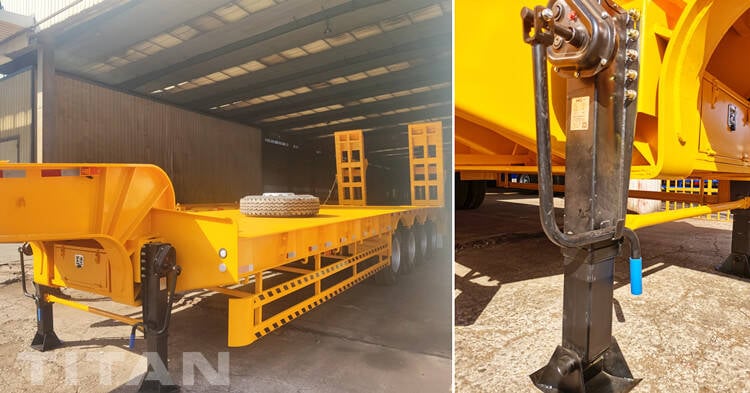 4 Axle 100 Ton Lowbed Trailer for Sale in Nigeria
2. Side Beam
The side beam adopts "H" shape design and is welded with T700 high strength steel and it is designed H shape with a height of 300mm, width of 140mm and thickness of 8mm. Its bearing capacity is twice that of other steel, and it will not deform after ten years of use. Anti - turbulence ability increased about 3 times.
3. Side support
The beam design, our side support beam use Q460C high strength structural steel. The thickness is 6mm, and the inclined support is Q460C with a thickness of 6mm. Effectively connect the main beam and side beam together as a whole. Bearing capacity anti - turbulence capacity greatly increased, the service life more than 10 years.
All trapezoidal scales for the whole vehicle, G-type scales (higher strength than ordinary C-type scales) are used for the vehicle weighing less than 80 tons.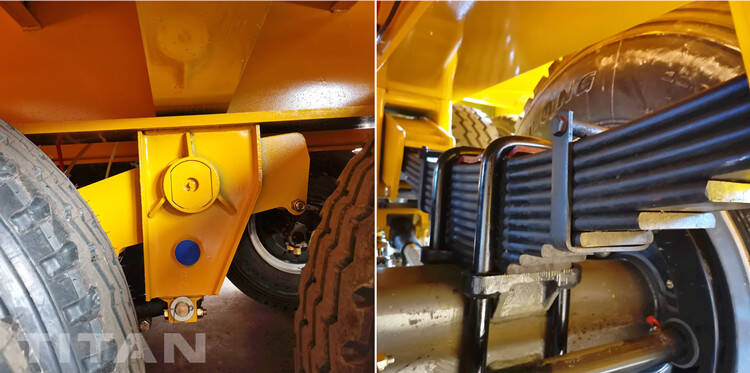 4 Axle 100 Ton Lowbed Trailer for Sale in Nigeria
4. Ramp of low bed truck
The ramp of low bed truck is welded with H60 steel of high strength steel plate, which has strong bearing capacity and effectively ensures that the weight of excavator or other heavy equipment can pass through the spring ramp without deformation or damage.
The low bed truck trailer ramp adopts four-in-one high-strength board, which has high strength, durability and no deformation. Using high elastic double spring climbing ramp, ordinary people can easily lift with one hand, which is more convenient to operate.
The service can up to more than 5 years, other factories use channel steel welding, it is easy to deformation collapse.
5. Gooseneck of low bed trailer
TITAN low bed trailer main beam gooseneck lower has a reinforcement, gooseneck double plat. The trailer in the heavy load when the deformation range is very small, better to use.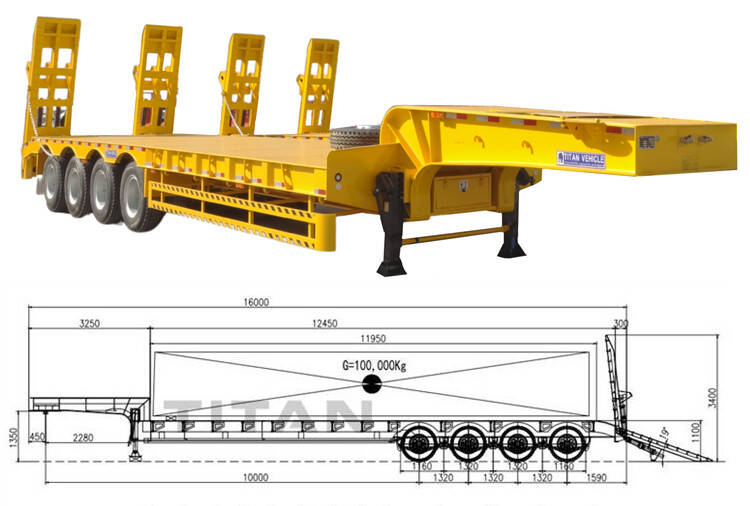 4 Axle 100 Ton Lowbed Trailer for Sale in Nigeria
Package and delivery of low bed truck for sale
As a professional manufacturer, TITAN have provided many kinds of low bed truck for sale for many countries, we have much more advantages in the low bed truck price and quality control.
After the trailer is produced, all of TITAN low bed truck for sale are tested to ensure that our low bed trucks are free of problems. All low bed truck for sale is tested for carrying capacity after production is finished.TITAN has dedicated technical staff to guide the operation.
When transporting tri axle low bed truck and 4 axle low bed truck for sale, many customers choose bulk carriers or ro-ro ships, which has low transportation costs and short transportation time. When the lowbed truck trailer size is small, some customers choose to use container transportation.
TITAN low bed truck have professional staff to make a package, all of them were trained constantly. Please notice that to prevent the low bed trailer truck paint from being corroded by seawater to we spray a layer of wax on the surface of the low bed semi trailer before shipping. And covering poncho to prevent the damp condition.
You can download video, you can learn about different types of lowbed semi-trailers, like 2axle, 3axle, 4axle lowbed semi trailer, hydraulic ladder lowbed semi trailer, etc. As well as the process, testing, packaging and customer feedback, etc.