Customer is Using TITAN 4 Axle Low Loader Trailer
TITAN Vehicle | 2022-06-09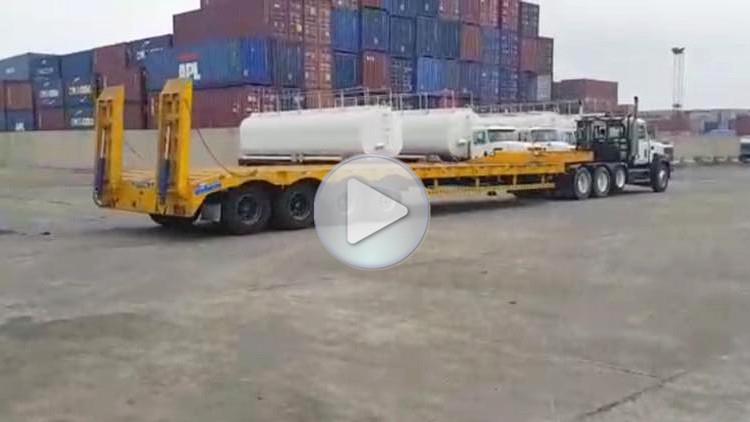 TITAN Customer Feedback - 4 Axle Low Loader Trailer
Our customer received the 4 axle low lowader trailer from TITAN. He tested the low loader trailer and it didn't have any problems. He sent us his feedback from WhatsApp, he said "I trust TITAN low bed semi trailer very much.There is no problem with the low bed quality, the logistics and delivery are fast, the after-sales service is very enthusiastic, and any problems can be solved very well".
As a low loader trailer manufacturer, TITAN offers you low loader truck trailers that are perfectly suitable for heavy transport which is common in construction and industry. These semi low loaders for sale are multifunctional, partly due to their excellent manoeuvrability. The low loader for sale series products are suitable for a variety of mechanical equipment, large objects, road construction equipment, large tanks, power station equipment and machinery. They are widely used, efficient and fast.
The load-bearing surface of the frame is designed according to user requirements to meet the transportation of various special goods. The main plane of the frame and cargo platform is low, which ensures the stability of transportation, and is suitable for carrying all kinds of construction machinery, large equipment and steel. The lower the platform height of the low loader for sale, the better the stability and safety. Our tractor low loader trailer for sale has a large carrying capacity when transporting extra high and medium cargo.
If a 3 axle low loader for sale is what you are looking for, you are more than welcome to request a quote. Which is, of course, free of charge. Together we will find a semi low loader trailer that best fits your transportation needs, so that you will every day experience the greatest possible added value for your business.
As a professional manufacturer, TITAN VEHICLE has provided many low loader trailers for many countries. We have many more advantages on the low loader trailer cost and quality control. TITAN semi low loaders for sale have different capacities, the most popular models are 60/80/100/120/150 tons low loader trailers. Most customers will choose 3 axle low loader for sale and 4 axle low loader for sale.