1. What is a stake semi trailer?
2. Stake cargo semi trailer dimension
3. Advantages of TITAN stake trailers
4. Stake semi trailer price & video
1. What is a stake semi trailer?
The fstake semi trailer use to load a wide range of products and materials, like sand, bags, poultry, vegetables, fruits, clothes, appliances, and other daily necessities. Also the some bulk cargo, very widely used in the transportation industry. Stake cargo semi trailer can also be used to transport sheep, cattle and other animals. The semi trailer with removable walls can be added with a container turn lock to transport the container.
Stake semi trailer has a fence structure design. We have 2/3/4 axles stake semi trailer for sale, and load capacity has 30/40/60/80/100 tons for your choice.
Stake semi trailer is usually modified based on flatbed type, or side wall type, by adding stakes or boards based on measurements and character of the cargo. The structure of stake semi trailer is similar to Van but not Van. Due to the structural reasons, the cargo compartment with an independent closed structure has the disadvantages of large self-weight, high center of gravity and fixed cargo volume. It is more suitable for transporting goods without packaging requirements or packaging requirements. Due to its more flexible loading capacity, lighter tare weight, Fence Semi Trailer could be more convenient, practical and safe.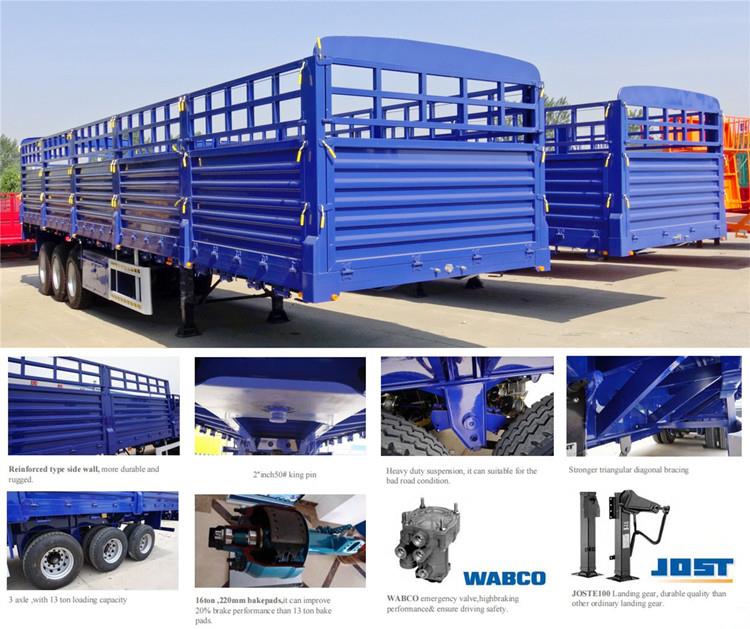 TITAN tri axle stake cargo semi trailer details
TITAN 3 axle cargo transport stake semi trailer for sale adopt advanced intelligent manufacturing equipment such as finite element analysis, calibration design, laser cutting machine, robot welding, etc., and strictly process requirements from the design source to the entire process of product manufacturing. So as to ensure that every trailer delivered to the customer is a high-quality and qualified trailer.
TITAN stake semi trailer in Sudan adopts the fully automatic KTL electrophoresis + powder spraying coating process, and it is fully coated without dead corners. The automatic production coating is more uniform, the box board and the warehouse fence area are coated, rust-proof and durable, and green Environmental protection.

Factory show of stake semi trailer for sale
2. Stake cargo semi trailer dimension
Tare Weight: About 8.3T
Dimension(mm): 12500x2500x3420mm
Loading capacity(ton): ≤60T
Axles: 3 axles, 13T/16T ,FUWA/ BPW/ Huajing Brand
Tire: 12 units, 12.00R22.5 or 315/80R22.5
Rim: 9.00-22.5 or 9.75-22.5
Suspension: Mechanical, Bogie, Airbag suspension(China brand or BPW brand)
Spring Leaf: 90(W)mmx13(Thickness)mmx10 layers or 100mmx12mmx12 (specially intended for overseas markets)
King Pin: JOST brand 2.0 or 3.5 inch (bolted or welded)
Landing Gear: JOST brand D200T or Chinese brand 28tons(double-speed)
Main Beam: Height: 500mm, Upper plate:14mm, Middle plate:8mm, Bottom plate:16mm, Material:Q345B steel
Bottom Side Beam: 16mm or 18mm steel channel (material: Q235 steel)
Platform: 3mm-thick checkered plate
Trailer Sides: 600-2000mm, or box type sides
Brake Chamber: WABCO RE 6 relay valve; T30/30+T30 spring brake chamber(TKL brand), 45L air tank
Twist Locks: 4,8,12 sets (lifting or screw type)
Valve: WABCO valve (specially intended for oversea market)
ABS: Optional
Light: LED light (specially intended for oversea market)
Voltage: 24V
Socket(Receptacle): 7-pin Socket (for 7 wire harness)
Tool Box: 1m x 0.5m x 0.5m (The tool box contains 1 tire spanner, 1 gudgeon sleeve and 1 cranking bar. Its size can be tailored to suit your needs)
Painting: Sandblasted, anti-rust chassis surface is available with 1 layer of anticorrosive primer and 2 layers of top coats
3. Advantages of TITAN stake trailers:
1. The stake semi trailer model and fence structure design process is combined with the user's cargo category, reasonable design, to fully reduce the weight of the carriage under load conditions, the structure is simple and applicable, and it is convenient to disassemble, reduce investment costs for users, and create more profit value.
2. The frame adopts a space frame structure formed by welding longitudinal beams and integral through cross beams. It can balance the strength, rigidity, and toughness of the frame, with strong bearing capacity and no deformation.
3. The guide arm can choose double-leaf spring and single-leaf spring. The optimized design of single-leaf guide arm structure, lightweight design, three-bridge weight reduction of more than 200 kg, and has good guidance, super reliability and stability.
4. It adopts a new type of suspension system with high strength and strong impact resistance. The load of each axle is balanced, and the system tie rod angle is reasonably designed to reduce the friction slip distance between the tire and the ground and effectively reduce tire wear during frequent bumps.
Reduce tire wear and fuel consumption. Under the same road conditions and load capacity, fuel consumption per 100 kilometers can be reduced by more than 1.2 liters.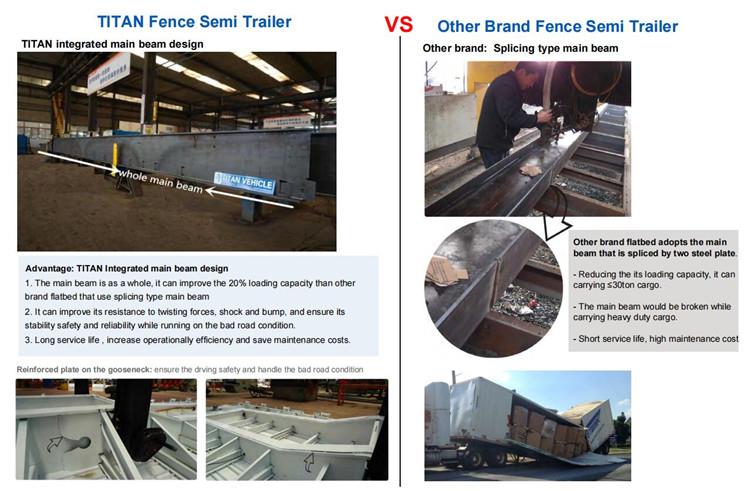 5. Imported brake pads and implanted wear alarm device. Effectively guarantee the braking performance of the vehicle during operation.
6. The service life of the TITAN cargo transport trailer brake can reach 1.5 million kilometers in 10 years. Brake discs containing alloy elements, anti-cracking, anti-wear and high temperature resistance.
7. High-precision load bearing, long life and low temperature.
8. Double push rod brake calipers, stable braking performance.
9. The use of low temperature resistant brake air pipe makes driving safer. The 3 axle stake semi trailer wiring harness uses 7-core wiring harness, without any grounding treatment, the lamp can work normally, the use failure rate is low, and it does not need to be replaced for life.
10. Use Phillips pneumatic handshaking joints, air-tight and more durable.
You can download video, you can learn about different types of fence semi trailer for sale(like 3 axle fence trailers, 4 axle stake trailer and fence full trailer).And the process, testing, packaging and customer feedback, etc.
This kind of semi trailer was designed with lots of advantages and features. If you want to get more information, please don't hesitate to make contact with us.