1. How Much Does A Oil Tank Trailer Hold?
2. Features of Aluminum Oil Tanker Trailer.
3. Daily maintenance when the oil tanker truck trailer is driving.
How Much Does A Oil Tank Trailer Hold?
Oil Tanker Trailer as they are commonly called are vehicles with large tanks for transporting liquids. They are designed for specific safe shipping of various liquids and can be Hazardous. Oil Tanker Trucks Trailers can be equipped with a pumping system for loading and off-loading liquids.
Use of Baffles
Although oil tankers trailer varies in shapes and size they all have one goal in mind, to maximize your carrying capacity. The baffles aid in stabilizing the overall ride in the truck and when pulling the trailer.
Transporting Various Liquids
The smaller-capacity tanker trucks transport liquid cargo throughout a local community. These types of trucks are typically used at airports to fuel aircraft. Oil Tanker Trailer also delivers domestic fuels, such as liquefied petroleum gas, to homes. This type of tanker normally carries less than 1,000 gallons. Large tankers can transport more than 11,000 gallons and carry various liquids, including hazardous materials.
Oil Tanker Trailer can be capable of transporting various liquids simultaneously with multiple compartments. These 45cbm oil tankers trailer could use typically two, three, four, five, and sometimes six compartments and are capable of transporting a variety of liquids, including fuels such as different gasoline grades, diesel, and industrial chemicals.

Tri Axle Oil Tanker Trailer for Sale with Capacity 42000 Liters - New and Used
Weight
Weight has become a very important factor in many people's decisions when purchasing a tank. Aluminum trailers typically are the lightest of the tanker industry and allow for the most capacity in terms of gallonage. Stainless Steel trailers are generally second when it comes to the overall weight of tankers followed by Carbon Steel tankers.
One thing to keep in mind when buying a trailer is to buy a proven design that has been tested year after year to avoid cracking. Many of the tri axle oil tanker trailers you see do travel on both the highway and off-road on dirt and gravel roads. So buying a quality brand is a must when considering your purchase. Many trailers have options to save weight to maximize your payload some of the options include aluminum wheels.
Chemical Tankers Capacity
The size of the chemical tank trailer depends on the volume and/or weight per gallon being transported. Standard chemical trailers hold between 6,000 and 7,000 gallons. Some tank trailers hold up to 8,000 gallons to transport lighter products. Typical Crude oil tanker trailers have an average capacity of 35/40/42/46/50cbm,

2 Axle Oil Tanker Trailer with Bogie Suspension
Features of Aluminum Oil Tanker Trailer:
High efficiency
Aluminum alloy has low density, the lightweight of the vehicle, large loading capacity, high operating efficiency and profit; low fuel consumption when no-load, less tire wear, and low operating cost.
High residual value
Aluminum Oil Tanker Trailer has a high residual value, and according to the market recycling standard, the recycling value is high. The tank body, frame and accessories are made of high-quality aluminum alloy material, which has better corrosion resistance; aluminum alloy material + more scientific design, longer service life.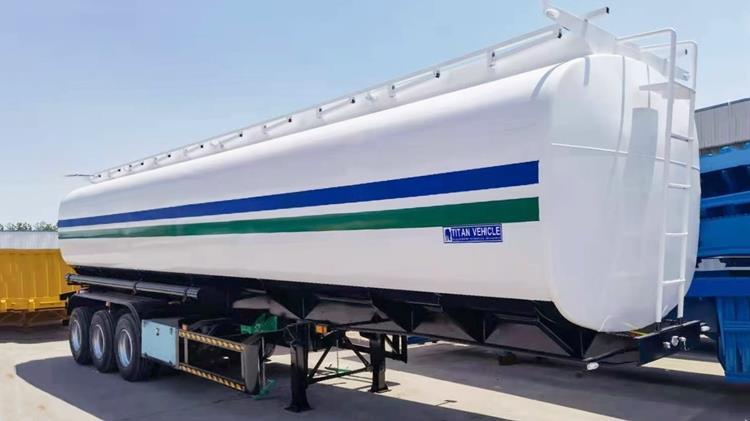 42CBM Oil Tanker Truck Trailer for Sale Manufacturer
High security
Fully comply with relevant national regulations and standards, relieve users of worries; adopt international advanced design software, on the basis of finite element analysis and frame mechanics analysis, the tank structure is more reasonable, the strength is higher, and the anti-bumping and anti-torsion ability is stronger;
The body longitudinal welding and circumferential welding are all CNC automated welding, which makes the welding quality more reliable. The high-quality aluminum alloy material is selected, which has better conductivity and heat dissipation performance.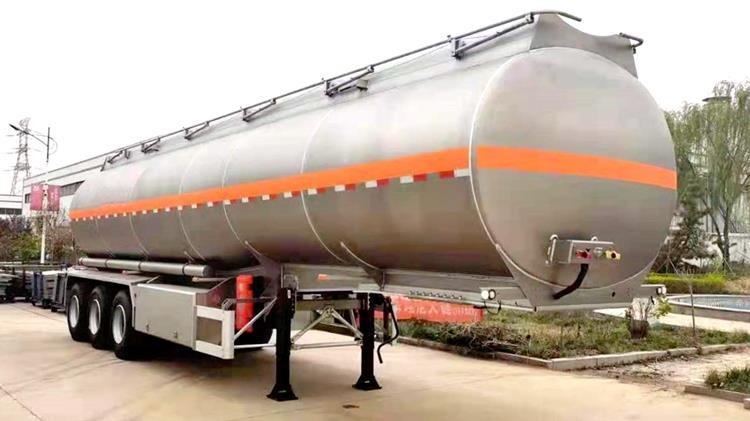 Tri Axle Aluminum Oil Tanker Trailer
Daily maintenance when the oil tanker truck trailer is driving
Learn the main structure, performance and functions of the petrol trailer, and the special vehicle chassis must be repaired at the special vehicle service station as required.
Routine maintenance of the 42cbm oil tanker truck trailer should be done well, and the inspection, cleaning, tightening and adding functions before, during and after the sulphuric acid tanker should be done well, and the remaining problems or hidden safety hazards of the tank truck should be discovered in time;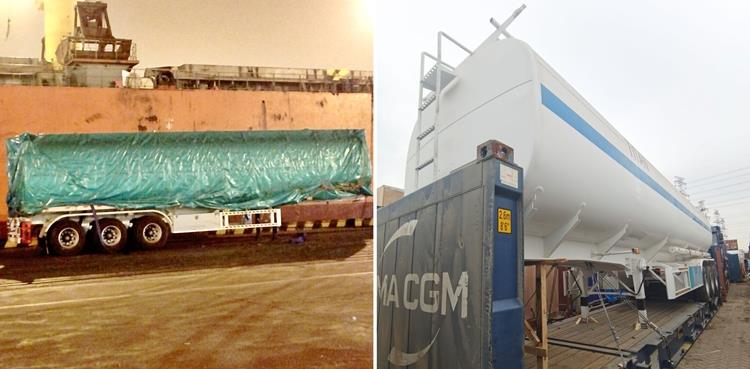 Package of Tri Axle 42000 Liters Oil Tanker Trailer for Sale
Check the oil tanker truck trailer body, pipe network, valves, etc. for oil leakage or oil leakage before leaving the oil tanker truck trailer, whether the upper cover is closed as required, the amount of lubricating oil, fuel oil, cooling water, hand and foot brakes, steering device, Instruments, lights, tire pressure, tire nuts, etc.
Oil tanker trailer produces different types of fuel tanker semi-trailer lile as 3 axle fuel tanker semi-trailer. All various fuel products can be carried with 3 axle fuel tanker semi-trailer. Petroleum, Diesel, Fuel oil and many other types of fuel products transportation suitable with 3 axle oil tanker semi-trailer.
You can learn about different types of fuel tanker semi trailers (like 3 axle fuel tanker, 4 axle storage tanker trailer, stainless steel tanker trailer, acid tanker trailer, fuel tanker with flatbed trailer, fuel tank Full trailer). And the process, testing, packaging and customer feedback, etc.