Vietnam Customers Are Using Windmill Blade Adapter
TITAN VEHICLE | 2022-05-24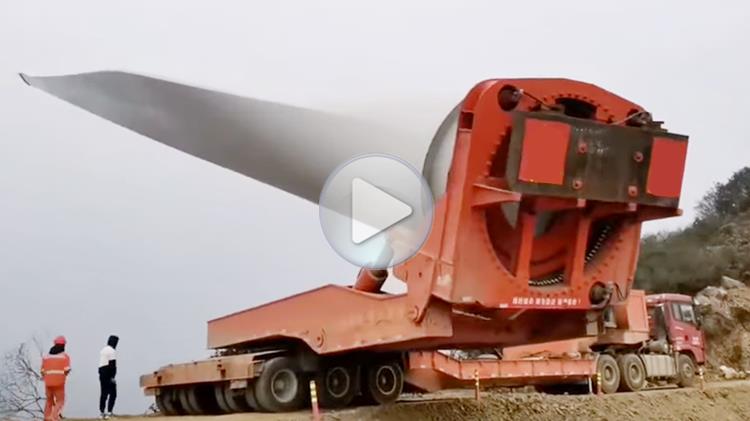 Recently, many old customers came to us again to buy windmill blade adapter. The Vietnam customer bought the Adapter Trailer for 80m Blade Transportation before, which is mainly suitable for transportation on the mountain. This is the customer is using wind blade adapter trailer to transport the wind blade.
The wind blades to be transported are fixed on the windmill blade adaptor by bolts, and the wind blades and the base are firmly integrated. During the transportation process, the wind blades can move up and down, left and right, without danger. The up and down displacement of the base is realized by the oil cylinders arranged on both sides, which can achieve a lifting range of 0-60 degrees.
In order to ensure that the center of gravity of the wind blade is unstable when it is displaced, the back of the base can prevent the counterweight to achieve For the balance of the entire windmill blade adaptor, the counterweight can be flexibly added according to the weight of the wind blade.
The windmill blade adaptor is equipped with 275/70R22.5 size tires, the purpose is to reduce the height of the entire vehicle, not only more convenient when loading and unloading, the lower height also ensures the stability of the vehicle during operation.
Unlike conventional windmill blade adapter, the length of this wind blade adapter trailer is very short, which is also to satisfy that the vehicle can run normally on mountain roads. You can think of it as a crane, with its walking part on the bottom and a turret on the top. The wind blades are like the boom of this crane.