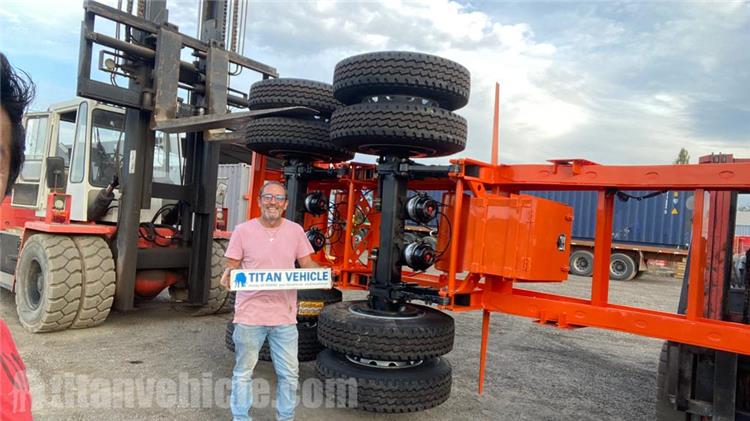 20 ft Skeletal Semi Trailer for Sale In Chile
The Chilean customer received TITAN 20 ft skeletal semi trailer, the customer is very satisfied, it looks stronger than the picture, and the paint is also very beautiful. He said that he will use it to work in the future, and he looks forward to its performance and trusts us very much.
He found us through old customers, we understand the needs of customers, and recommend the most suitable 20 ft skeletal semi trailer for customers. Of course, we can also customize semi-trailers according to customer needs.
The customer also saw TITAN's semi-trailer locally and asked about the usage of the local customer. The customer conducted a survey on TITAN, and the customer said that TITAN is a very worthy supplier.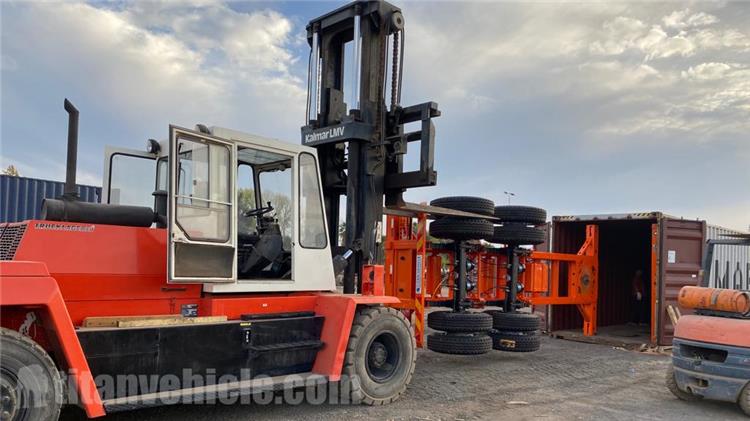 20 ft Skeletal Semi Trailer for Sale In Chile
20 ft skeletal semi trailer is a type of semi trailer that transports 20 ft container. They are commonly used to transport items such as heavy equipment, construction materials, steel, lumber, large containers and more.
The body structure of the 20 ft skeletal trailer is relatively simple, consisting of a platform and a set of axles. A platform is usually a low, flat frame without any fences or obstacles on it. This design can facilitate the loading, unloading and fixing of goods, and can transport super-long, super-wide and super-high goods.
The 20 ft skeletal semi trailer usually needs to be towed by a truck, and the truck and the semi-trailer are connected by a hinge. This design allows the semi-trailer to turn and maneuver more flexibly, while also reducing the burden on the truck.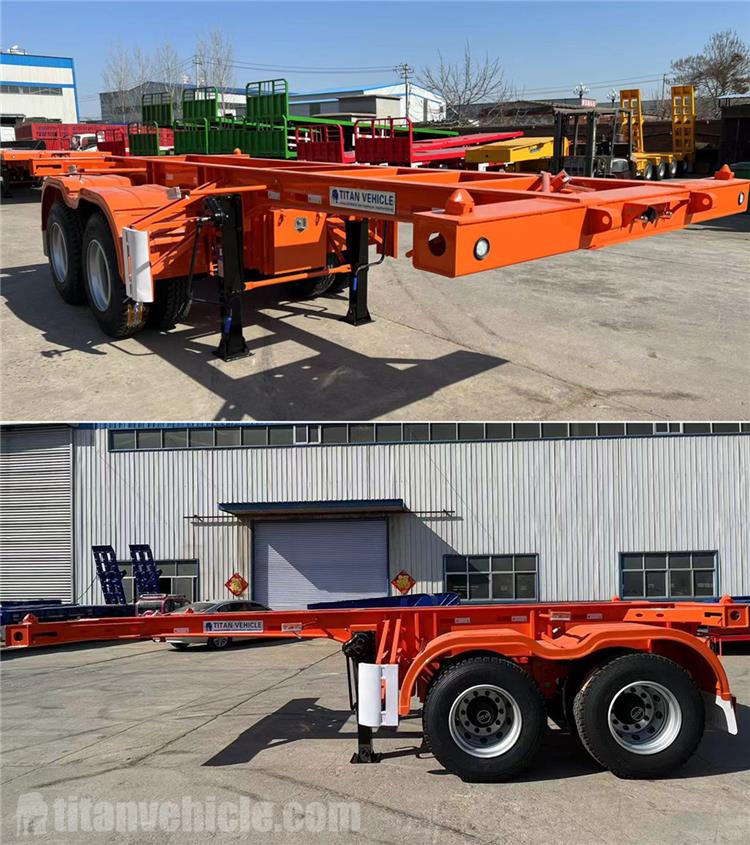 20 ft Skeletal Semi Trailer for Sale In Chile
The 20 ft skeletal semi trailer skeleton is the main structure of the body, which is welded by rectangular steel pipes, which can support the container and maintain its stability. The pallet is the platform under the frame that supports and connects the wheels, braking system and suspension system.
20 ft skeletal trailers for sale are usually designed as light and efficient means of transportation for road travel, so they are also called "road container trucks". These vehicles typically use hydraulic cranes to lift the containers and load them onto pallets. They are commonly used for long-distance freight and short-distance transport between ocean ports to quickly and safely transfer goods from one place to another.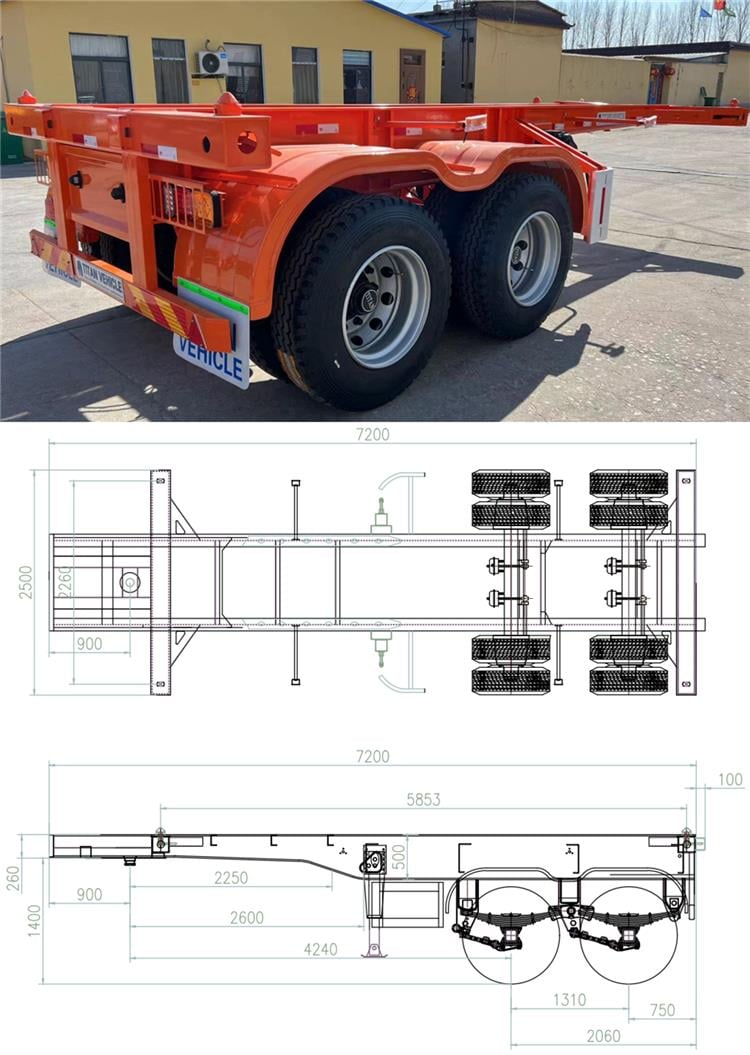 20 ft Skeletal Semi Trailer for Sale In Chile
The 20 ft skeletal trailer price is a reduction of common leaf spring front and rear brackets into a single bracket attached to the body. Its load points are shared on the front and rear axles. Compared with ordinary leaf spring suspension, single-point suspension has higher load carrying capacity.
The 20 ft skeletal semi trailer features high-strength steel with all the durability of high-strength steel and a unique structural design that maximizes payload to increase your profitability. 20 ft skeletal semi trailer can last almost 10 years.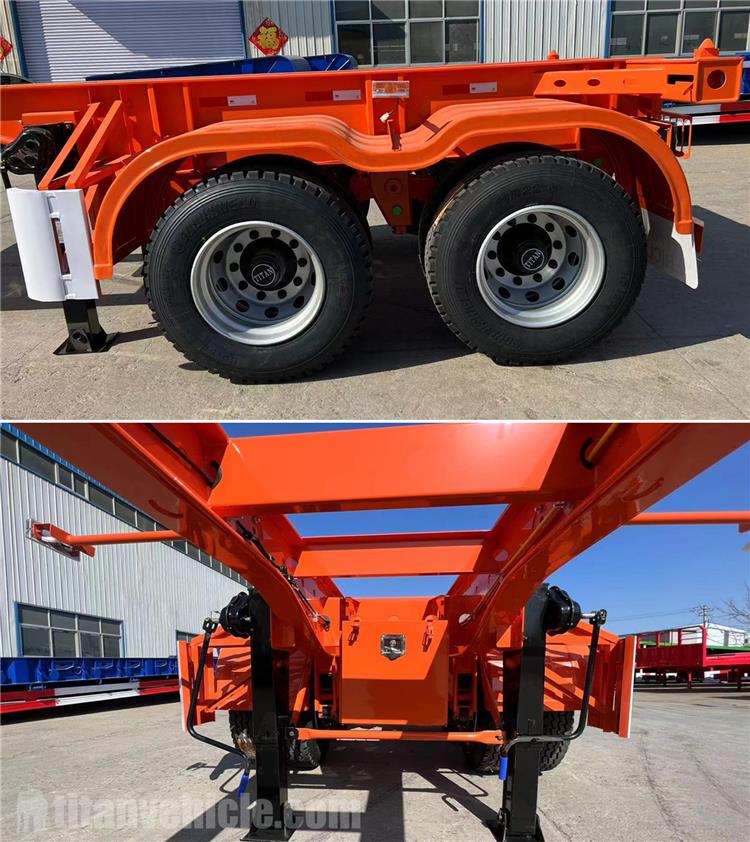 20 ft Skeletal Semi Trailer for Sale In Chile
You can learn about different types of flatbed semi trailer, such as 2 axle flatbed semi trailer,3 axle container semi trailer,4 axle 40ft flatbed semi trailer, etc. As well as the process, testing, packaging and customer feedback, etc.
This kind of semi trailer was designed with lots of advantages and features. If you want to get more information, please don't hesitate to make contact with us.