4 Line 8 Axle Low Loader Trailer for Sale In Zimbabwe
Zimbabwe customer purchased a low loader trailer in July to mainly transport heavy machinery. The customer is very cautious, because the customer received the low loader trailer purchased from other suppliers in January, but it has been severely soaked in seawater when received, and all of them are rusted, causing serious losses to the customer.
Therefore, the client carefully compared multiple suppliers. The main reason for finally choosing to cooperate with us is that it is professional enough and the quality is good enough, because the customer has seen the local TITAN low loader trailer and has great trust in the quality of TITAN. Of course, all of our semi-trailers will be wrapped with rain cloth outside the cabin and sprayed with wax to prevent rain erosion.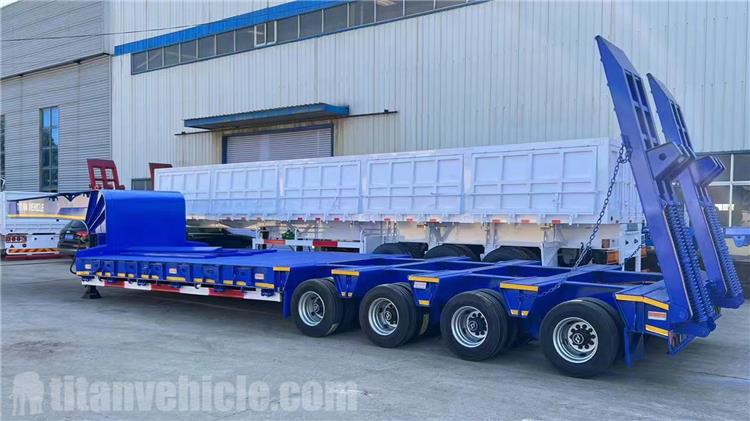 4 Line 8 Axle Low Loader Trailer for Sale In Zimbabwe
The delivery of the low loader trailer for sale is something we are happy about. TITAN has an unwritten rule: "If the test fails, it will not be shipped." Mainly check the quality of the low loader trailer, test the load bearing, operation, etc. If there is any unqualified, we will not deliver the goods.
We have professional inspectors to check. This also protects the interests of customers. So our production of low loader trailer will be stricter. Here is our inspection video. High-quality product quality, good industry reputation, and perfect after-sales service are important reasons for the low loader trailer industry to go further and further.
HG60 steel has high yield strength, which is more durable and stronger than ordinary steel, and its loading capacity is 5 times that of low-load trailers made of Q345 steel. The cost per ton of HG60 high-strength steel is twice the price of ordinary Q345 steel, ensuring that our low loader trailer will have a long service life and avoid unnecessary maintenance costs.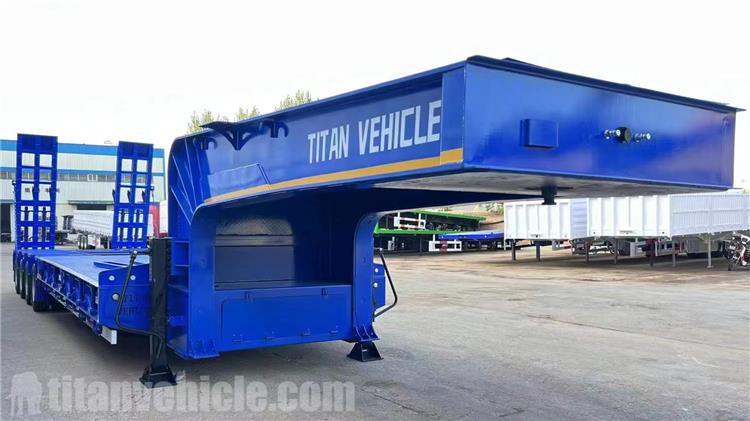 4 Line 8 Axle Low Loader Trailer for Sale In Zimbabwe
The yield strength of Q345 steel is only 345Mpa, which cannot meet the high load-bearing capacity requirements. When the Low loader trailer is overloaded, the main beam of the low-load trailer of the excavator will break.
Q345 steel is a low-cost steel with short service life and increased maintenance costs. And it cannot meet the load requirements of different types of roads.
Before production, drawings are made according to the needs of users and the market, so that the technical parameters of the main Low loader trailer are matched, and then transferred to the manufacturing department.
TITAN low loader trailer price uses world-renowned brand spare parts to ensure high quality and save costs. Such as WABCO brake valve, JOST landing gear, FUWA axle and other small parts.
Some customers new trailer had been running for ten days and the lights wouldn't turn on, and the wires were down. There are only a few copper wires in the wire. TITAN low loader trailer adopts good cluster circuit and high-quality LED lights.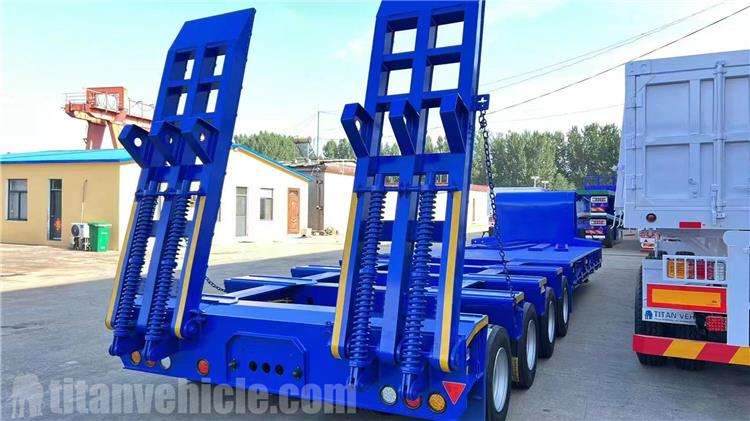 4 Line 8 Axle Low Loader Trailer for Sale In Zimbabwe
You can learn about different types of lowbed semi-trailers, like 2axle, 3axle, 4axle lowbed semi trailer, hydraulic ladder lowbed semi trailer, etc. As well as the process, testing, packaging and customer feedback, etc.
This kind of semi trailer was designed with lots of advantages and features. If you want to get more information, please don't hesitate to make contact with us.