Blade Lifters Wind Blade Trailer for Sale Product Description:
Ordinary telescopic wind turbine trailer is a bit similar to low bed transport vehicles, but the girder adopts a buckle box design. The girder is pulled to adjust the length of the vehicle to adapt to the transportation of vanes of different lengths. It is understood that the current domestic pumping The wind turbine transport trailer can be up to 50 meters long.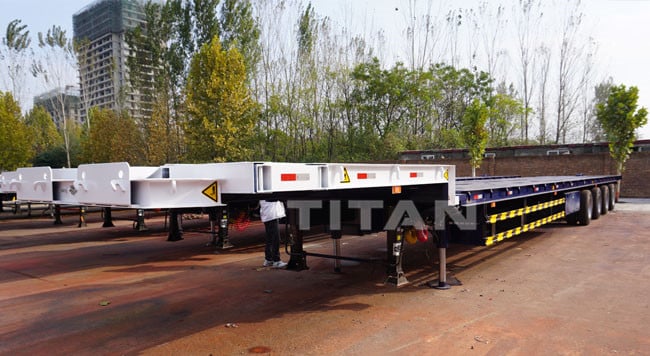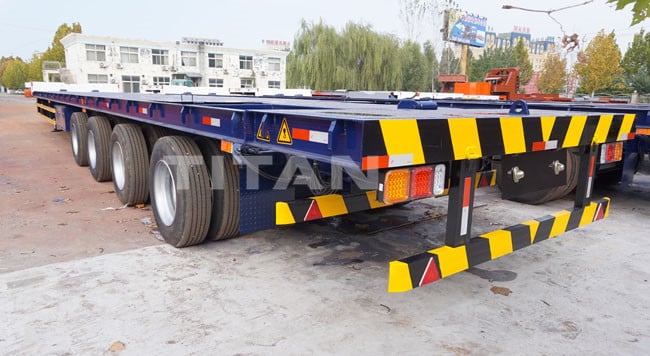 Specification:
Brand: TITAN Telescopic Wind Turbine Blade Trailer
Dimension: 21,500mmX3000mmX1350mm
Total length: 56,000mm after extension
Loading capacity: 60 Ton
Platform thickness: 3 mm
Hydraulic power station: Diesel engine
Axle: 4 units steering axle
Suspension: Mechanical spring suspension.
Tyre: 16 units, Triangle brand
Braking system: WABCO emergency valve
King pin: 3.5 inch high tensile steel bolted type
Landing gear: JOST C200
Features:
1. Our extendable trailers feature a flat, extendible load floor and hydraulically forced steering. The very large steering angle makes the manoeuvrability of the TITAN extendable trailer exceptional. Moreover, this hydraulic steering of the ballasttrailer and teletrailer ensures the maintenance costs are very low and tyre wear is kept to a minimum.
2. Extendable trailer and telescopic trailer for sale from China TITAN are widely used for long cargo transport, especially for windmill parts logistics, such as wind blade, wind tower section, and turbine. The stretchable telescopic beam could be 2 or 3 parts. Total length can reach up to 60 meters.
3. The extendable trailer's original design is using the mechanical axle, just like a low-bed trailer connect with a telescopic beam to make its length adjustable, so enable the trailer to adapt to different lengths of cargos.
4. The telescopic beam could be mounted in other semi-trailers, giving you an extendable flatbed trailer, extendable drop deck trailer as well as extendable lowboy trailer.
5. Extendable telescopic beam/boom protects wind turbine rotor blade from any damages or distortions during logistic, it just performed like bracket holder of the rotor blade. Please go blade trailer if you need to know more info.
Through the video, you can learn more about telescopic trailer , wind turbine trailer , telescopic trailer for sale etc.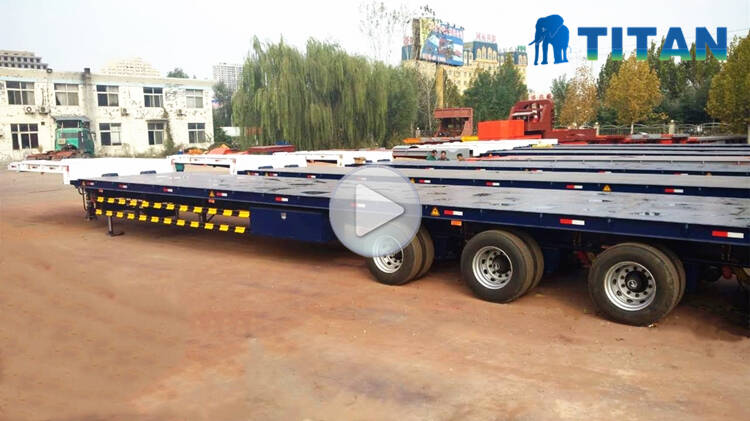 Please click "TITAN Wind Blade Trailer" to get detailed video!
Welcome to leave your inquiry! We will provide more details, price, catalog, drawing, videos for you!