Product Description:
TITAN makes the fuel tanker trailers, heavy bitumen tanker semi trailer, or 3 Axle Sulphuric Acid Tanker.
For the 3 Axle Sulphuric Acid Tanker trailer, TITAN produces the most strong acid tank body to make sure safety. We adopt 5mm thick steel to weld the tankers, also use special design, like the 10 pcs strengthened steel ring to reinforce the Dilute Sulfuric Acid tanker trailer.
To keep the Nitric Acid tanker safe, we use the stainless steel emergency bottom valve also the discharge valves, this type is anti-corrosion, so it can make the chemical tanker trailers to have long service life.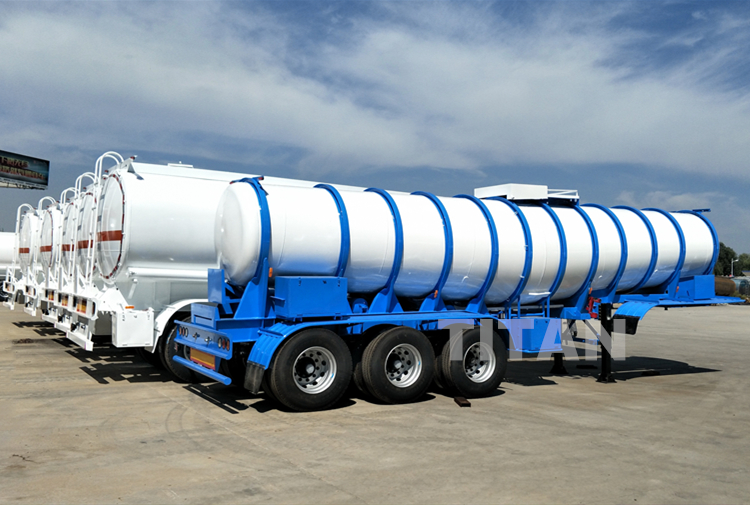 3 Axle Sulphuric Acid Tanker for Sale In Nigeria Abuja Best Price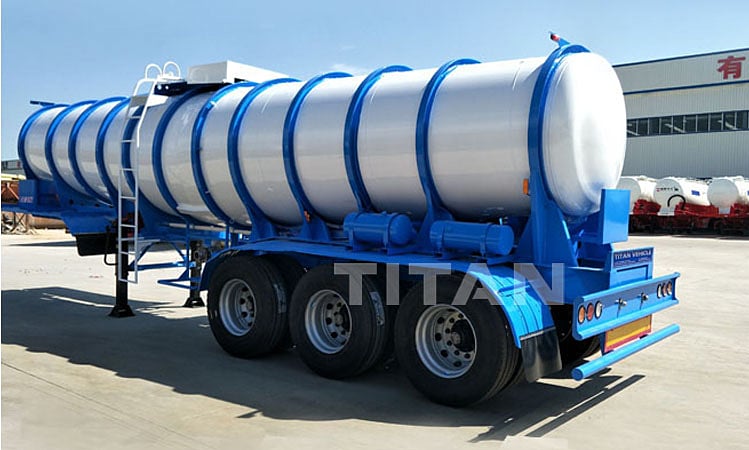 35000 Liters Acid Tanker Trailer
Advantage:
1. With safety devices: the manhole is an explosion-proof large cover. The bottom outlet of the tank is equipped with an emergency shut-off valve.
2. The tank body is automatically welded by an advanced large-scale special welding machine.
3. The TITAN tanker body is longitudinally welded. Ensure the safety of the tanker and increase the service life.
4. Water filled test equipment Water tank: To ensure the high sealed of tank body and avoid the leaks oil.
6. The waved board reduces the impact of the liquid on the tanker.
7. Advanced paint system and polyurethane paint. Appearance is beautiful, use time is above 5 years.
8. We adopt famous brand parts for our tank trailer, it saves costs & ensures long-time service.
Specification:
Overall dimension:11500mm * 2500mm *3700mm
Transport:sulfuric acid
Manhole cover: stainless steel manhole cover
Bottom valve: Aluminum API pneumatic bottom valve
Axles:3 axles
Suspension:Heavy duty mechanical suspension
Tire:12 units
Discharging Pipe: 4'' rubber pipe, 6m/piece, 2 pieces
King pin:2/3.5 inch
Landing gear:JOST
Brake system: 2 line pneumatic brake system
Electrical system: Chinese standard 24V; 7 ways receptacle; LED lamps