150Ton Detachable Lowboy Trailer for Sale Product Description:
The detachable lowboy trailer is used for trailers that carry oversize and overweight cargo. The basic form of a heavy trailer is a monocoque trailer. It generally has the following structure. The frame and the wheel axles and axles are mostly collinear, that is, there are two left and right axles on one axis, which is also called a two axis row.
One wheel axle is equipped with 4 tires, and one axis has 8 tires. Therefore, the width of the whole car can reach more than 3 meters. In order to reduce the center of gravity of the whole vehicle, a steel wire radial wide rim tire with a small diameter and a large load capacity (see car tires) is generally installed. Each tire can withstand a load of about 4 tons under low speed operating conditions. The frame adopts a high-strength alloy steel box section welded structure.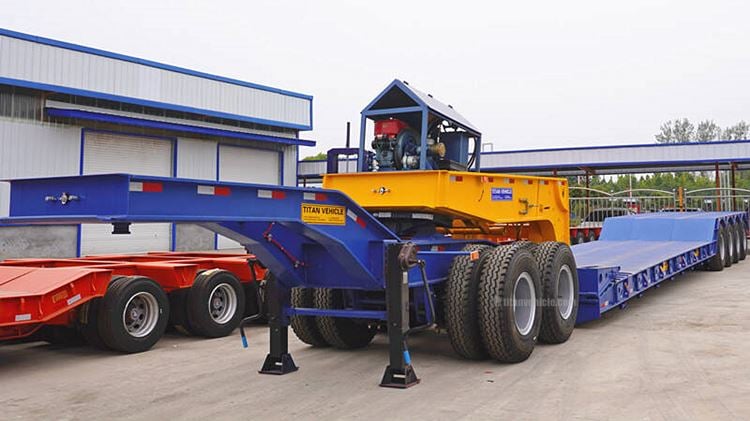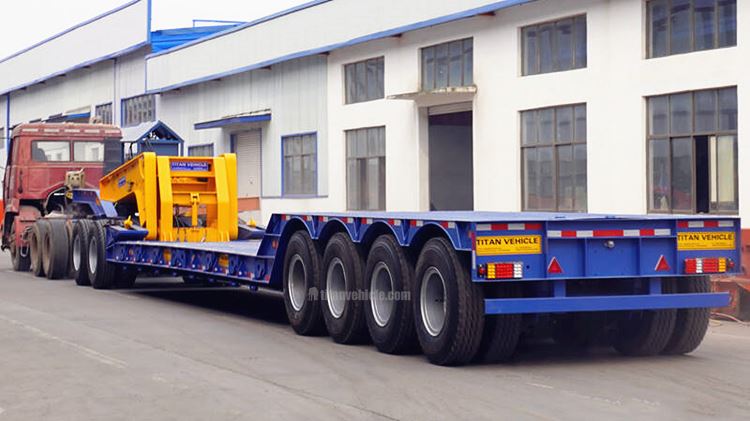 Specification:
Dimension: 17900mm * 2500+250*2mm *2200mm(platform 800mm)
Loading capacity(T): 50-150T
Axle: 4 axle withh 2 axle dolly; 13T/16T, FUWA / BPW / TITAN Brand
Tire: 8.25R20/10.00R20/11.00R20/12R22.5
Suspension: Mechanical suspension or air suspension
Kingpin: JOST brand 2.0 or 3.5inch(bolted or welded type)
Landing gear: JOST brand
Tare weight: About 9.5-19T
Main beam: Height: 500mm; Width: 230mm; Side beam: 250 I-beam 10/8/10; Material: HG60 high-strength steel.
Bottom Platform: 5mm thick, checkered plate
Hydraulic cylinder: 12KW diesel engine with hydraulic station
ABS: Optional
Valve: WABCO valve
Light: LED light (specially intended for oversea markets)
Voltage: 24V
Tool box: 1 set
Painting: Polyurethane paint, with long service lift, and avoid the vehicle get rust
Through the video, you can know different types of 150ton detachable lowboy trailer , detachable lowboy , 4 axle detach lowboy trailer, etc.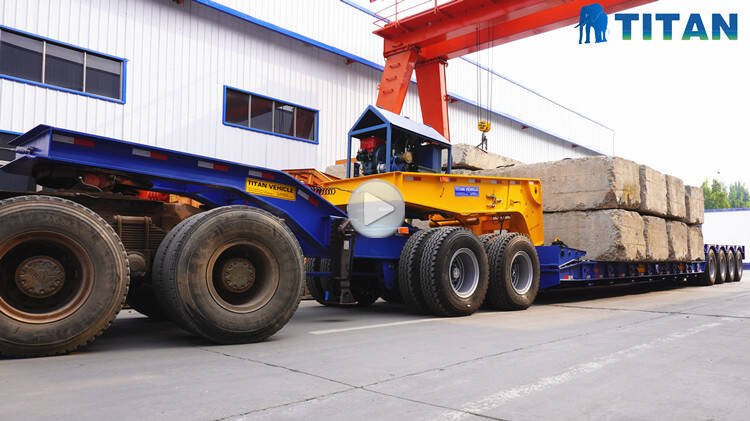 Please click "TITAN Removable Gooseneck Trailer" to get detailed video!
Welcome to leave your inquiry! We will provide more details, price, catalog, drawing, videos for you!