Extendable flatbed trailer manufacturers
---
TITAN design and produces extendable flatbed trailer :56 meters Wind Blade Trailer that is with single to triple extendable decks, and a loading length up to 56 meter for hauling 45 meters to 80 meters long wind tower blade, and other long bulky goods. Maximum maneuverability is guaranteed by our hydraulic forced steering with turntable bolster or Friction steered axles and hydraulic steering axles.TITAN Extendable Wind Blade Trailer can be adjusted to fit any size or brand of turbine blade for your transportation needs.
FEATURES
Extension length: from 21.5 meters extendable to 56 meters.

Transport 45 meters to 80 meters long wind blades

Loading capacity is 60 ton

Steerable axles, all wheels steering.

Highly robust frames and outstanding stability of extension beam

Mechanical spring suspension as standard, pneumatic suspension or hydraulic suspension is optional

Manual operation and wireless remote control to control the steering system.
SPECIFICATION
| | |
| --- | --- |
| Brand | TITAN extendable trailer |
| Dimension | 21,500mmX3000mmX1350mm |
| Total length | 56,000mm after extension |
| Loading capacity | 60 Ton |
| Platform thickness | 3 mm |
| Hydraulic power station | Diesel engine |
| Axle | 4 units steering axle |
| Suspension | Mechanical spring suspension. |
| Tyre | 16 units, Triangle brand |
| Braking system | WABCO emergency valve |
| King pin | 3.5 inch high tensile steel bolted type |
| Landing gear | JOST C200 |
PICTURES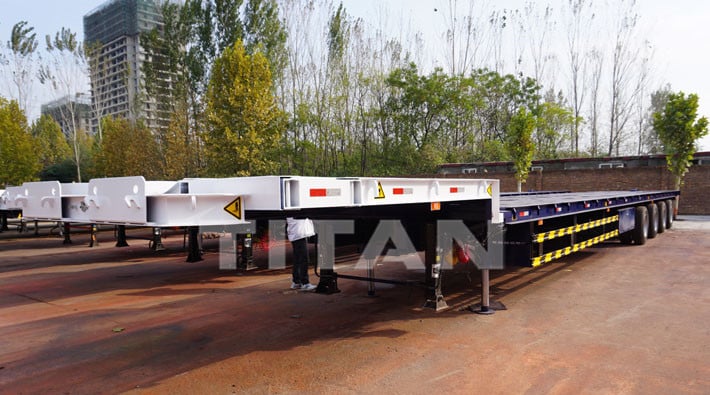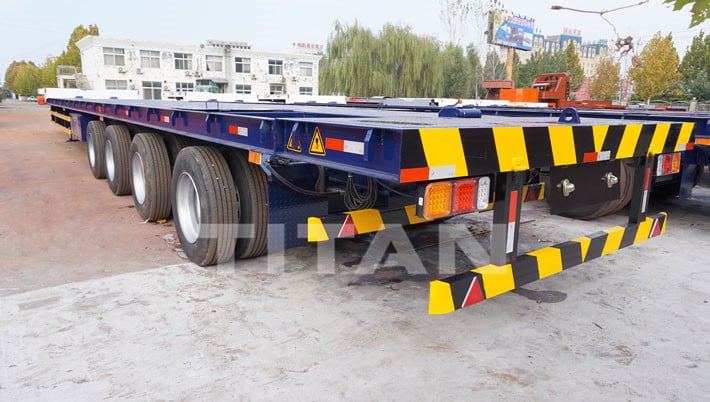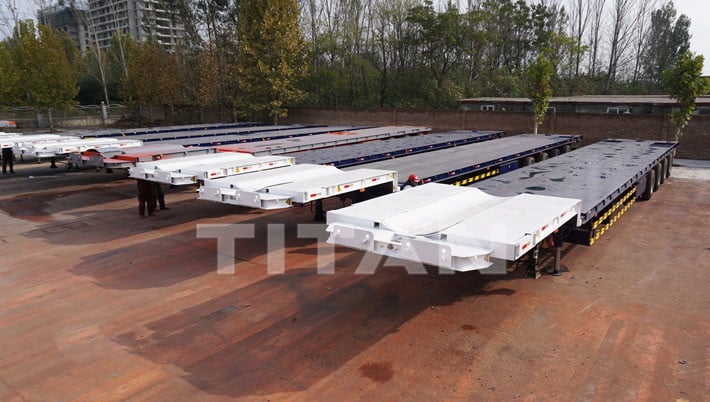 TECHNOLOGY
AXLE ANDSUSPENSION
TITAN Extendable Wind Blade Trailer is equipped with mechanical spring suspension as standard
The following axle systems is optional
Air suspension

Hydraulic steering axles

Friction steered axles

Turntable steering axles
WIND BLADE TRAILER USAGE
The greatest strengths of TITAN Wind Blade Trailer certainly lie in its highly robust frames and th outstanding stability of extension beam. These advantages enable not only meet to legal
Boundary conditions, but also increase maneuverability and efficiency in loading and transport.
Wind power project : wind tower segments, generators, rotor or turbine blades, hybrid towers

Long Bulky Cargo: Long train rail, long and big tank. Long pipes
VIDEO
If you're interested, please send us your inquiry or online message! Please fill in your contact information here.
We will provide you the detailed quotation, drawing or videos for your reference!