Drop side trailer manufacturer - TITAN has successfully entered more than 50 countries, very popular in Africa. Such as Tanzania, Mozambique, Malawi, Zimbabwe, Zambia, Algeria, Sudan, Mali, Ghana, Nigeria, Jamaica, Liberia, Guinea, Senegal, Argentina , Kenya, etc.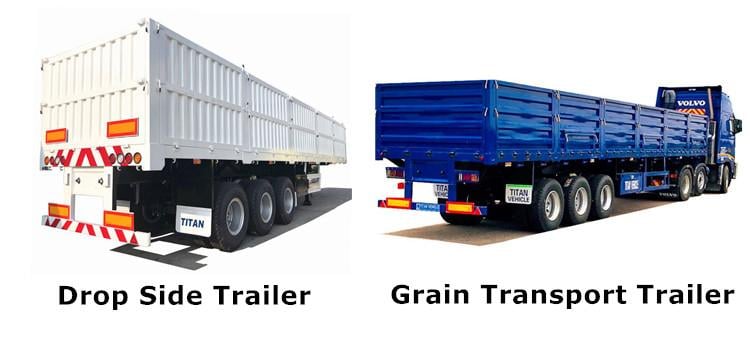 TITAN is one of the leading manufacturers of drop side trailer and its trailers are designed keeping the road conditions and the drivers in mind who expect the highest standards of performance and international quality. It has gained immense accolades among its customers with its best efforts, hard-work of its professionals to relish the success as a leading manufacturer of Side Wall Trailers.
TITAN manufacturing facility is fully furnished with advanced machines and equipment that assist us in manufacturing superior quality of drop side trailers and cater to requirement of clients in an efficient manner. We follow stringent quality control measures to ensure our customers that our drop side trailer is excellent in terms of durability, performance and quality.
Its higher payload carrying capacity, better mileage and availability of different product variants catering to varying customer's needs gives the side wall trailer an extra edge over local solutions. The dropside truck trailer provides you with longer tyre life, high fuel efficiency and less maintenance cost which gives you higher revenue and lower operating cost, substantially increasing your overall profit.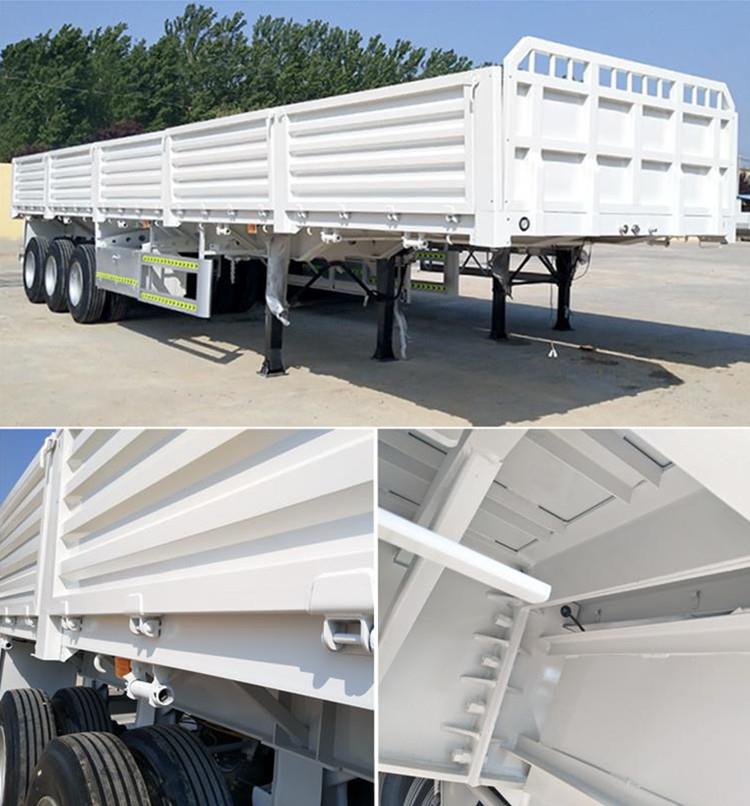 Different configurations are different prices, conventional model drop side trailer price, you can download the quotation

Features of TITAN drop side trailer for sale:
1. Modular design, intelligent manufacturing
TITAN dropside truck trailer adopts advanced intelligent manufacturing equipment such as finite element analysis, modular design, laser cutting machine, robot welding, etc., from the design source to the product processing and manufacturing, the entire process is strictly required to ensure that every side wall trailer delivered to the customer. They are all high-quality and qualified products.
2. Quality materials
Drop side trailers are manufactured using optimum quality raw materials and the latest production technologies in order to ensure its strength. The construction is composed of a one-piece high-quality steel main beam, a strong floor with sidewall frame and many more components. Whether you are loading cement, steel, any construction materials, etc, TITAN dropside cargo semi trailer is engineered with robust capacity you can rely on.

The drop side trailer is in production at the factory
3. Pay more attention to safety and energy saving
The specific advantages are as follows:
1. The bracket adopts a high-strength material upper end closed design structure, which can meet the direct connection of the lower wing plate of a dropside cargo truck trailer for container or cargo.
2. The drop side semi trailer with side wall suspension adopts an internationally renowned brand, which has a long life and is more reliable in durability.
3. The guide arm can choose double leaf spring and single leaf spring. The optimized single-leaf guide arm structure, lightweight design, three bridges reduce the weight of more than 200 kg, and has good guidance and super reliability and stability.
4. The guide arm bushing is made of inner and outer steel, and the middle vulcanized rubber design structure has stronger load resistance and more stable vehicles.
5. Reduce tire wear and fuel consumption. Under the same road conditions and load capacity, fuel consumption per 100 kilometers can be reduced by more than 1.2 liters.
6. Imported brake pads and implanted wear alarm device. Effectively guarantee the braking performance of the side wall trailer during operation.
7. Brake discs containing alloy elements, anti-cracking, anti-wear and high temperature resistance. Super long warranty of 200,000 kilometers, maintenance-free, brake life up to 10 years and 1.5 million kilometers.
8. High-precision load bearing, long life and low temperature.
4. Green and environmental protection, anti-rust and more durable
There are no dead corners in the overall coating, the coating is more uniform in automated production, the inner side of the box and the warehouse sideboard are covered with coating, rust-proof and durable, and fully respond to the country's requirements for winning the blue sky defense war, and achieve green environmental protection.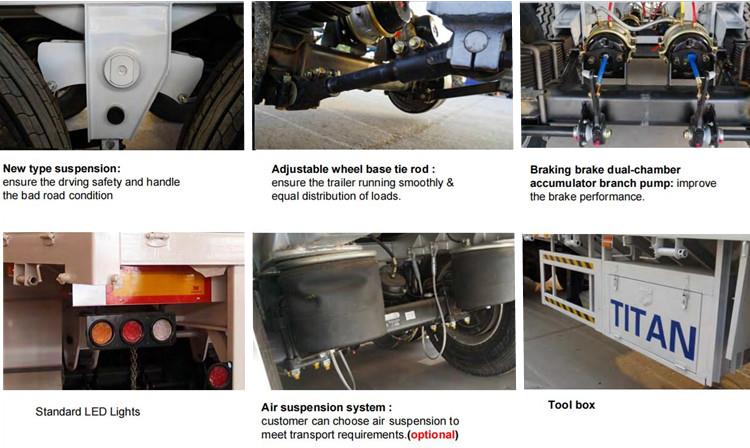 Details of TITAN Tri Axle Drop Side Trailer for Sale
Conventional model tri axle drop side trailer specification:
Tare Weight: About 7.6T
Dimension(mm): 12500x2500x3350mm
Loading capacity(ton): ≤60T
Axles: 3 axles, 13T/16T ,FUWA/ BPW/ Huajing Brand
Tire: 13 units, 12.00R22.5 or 315/80R22.5
Rim: 9.00-22.5 or 9.75-22.5
Suspension: Mechanical, Bogie, Airbag suspension(China brand or BPW brand)
Spring Leaf: 90(W)mmx13(Thickness)mmx10 layers or 100mmx12mmx12 (specially intended for overseas markets)
King Pin: JOST brand 2.0 or 3.5 inch (bolted or welded)
Landing Gear: JOST brand D200T or Chinese brand 28tons(double-speed)
Main Beam: Height: 500mm, Upper plate:14mm, Middle plate:8mm, Bottom plate:16mm, Material:Q345B steel
Bottom Side Beam: 16mm or 18mm steel channel (material: Q235 steel)
Platform: 3mm-thick checkered plate
Trailer Sides: 600-2000mm, or box type sides
Brake Chamber: WABCO RE 6 relay valve; T30/30+T30 spring brake chamber(TKL brand), 45L air tank
Twist Locks: 4,8,12 sets (lifting or screw type)
Valve: WABCO valve (specially intended for oversea market)
ABS: Optional
Light: LED light (specially intended for oversea market)
Voltage: 24V
Socket(Receptacle): 7-pin Socket (for 7 wire harness)
Tool Box: 1m x 0.5m x 0.5m (The tool box contains 1 tire spanner, 1 gudgeon sleeve and 1 cranking bar. Its size can be tailored to suit your needs)
Painting: Sandblasted, anti-rust chassis surface is available with 1 layer of anticorrosive primer and 2 layers of top coats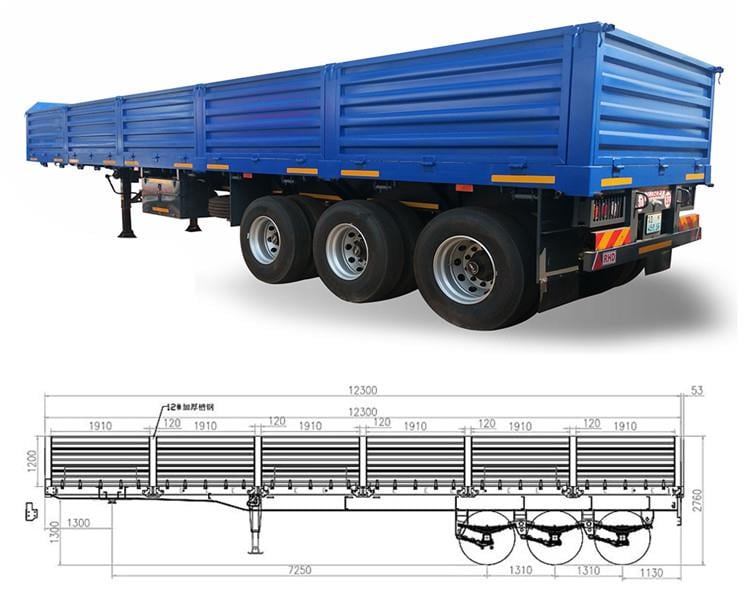 Some advantages of TITAN drop side trailer frame:
1. TITAN dropside semi trailer uses low carbon high strength alloy steel Q345 to make the girder,which has higher bearing force and service life of more than 10 years.
2. TITAN Vehicle uses automatic arc-submerging welding method to weld the main beam, there isn't interface between the steel plate, it can ensure the intergrated main beam, so the main beam is more stronger and more durable.
3. Reinforce the underside of the gooseneck of the girder of TITAN drop side trailer. Gooseneck double girder riser. Vehicle in the heavy load when the deformation range is very small, better to use. TITAN six paving beams are used to effectively ensure the flatness of the bottom plate.
4. TITAN drop side trailer for sale side beam 160mm,100mm channel steel transverse, all the beams are supported, cross beam spacing not more than 500 inclined brace, the vehicle is not easy to deformation. Cross beams and side beams are reinforced.
5. TITAN dropside truck trailer the backplate is 3mm patterned plate, the backplate is strong and durable, and not easy to be deformed. Which is thicker than 2.5mm or 2mm in other factories.