1. What is an extendable trailers?
Extendable lowbed trailer also have more name, such as telescopic semi-trailers, extendable trailers for blade, telescopic blade trailer, extendable boom trailer.
Telescopic trailer, you can freely adjust the length of the semi-trailer according to the length of the cargo, so as to meet the transportation needs of different goods. Custom expandable telescopic flatbed and lowbed type trailer.
With the rapid development of the global transportation industry, semi-trailers have also begun to diversify into a variety of categories. Ordinary semi-trailers have limited capabilities, but special trailers also have single functions and low utilization rates.
Therefore, the bosses of transportation companies increasingly need a telescopic ordinary semi-trailer that can load very long cargoes, such as long cement pipes, steel pipes, wood, wind blades for power generation, etc.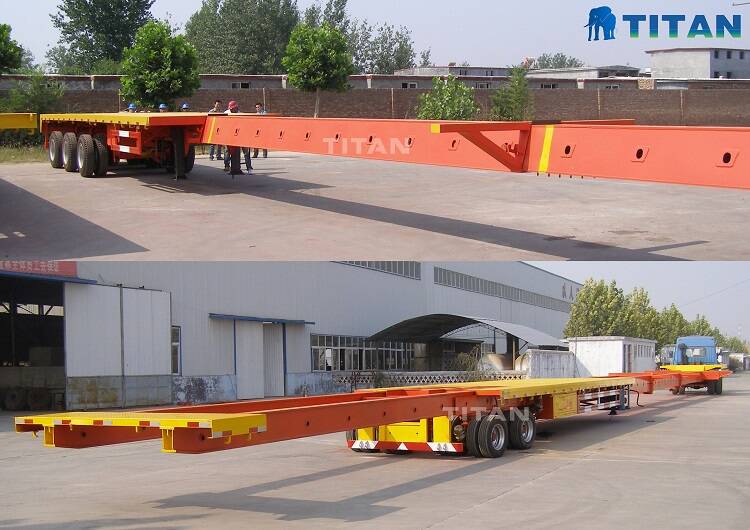 TITAN extendable trailer for sale testing
2. Common extendable methods:
In the middle, In the back of the gooseneck, in the tail, in the front.
We can freely change the design of drawing length according to the requirements of customers.

13-39m extendable flatbed trailer technical department drawing

2 line 4 axle 42m telescopic trailer technical specification drawing

3 axle 52m expandable trailer technical parameter drawing
3. How to extend and close an extendable flatbed trailer?
The pulling and closing operation of a telescopic semi-trailer is very simple. You only need to use the tractor to move forward or reverse when the rear axle is braked. After reaching the working distance, lock it with the positioning pin.
4. How to design the brake air circuit and circuit of the heavy haul trailer?
Air pipe and electric wire for the circuit adopts the dragging pulley method, which expands and contracts as the inner beam expands and contracts. After reaching the working position, it can be fixed.
5. Does the rear wheel of the extendable lowbed trailers need a steering axles design?
Whether the rear wheels use steering wheels is determined based on the total length after drawing and the required road conditions.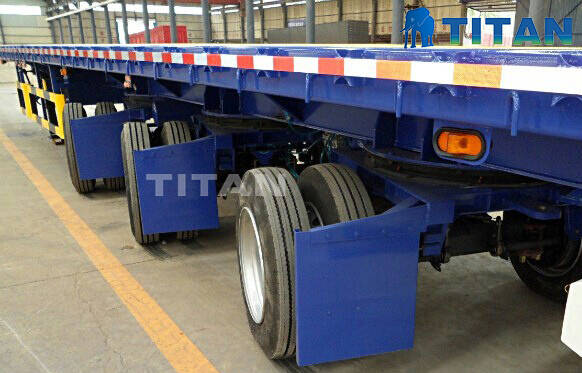 (1) Advantages of steering wheels and ordinary axles
The steering wheel structure can meet some special turning needs. The hydraulic control of the hydraulic station is used to realize the steering of the rear wheels.
(2) Disadvantages of steering wheels and ordinary axles
The cost of steering the axle is twice the cost of an ordinary axle, requiring more capital.
Steering axle load capacity is much smaller than ordinary axles. Large tonnage loads need to be changed to axis mode.
Welcome to leave your inquiry!
We will meet the acme of perfection to serve and provide more details, price, catalog, drawing, videos for you!