Chapter 1: What is hydraulic modular trailer?
Chapter 2: What is the application of the trailer
Chapter 3: How do hydraulics work trailer?
Chapter 4: Different types of modular trailer steering structures
Chapter 1: What is hydraulic modular trailer?
A modular trailer is a series of special vehicles that is used to transport large cargos that are difficult to disassemble. The goldhofer modular trailer is also used transport over-length goods. One modular trailer consists of different modules, from 6-12 axle lines with a capacity of 36 up to 48T per axle line. SPMTs have the possibility of circle drive around the centre of the hydraulic modular trailer or execute "crab moves". The lifting height of heavy-load components is approximately 500 mm. Due to their variety of combinations, they can lift and move nearly every heavy-load component.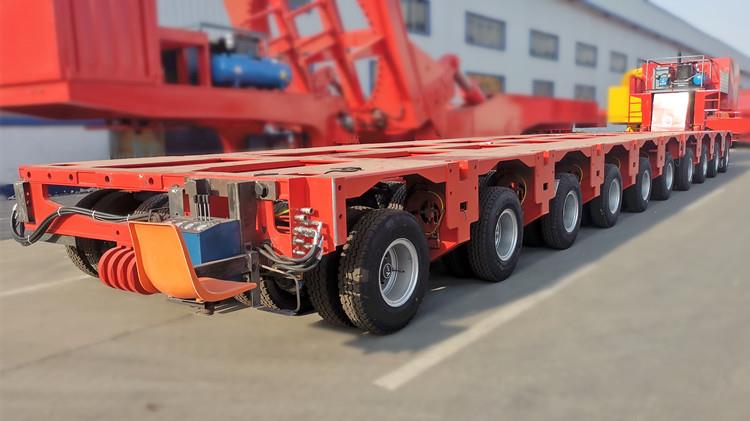 Components of a hydraulic modular trailer for sale
High tensile steel chassis frame, durable with high safty factor.
Hydraulic cylinder suspension.
Power pack(diesel engine), supply hydraulic pressure for steering and lifting. Air compressor is an option if your prime mover has no air brake.
Hydraulic/mechanical steering system. Hydraulic pressure came from power pack to steering and lifting jack, drive steering tie rods which tied up with suspension, then realize steering of whole trailer. When hydraulic pressure functioned in lifting cylinder, hydraulic platform trailer can go up and down.
Chapter 2: What is the application of the modular trailer
For long distance road transport of oversized and abnormal load cargos, such as steel structure, power generator, transformer, gas turbine, steam turbines, windmill parts(wind blade, wind tower and wind nacelle), petroleum vessels. Widely used in construction, engineering, oil refinery and other related industries. Each hydraulic modular trailer module could be connected end by end(longitudinal combination) and side by side(latitudinal combination), to finish various tough and enormous transport job that mechanical suspension trailer(conventional) can not make it.
Hydraulic modular trailer is getting popular worldwide due to it can spread concentrated weight to each wheels via hydraulic system, it can maintain level of trailer and cargo when running on uneven road, also, it can protect road from damage caused by overload trailer.
Heavy-cargo transport:
Some companies specialize in transporting heavy cargo from one destination to another. Such companies serve clients who need to transport heavy loads a few times in a year.
The manufacturers also require transport solutions to transport the fully-assembled equipment to the clients or warehouse. The goldhofer modular trailer can be customized to transport any cargo as long as it is well packaged.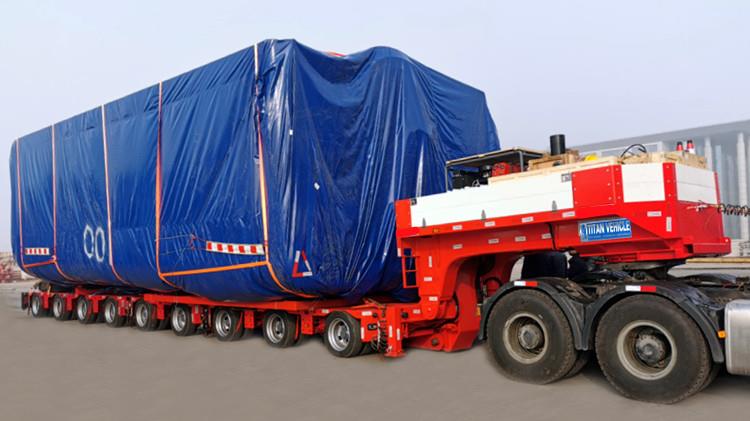 Chemical industry construction:
The chemical industry also requires special transportation hydraulic axle modular trailer to move heavy raw materials, equipment, and finished products.
Setting up the manufacturing sites requires the companies to transport heavy and long tubes, cylindrical tanks, and metallic beams among other parts. In most cases, the parts are purchases from other assembly companies and transported to the chemical production sites.
Ship Building Industry:
Ships and ship sections are normally huge and bulky. You can imagine how the construction of the big ships you see transporting goods and people across seas is done.
Modular trailers become very useful in the movement of ship sections to assembly halls and the entire ship to the sea. Ships are normally very heavy weighing up to thousands of tones.
The biggest ships will need goldhofer spmt with over 200 axle lines. On some occasions, the placement of the axles is done side by side to help in carrying long and wide ship sections.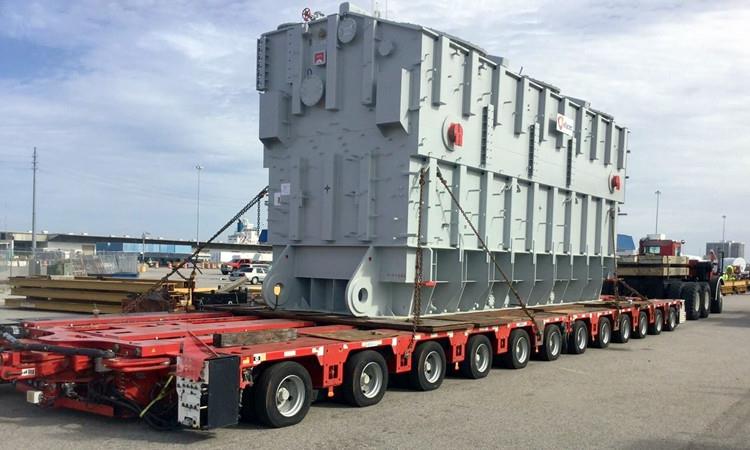 Construction Industry
The construction of bridges, large buildings and roads also require the use of modular trailers. Big bridge segments and large girders are placed onto the modular trailers from the construction sites.
Construction companies usually have projects located in different areas. Modular hydraulic trailer help in the transportation of the already built sections to places where they will be installed and at the same time shift materials and equipment from one project to another.
Chapter 3: How do hydraulics work trailer?
The chapter outlines the structure and the functions of each component or equipment.
1. Frame
The main beam of frame has a box-type carrying beam structure. The girder uses high-performance welding steel to ensure stability and reliability. The box-shaped center beam and the stable crossbeams give the frame a high degree of rigidity. Hence, the frame can achieve its optimal loading level.
2. Hydraulic system
The pump in a modular transporter uses the hydraulic technique, which is effective in controlling the driving speed. The steering and suspension pumps use the constant pressure controller to realize a quick response whenever they need steering power.
3. Hydraulic wheel bogie
The modular trailer use a hydraulic wheel bogie, which consists of the bogie frame, hydraulic cylinder, axle, tyre, and rocker arm. It has a strong load capacity.
When the road is uneven on the transverse direction, the axle swings to compensate. If the road is uneven in the driving direction, the hydraulic lifting system adjusts the modular supporting system.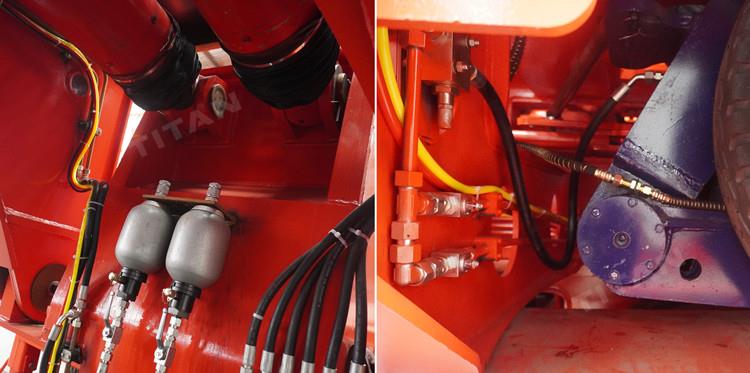 4. The mechanism of steering
The steering mechanism consists of the steering central panel, steering orifice plate, steering cylinders, and steering rods. The steering orifice plate is welded together with the bogie frame.
The plate has specific quantities of assembling holes that are used to install steering rods. The positions where steering rods are installed on the steering orifice plate can be changed to suit different combination modes of the hydraulic modular trailer. The unit can meet the minimum steering radius and the maximum turning angle of 55 degrees.
5. Lifting system
The total lifting length of modular unit's platform is modular trailer lifting600mm. The platform gives a compensation of ±300mm, which is enough compensation for the axial load.
6. Combination system
All modular trailers can be combined side-by-side or from end-by-end. A hydraulic link-pin is used to combine modular units end-by-end.
Combining hydraulic and brake pipeline requires fast coupling connectors, which have a high performance level. The electric interfaces use a heavy connector, which is reliable.
7. Brake system
The modular trailer is equipped with a compressed air brake system. The system consists of double brake chambers, single brake chambers, relay valves, brake drums, and reservoirs. The brake system consists of tow brake lines that function as the service brake and the parking brake.
Chapter 4: Different types of modular trailer steering structures
Mechanical steering axles
When gooseneck steering, the system will control the rods and support arm to steer the tires. This is the type to go for on economic grounds and again to enjoy a long service life.
It comes with low maintenance costs and most importantly, it is highly available.
Hydraulic steering axles
Self propelled modular transporter for sale offers a larger steering angle of up to 65°. Most importantly, it has a higher capacity compared to other options out there.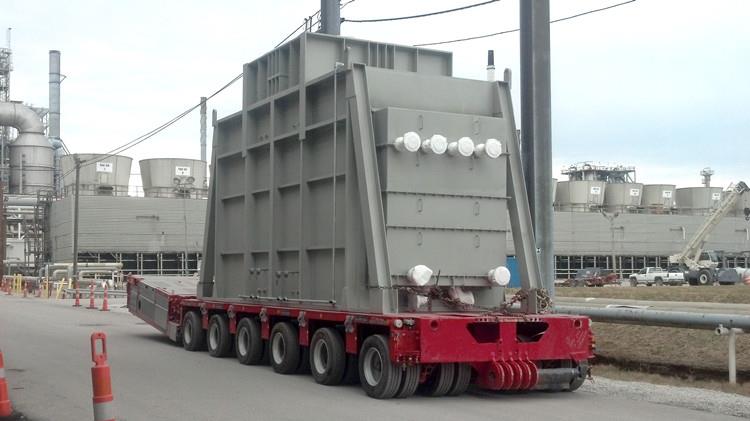 Steering Operations
The hydraulic axle modular trailer has many axles even up to 10 axles. So, the modular trailer's axles need to be steered by either self-steering or automatic steering. Steering without wheels causes serious wearing.
In order to minimize the tear and wear on the tires and the modular hydraulic trailer chassis stress, it is advisable to let the modular trailer wheels to accurately follow the towing vehicle wheels regardless of whether it is on a tractor or a lorry.
For this to be achieved, it is normally important that successive wheel pairs take up slightly varying angles and positions under the goldhofer modular trailer chassis.
Conventional steering systems for trailers make use of the bogie system for steering through means where both the wheels of a pair get turned concurrently through the changing axle angle where the axle links up the wheels together.
The goldhofer modular trailer can get signal when gooseneck or drawbar steering, the axles will be controlled by PPU automatically, you can also use the remote control to steer all axles.