Choosing TITAN Side Loader Container brings you lots of competitive advantages. You get to work with the world-leading experts in mobile container handling, a logistics market that is constantly growing. We have many loyal customers in Papua New Guinea, Guyana, Guinea, Gabon, Nigeria, Zimbabwe and other regions.
TITAN side loader container is made to last for at least 30 years, lifting the heaviest loads with the highest level of safety. Its unique lightweight construction gives you the best payload on the market.
With more than 10 years in the industry, we set the standard for smart and simple container handling.
TITAN 40Ft side loader containers are built and customized in accordance with your wishes and requirements. Yet, they always consist of tried and tested components and modules, ensuring safe and cost-effective long-term operation.

40Ft Side Loader Container Trailer for Sale Near Me
1. Advantage of Side Loader Container
1. All our side loader containers feature the latest technology and innovations. Let us help you find the perfect solution for your needs. State-of-the-art machinery, in-house production.The container side spreader can be used to transport many other goods besides the container. It can handle industrial equipment, special containers (such as portable buildings), fuel containers, etc.
2. Our most powerful 40ft side loader container, lifts up to 45 tonnes. The highest payload on the market, unique light-weight construction that gives you the highest payload on the market.
3. Cost-efficient and safe, tried and tested, user-friendly technology ensures safe products with a long lifecycle.TITAN Side lifter can be productive all day, enabling loading, unloading and transporting containers by itself easily. They can tilt the chassis by using stable feet that can work on uneven ground. The operator can also control the lowering and raising of the crane, so this can be done.
4. With the TITAN 40ft side loader container, you get closer and can lift between trailers safely and with high precision. Famous WABCO braking valve, JOST landing gear for the main chassis container skeleton trailer. Famous NBB Germany Remote Control, easy to operate.
The same is that there is a smaller version of the device, which can reduce the load when a lighter tare weight is required. When using this equipment, the operator has many choices.
5. TITAN 40ft side loader container adopts wireless remote control technology, loading container just takes 10 mins. Worldwide service network, competent technical service, short response times and quick access to spare parts.
The most important thing to note is the telescopic chassis of the side lift, also known as the trombone chassis. This type of chassis allows the equipment to shrink and expand, thereby providing the space needed to accommodate containers of 20 feet, 40 feet, or 45 feet.

Drawing of 40 Foot Side Loader Container for Sale
2. How Do you Unload a Shipping Container?
1.Remember to stand at the same side as goods lifted to ensure the best visibility of the load and adopt natural and normal operation mode. All the moving parts of the machine are driven by hydraulic, when you find abnormal sound during operation, stop operation at once, restart operation after get rid of faults.
2. When load just leaves the ground, please ensure there is no obstacle in load traveling direction. Do not make the container center beyond the stabilizer limits, otherwise, it may result in overturn accident. Be sure to keep all wheels in contact with the ground when extending stabilizers. During operation, do not retract stabilizers.
3.During lifting, make sure the lifter act smoothly and steady, if the side loader container is being lifted because of abrupt operation, stop the operation at once, restart the operation after quieting down
4.During operation of loading and unloading of the side loader container, if you do have not a clear view in the foreside, stop operation to check, do not operate blindly.
5.When performing inspection and maintenance work, be sure to avoid a collision, and do no-knock the parts fiercely to prevent them from distortion, and keep these parts from dust when working on them, in addition, add and inject grease to prolong their service life.
Other Precautions:
The operator must obey the operating rules, and keep irrelevant personnel away from the no-go zone. The operator shall not leave the operating position when lifting load or crane is Running.
It is forbidden to operate the 45 ton side loader container under the high-voltage power line. Provide sufficient lighting so that machine movements and loads can be clearly seen.
When you perform inspection and maintenance, be sure to stop the engine and set all cylinders to a fully closed state.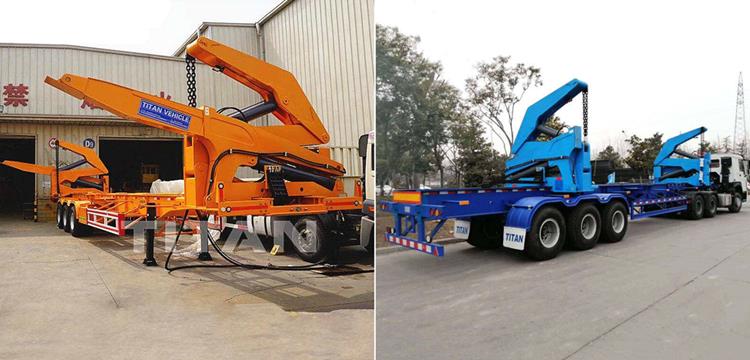 45 Ton 40 Foot Container Side Loader Price
3. What Should You Know About the Benefits of Using Side Loader Container?
It gives you the opportunity to make many container movements every day. You can safely transfer the colorant to the ground within a few minutes. This improves efficiency and productivity.
You can transport containers by road anytime, anywhere. The independent operation ability does not require the support of other equipment during the loading and unloading process so that the container can be transported by road.
The 40ft side loader container hoist has a sturdy structure, making it a reliable device with minimal maintenance requirements. It can handle container movements on any type of terrain and can be used on low-cost dry docks.
The lifting operation does not require many operators and equipment. The trailer driver can unload the container by himself in just a few minutes, and can easily move 20-foot and 40-foot containers using the same equipment. No additional personnel or equipment is required. This makes your operations cost-effective.
It can safely handle fragile, valuable and dangerous goods. Differentiated cargo can be easily loaded and unloaded without being confused with any cargo. The 40ft side loader container action allows you to safely place the container at the exact location you need to facilitate loading and unloading operations when needed.
Double-layer container. Since they can work normally in a limited space area, the container side lifter can safely and quickly stack fully loaded 20ft and 40ft containers on each other.

Operate of 40 Ft Container Side Loader