Flatbed trailer manufacturer - TITAN has successfully entered more than 50 countries, very popular in Africa. Such as Tanzania, Mozambique, Malawi, Zimbabwe, Zambia, Algeria, Sudan, Mali, Ghana, Nigeria, Jamaica, Liberia, Guinea, Senegal, Argentina , Kenya, etc.
Application of the flatbed trailer
The function of a flatbed trailer for sale is made possible through its structure's design and manufacture. Basically, it is a transport equipment mainly of a steel construction defining its frame. It also comprises a lighting system, brakes and tires. It is carefully designed to desired heights and weight capacity to safely load and transport containers from one location to another. Use flatbed trailers to transfer cargo at the shipper's warehouse. Unloaded to the consignee's warehouse, when changing trailer or boat on the way, there is no need to take the goods out of the box and change them.
The size of the flatbed trailer loading area is determined according to the standard container size, usually 20 ft and 40 foot container. A twist lock device for fixing the container is provided at positions corresponding to the four corners of the bottom of the container. Flatbed trailers are special trailers for transporting containers.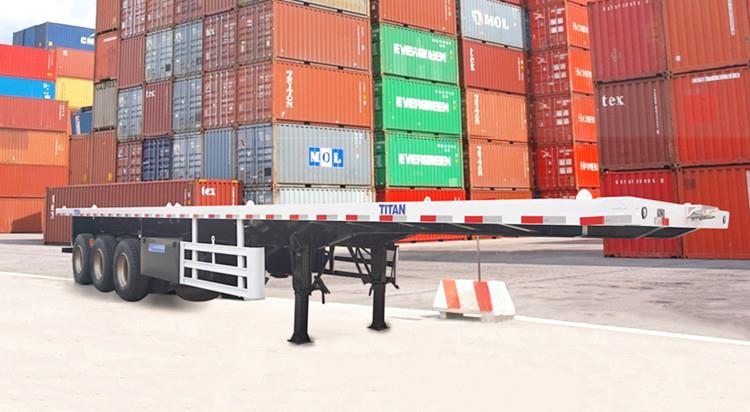 Flatbed trailer manufacturers - TITAN VS Other Brand
TITAN flatbed trailer advantage
Advanced TITAN Full-automatic Submerged arc welding process
1. Formed by one time.
2. More sturdy, also bending and bump resistance.
3. Improving the loading capacity and the service life by 50%
TITAN adopt One Complete main beam
1. The whole complete main beam can improve the loading capacity by 20%
2. More torsion resistant and anti-bumps, and stable and safe on the bad road condition.
3. Increasing the durability and balancing the load stresses more evenly for longer life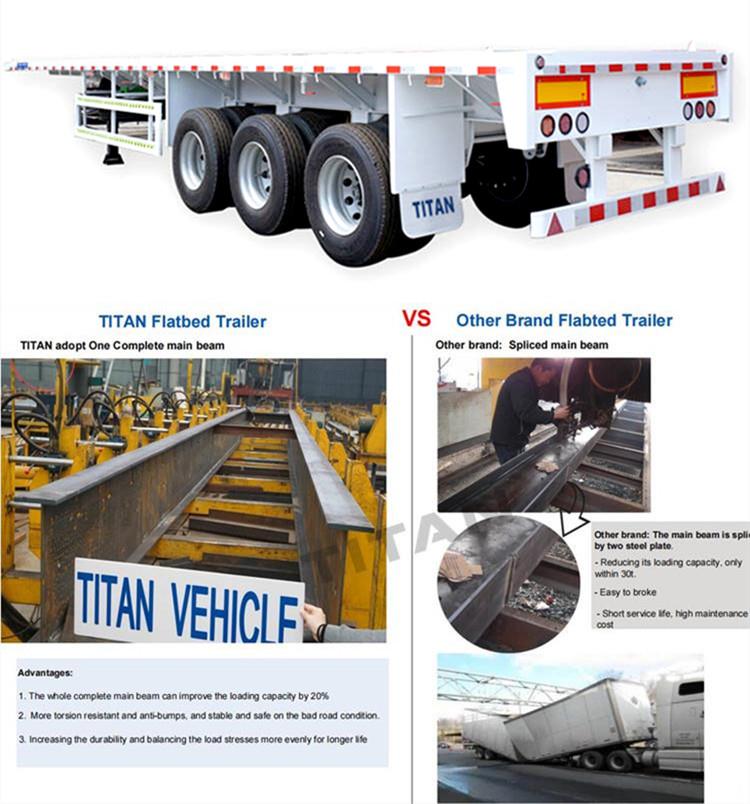 Other Brand flatbeded trailer
Poor welding process Machine or manual welding
1. Others use old machine with manual control
2. Easy to bend and dislocate.
3. Greatly reducing the load capacity by 30% and can't fit the bad road condition
The main beam is spliced by two steel plate.
1. Reducing its loading capacity, only within 30t.
2. Easy to broke
3. Short service life, high maintenance cost
Specifications of 40 ft flatbed trailer
Tare Weight: About 7.1T
Dimension(mm): 12450x2490x1575mm
Loading capacity(ton): ≤45T
Axles: 3 axles, 13T/16T ,FUWA/ BPW/ Huajing Brand
Tire: 12 units, 12.00R22.5 or 315/80R22.5
Rim: 9.00-22.5 or 9.75-22.5
Suspension: Mechanical suspension(Germany or America type) or Air suspension(China brand or BPW brand)
Spring Leaf: 90(W)mmx13(Thickness)mmx10 layers or 100mmx12mmx12 (specially intended for overseas markets)
King Pin: JOST brand 2.0 or 3.5 inch (bolted or welded)
Landing Gear: JOST brand D200T or Chinese brand 28tons(double-speed)
Main Beam: Height: 500mm, Upper plate:14mm, Middle plate:8mm, Bottom plate:16mm, Material:Q345B steel
Side Beam: 16mm or 18mm steel channel (material: Q235 steel)
Platform: 3mm-thick checkered plate
Brake Chamber: WABCO RE 6 relay valve; T30/30+T30 spring brake chamber(TKL brand), 45L air tank
Twist Locks: 4,8,12 sets (lifting or screw type)
Valve: WABCO valve (specially intended for oversea market)
ABS: Optional
Light: LED light (specially intended for oversea market)
Voltage: 24V
Socket(Receptacle): 7-pin Socket (for 7 wire harness)
Tool Box: 1m x 0.5m x 0.5m (The tool box contains 1 tire spanner, 1 gudgeon sleeve and 1 cranking bar. Its size can be tailored to suit your needs)
Painting: Sandblasted, anti-rust chassis surface is available with 1 layer of anticorrosive primer and 2 layers of top coats
Different types of flatbed semi trailer
Common flatbed trailer for sale:
TITAN flatbed trailers is a kind of trailer whose design is suitably made to carry bulk cargo and containers between shipping facilities and terminals. By simple definition, this is a long flat platform of either 20 ft and 40 foot length. Flatbed trailer for sale is usually used to transport 20ft or 40ft containers, they are mainly used for container transportation supporting ships, ports, shipping lanes, highways, transit stations, bridges, tunnels, and multimodal transport.
Common flatbed semi trailer has four types according to the number of axles, which are the 2 axle 20 ft flatbed trailer, 2 axle bogie suspension 40 foot flatbed trailer, tri axle 40ft flatbed trailer and 4 axle 40 foot flatbed trailer.
According to the different types of transport containers, there are many types, 20 foot flatbed trailer for sale, 40 foot shipping container flatbed trailer, 45 ft flat bed trailer, and 48 foot flatbed trailer, 53 ft flatbed trailer for sale near me.
Flatbed trailer with side wall:
The flatbed trailer with boards also called side wall trailer. This side wall cargo trailer use to load a wide range of products and materials, like sand, bags, poultry etc. Also the some bulk cargo, very widely used in the transportation industry. Suitable for the mid/long distance transportation of the mid/heavy duty and bulk cargo. The flatbed trailer with side wall can be added with a container turn lock to transport the container.

Interlink flatbed trailers for sale
Interlink trailer for sale consists of two units 20/40ft 2/3 axles flatbed semi trailer. TITAN produces high quality interlink flatbed trailer to carry container 20/40ft container and bulk cargo.
For the superlink flatbed trailer is populaized because of its flexibility. Each of the trailers can operate independently and increase the utilization coefficient of the tractor truck. In this case, superlink trailer truck makes transportation much easier. Interlink flat deck trailer for sale working life is 5 times longer than other brand trailer. Its lighter tare weight can also down the fuel consumption for the user.
Tipper flatbed trailer:
The striking feature with the tipper flatbed trailer is a mechanism that makes it easy to unload the container.There are apparatus added as modifications to the conventional tri axle trailer models further simplifying the process of offloading cargo from the container.
The hydraulic system mounted on the upper platform facilitates the offloading process causing the container to tilt upwards to offload cargo. Tipper flatbed trailer is definitely one of the safest means of offloading shipping containers. The tipper flatbed trailer comes with a hydraulic lifting cylinder that contracts longitudinally to facilitate loading and on the other hand, they extend in an outward manner to enhance the offloading process.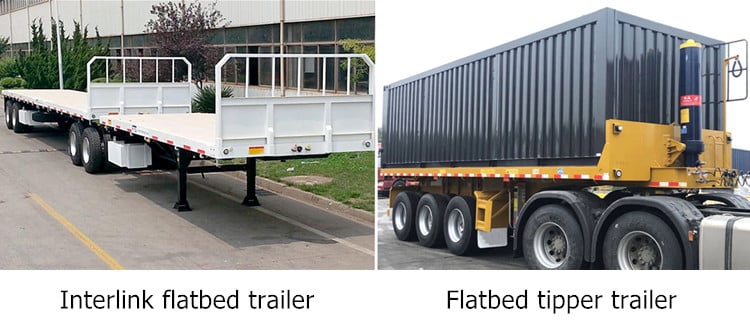 Extendable flatbed trailer:
Extendable trailer, you can freely adjust the length of the semi-trailer according to the length of the cargo, so as to meet the transportation needs of different goods. Custom length extendable flatbed trailer.
With the rapid development of the global transportation industry, semi-trailers have also begun to diversify into a variety of categories. Ordinary semi-trailers have limited capabilities, but special trailers also have single functions and low utilization rates.
Therefore, the bosses of transportation companies increasingly need a telescopic trailer that can load very long cargoes, such as long cement pipes, steel pipes, wood, wind blades for power generation, etc.