Dump semi trailer spot promotion, send inquiry to get Free Tire and $500 discount!

There are different types of semi dump trailers: end dump trailer, side tipper trailer, skeleton dump trailer, and flatbed type tipping trailer. semi tipper trailers can be customized with different tonnage according to the different needs.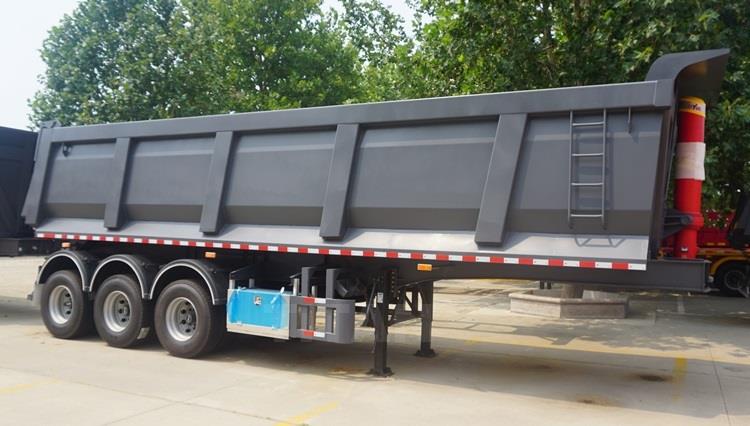 Semi Dump Trailer for Sale
Dump semi trailer Specifications:
Dimension: 11280mmx2495mm x3970mm ( inside dimension )
Tare Weight (semi trailer): About 15600kg
Total volume(m³): 30m³ or less than 100tons
Side wall thickness: 4 - 6mm
End plate: 8mm
Lifting System: Full set of HYVA lifting cylinder
Axle: 13T/16T, FUWA / BPW / TITAN Brand
Rim: 8.0-20 or 9.00-20
Tire: 8.25R20/10.00R20/11.00R20/12R22.5
Suspension: Mechanical suspension
Spring leaf: 90(W)mmx13(Thickness)mmx10 layers
Kingpin: JOST brand 2.0 or 3.5inch(bolted or welded type)
Landing gear: JOST brand
Main beam: Height: 480mm-500mm, Upper plate: 16mm-25mm, Middle plate: 12mm-20mm, Lower plate: 18mm-25mm, Material: T700 steel.
Bottom Platform: 4-6mm thick checkered plate
ABS: Optional
Valve: WABCO valve
Light: LED light (specially intended for oversea markets)
Voltage: 24V
Tool box: 1 set
Painting: Sandblasted, anti-rust chassis surface is available with 1 layer of anticorrosive primer and 2 layers of top coats.
Shipping terms: Transported by the bulk carrier in a RORO

dump semi trailer drawing
Semi Dump Trailer Adavantage:
1. Double-plate main beam for semi dump trailer, the main beam is designed with double plates, which have stronger carrying capacity; it is not easy to damage;
2. Hydraulic cylinder: The heavy-duty cylinder with a wider diameter, stronger lifting capacity and higher height, which makes the lifting more stable and does not easy to roll over.
3. Vice beam: Dump semi trailer with 4 units vice beam, which can make the bottom of the box better bearing capacity, and will not easily deform. The lattice structure of the side door makes the side door more solid.
4. Cross balance beam: There is a balance beam at the front and rear of the main beam, which can better support the beam and is not easy to deform.
5. Flip Bracket: 4 units flip brackets, which can make the rear end more evenly loaded during unloading, and it is not easy to damage the dump semi trailer.
6. Leaf spring and suspension: The leaf spring is widened and thickened, the shock absorption effect is good, the suspension is widened, and the center pin is wider, which makes the vehicle more stable during driving.
7. Self-weight: We can emphasize the weight of our trailers to our customers, weigh more weight and better carrying capacity;
semi dump trailer production process